TikTok's 3-2-8 Fitness Trend Can Help You Finally Stick To A Routine & Add A Boost Of Variety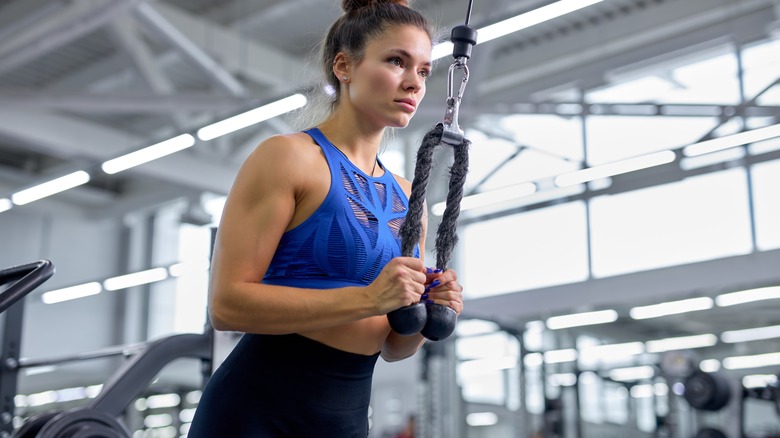 UfaBizPhoto/Shutterstock
Even on the laziest days, no one can deny that there are many benefits to working out, from reducing stress to becoming more physically fit. The Centers for Disease Control and Prevention explains that working out can lead to weight management, strengthened muscles, and even an increased chance of living longer, so it's definitely worth making exercise a priority.
There are various ways to exercise, from hitting the gym to outdoor jogs to quick and easy at-home workouts. Thus, not having access to a gym or money for expensive workout equipment isn't an excuse to avoid being physically active! But having so many exercise options can get overwhelming for people trying to determine which workout method is best for them.
There are many viral TikTok workouts that can help you get stronger or more confident, so you should pay attention to what each exercise offers and determine which is best for your needs. One trendy workout in 2023 is the 3-2-8 method. Approved by TikTok, this workout helps people lose weight and get stronger by incorporating strength training, low impact exercises, and walking. So if you're aiming to transform your body, this is an excellent workout routine to consider trying soon.
The 3-2-8 method offers more variety than other traditional workouts
If you don't like doing only one workout, such as running or lifting weights, you'll likely enjoy the 3-2-8 technique, as it offers more variety. TikTokker @natalieroseuk — the mastermind behind this method — posted a video explaining that the strategy involves committing to three weekly weighted exercises, in addition to two weekly Pilates or barre workouts, and getting at least 8,000 steps daily. By sticking to this plan, you'll get a bit of everything, helping your body get fitter in various ways without burning out on one exercise.
Like any other workout, the 3-2-8 fitness strategy won't be for everyone, but since it provides variety and consistency, it can help you transform your body and feel healthier and more confident. "It's also a great option for those who get bored easily and like to shake it up, as the 3-2-8 assumes different types of workouts," personal trainer and certified Pilates instructor Karina Blackwood told Bustle. "Plus, you'll work on your strength, mobility, balance, and flexibility at the same time." Therefore, the 3-2-8 fitness trend can improve different aspects of your health while ensuring that you'll never get bored even though you'll be staying with a routine.
Why this fitness trend works
Thanks to the variety that the 3-2-8 fitness trend brings to the table, it's getting some love on social media. For example, TikTokker @allyvhenderson posted a video showing how the 3-2-8 method gets her excited enough to keep up with exercising and prevents her from burning out because of the difference in exercises the plan encourages. Enthusiastic viewers commented, "Love this," and, "You look amazing!! Keep it up."
Moreover, you can choose how much time to dedicate to each workout within the plan to make it more enjoyable. "If you prefer Pilates, you can make your two Pilates training days longer sessions (30 to 40 minutes) and your three strength training days shorter (15 to 20 minutes), or vice versa," certified trainer, and Nourish Move Love founder Lindsey Bomgren told Well + Good. "Because the best workout program is one you actually want to do." 
Many people don't keep up with working out because they think of it as a chore. But when you customize each session to a length that works for you, you'll likely feel more comfortable and less pressured, helping you stay motivated to commit to the plan without frustration.