100 Years Of Mascara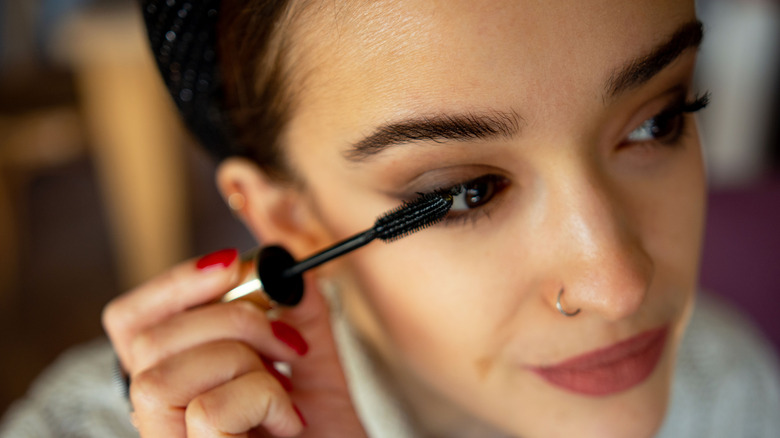 Gorica Poturak/Getty Images
Mascara is one of the most powerful and transformative beauty products. Iterations of the cosmetic item have been used by makeup wearers for thousands of years: The earliest records are of a similar product coming from ancient Egypt, and it's just as vital to most of our beauty routines today as it was back then. But a lot has changed in the beauty space since the world was introduced to mascara. In fact, about the only similarity between ancient Egyptians and modern mascara wearers is that we still wear it. The formula, application, and even some of the reasons we wear it have all evolved.
Advertisement
And thank goodness. Mascara today is easy to apply, and it's made with ingredients that won't cause long-term damage to our eyes. It's relatively inexpensive, and we don't have to make it ourselves. But mascara today doesn't just look different from how it looked in ancient Egypt. Mascara has also changed a tremendous amount over the past 100 years, as have the trends in eyelash aesthetics. Take a closer look at some of the changes the beauty product has gone through over the past century.
1920-1924: Bésame Cake Mascara was introduced
Today, we're used to cosmetic products being sold at our nearest drug stores in convenient packaging that's easy to open and use and won't make a mess, but that wasn't always the case. In the 1920s, cosmetics came in grandiose packaging that required a production to apply, including the mascara. Arguably the most famous eye makeup product of the time was Bésame Cake Mascara. This mascara, that's still available for purchase today, was a block of pigment inside a tin case, and it came with a small brush for application. The pigment required water for activation, and it could be used as eyeliner or to fill brows, in addition to mascara.
Advertisement
In the early '20s, false lashes weren't nearly as popular as they are today. Some actors were onto the makeup trick, though, but it was largely reserved for the film industry. Nevertheless, the public knew enough about fake lashes for some to be wary of whether a woman was wearing mascara or falsies. Per The New York Times, a writer in 1921 wrote, "When a fair young thing looks at you mistily through her long, curling lashes, do not fall for it until you investigate. The long, curling eyelashes may not be hers, except by right of purchase."
1925-1929: Maybelline cake mascara was all the rage
Bésame Cake Mascara didn't dominate the industry for too long, though. Another cosmetics brand, Maybelline, which had been in business since 1917, had its own version of the popular product, and buyers quickly became interested in the brand. The Maybelline cake mascara was quite similar to the Bésame Cake Mascara. It included a block of pigment and brush, and on the inside of its tin was a mirror. The formula didn't do much to the lashes aside from coloring them and adding a tiny bit of length, but with a couple of coats, some volume could be added, too.
Advertisement
The Maybelline cake mascara was certainly a better alternative to another popular method for obtaining long, dark lashes. In the 1920s, many women used petroleum jelly as mascara, but as we know today, it's not a great swap. As Dr. Rachel Nazarian told PopSugar, using petroleum jelly as mascara "may cause blocking of the delicate glands and pores around [the area]." She added, "Although it's tempting to use this beauty hack to save time and money, you're probably better off saving your lashes and buying traditional mascara."
1930-1939: Waterproof mascara became popular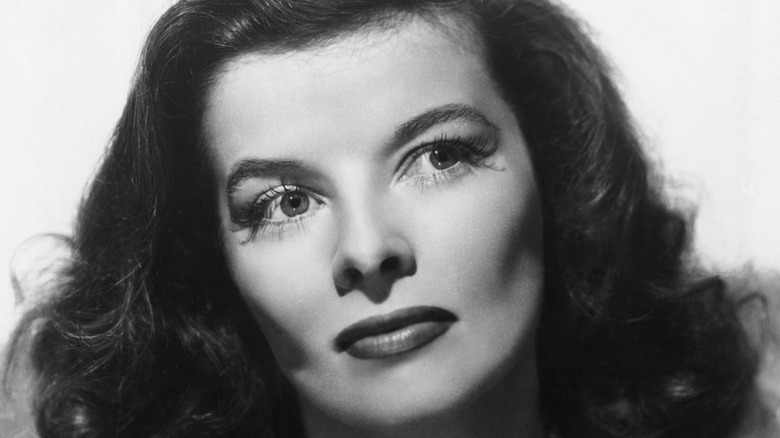 Bettmann/Getty Images
In the early 1930s, women were still using cake mascara, and the beauty standard was defined by Hollywood glamour (what we'd consider to be old Hollywood glamour was, of course, simply Hollywood glamour at the time). Lashes were meant to be enhanced, and some women, particularly actors, were using fake eyelashes to do so. However, this practice was not yet mainstream, and mascara was still the primary way women were altering the look of their lashes.
Advertisement
In the late 1930s, women gained access to waterproof mascara, a product that changed mascara forever. The product was launched to consumers by Helena Rubenstein, though another version had been created in the decade prior by Maybelline. Although waterproof mascara was available for women in the late '30s, it took until the mid-60s for the product to have a suitable formula. The first versions were malodorous and harmful to some wearers' skin, proving that beauty really is pain.
1940-1949: Wartime brought boot-polish mascara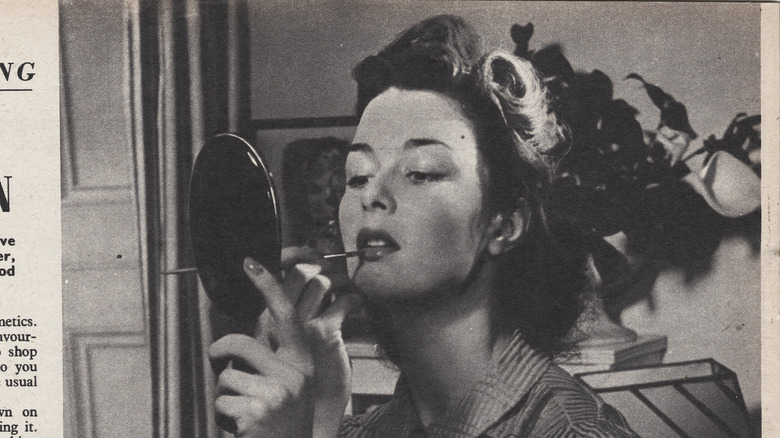 Picture Post/Getty Images
A large portion of the 1940s was dominated by World War II, and every aspect of life, even the beauty industry, was impacted. Archived wartime propaganda from the Warhawk Air Museum shows that women of the time were encouraged to keep their beauty routines just the same as before the war broke out. "To look unattractive these days is downright morale-breaking and should be considered treason," one piece said. Women weren't expected to be seen on the frontlines of battle, but they did have their own societal duties to uphold.
Advertisement
But, as the museum points out, the war brought on another issue — supply shortages. Most supplies were sent to soldiers. Though mascara wasn't required for combat, issues affecting the overall supply chain trickled to products used mostly by women at the time, and mascara became increasingly difficult to purchase. To compensate for the lack of product, women got creative and applied whatever sticky pigment they could to their lashes, like boot polish. It seems ridiculous, sure, but the women were under intense societal pressure to maintain appearances, so they made do. If you feel a societal pressure to maintain appearances today, do not use boot polish in lieu of mascara.
1950-1959: Cream mascara hit the shelves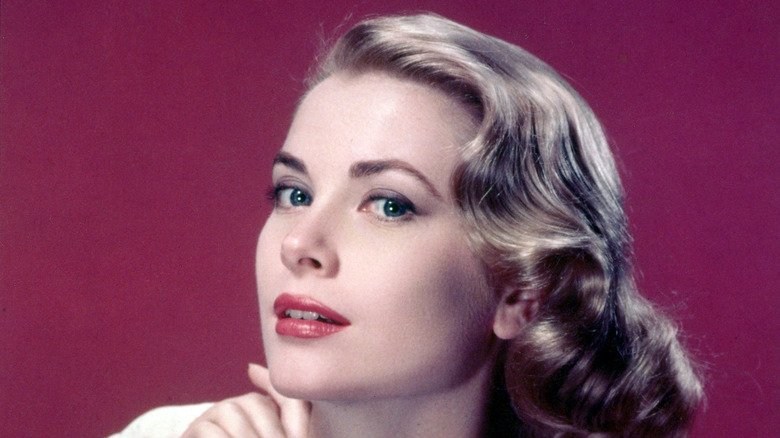 Silver Screen Collection/Getty Images
By the 1950s, the war was long over and women no longer had to resort to applying unsafe products near their eyes. This decade also ushered in a new type of mascara — cream mascara. This mascara is the same as what we're familiar with today — a tube of mascara with an accompanying wand for application. Cake mascara was still on the market, but cream mascara became incredibly popular among women, likely because of its ease of application and convenient packaging, especially once mascara wands were sold inside the tube.
Advertisement
One thing that hadn't changed, however, was the look women were trying to achieve with their mascara. Makeup trended toward natural yet glamorous, and for lashes, that simply meant enhancing them. There wasn't a major push for volume or length of the lashes, but rather an overall emphasis on the eyes; eyeliner and mascara were used far more than eyeshadow to achieve the desired look. Some women opted for brown mascara, and there were some other, brighter colors available, but black was still the most popular choice, and it stayed mostly on the upper lashes. Stars like Marilyn Monroe and Grace Kelly were looked up to by many women as they helped set the beauty standard.
1960-1969: Lengthening mascara was all the rage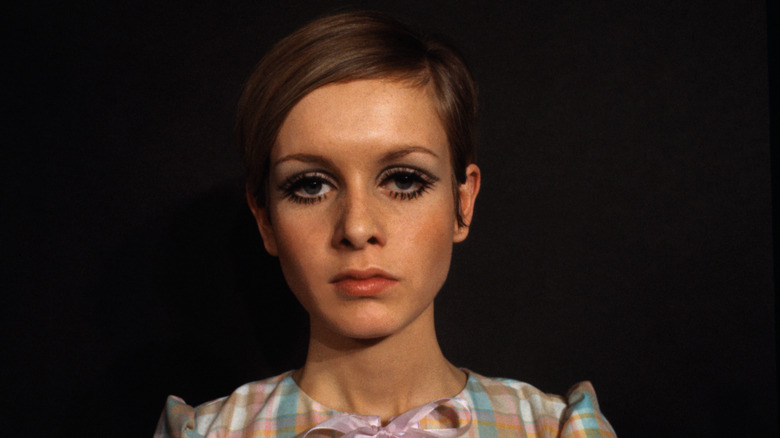 Bettmann/Getty Images
Once tube mascara took over, the beauty industry discovered the power that different brush types have, and thus trends in mascara types became prominent. One such trend that had a hold in the 1960s was lengthening mascara. Black was still popular as a shade, but to be truly on trend, women needed super long lashes achieved through coats and coats of lengthening mascara. It was also popular to apply heavy mascara to the lower lashes, and the thicker and more pronounced the lower lashes appeared, the better.
Advertisement
Like most trends, '60s mascara had an origin. English model Twiggy popularized the eye makeup look as she was photographed with long, thick lashes on both the top and bottom lashes. Twiggy's look is iconic today, but she didn't use only mascara to attain the look. On the top lash line, Twiggy often applied fake lashes, and on the bottom, she used eyeliner to draw lashes. Despite her tricks of the trade, the look was sought after, and cosmetics companies benefitted by creating and selling lengthening mascara whether it helped women look like Twiggy or not. The model was also known for her signature cut crease eyeshadow look and iconic blonde pixie cut.
1970-1979: Several mascara trends were in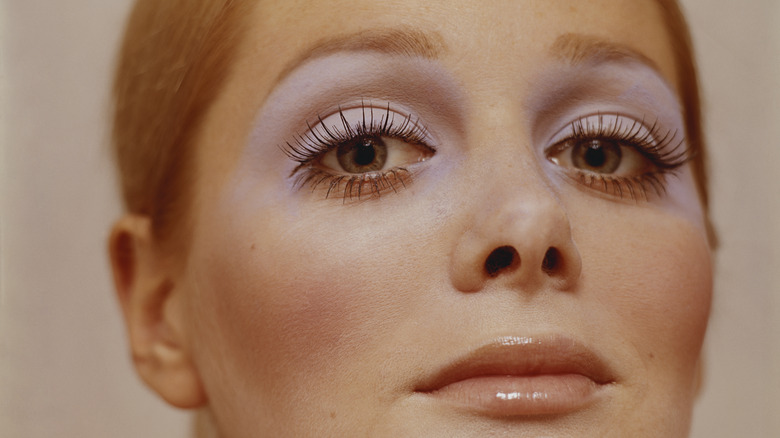 Tom Kelley Archive/Getty Images
Of all the bygone eras of makeup, perhaps the most similar to where we are now was the 1970s. That decade was more defined by fashion and hair than makeup, and it's due to a confluence of trends all being stylish at once. Like in the present day, a wave of feminism took hold, and it brought with it a push for more natural looks. Tube mascara was still the most popular way for the product to be purchased, but its application didn't have quite the emphasis on lengthening and thickening as it did in the decade prior.
Advertisement
But that was only true for a portion of the population. As noted, several trends were popular at once, and women felt free to wear makeup, and mascara by extension, however they pleased. If they preferred a thicker lash, they wore it. If they wanted some length, they applied a few extra coats. And like today, the preference was largely based on what they were doing and when during the day they were doing it. Overall, though, the overly dramatized lashes of the 1960s waned in popularity.
1980-1989: Colored mascara was super popular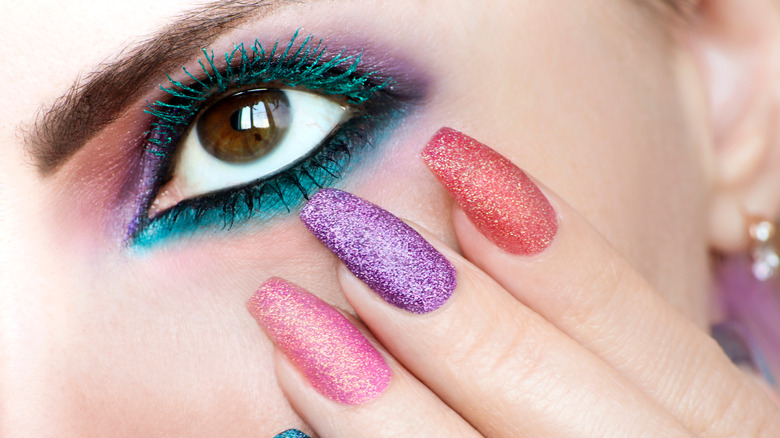 marigo20/Shutterstock
The 1980s was a colorful decade. Everything was bright and bold, and that included the makeup. Brightly colored lipstick and eyeshadow were all the rage, as was brightly colored mascara. Blues, purples, greens, and more moved from the lids to the lashes. And because of the popularity of colored mascara, false lashes weren't as popular since they didn't come in many colors (among other reasons). This wasn't the first time we'd seen colored mascara, though. As noted, along with tube mascara came colors other than brown and black, and it was seen on plenty of lashes prior to the 1980s. This decade, however, saw a rise in the trend unlike any before.
Advertisement
But colored mascara wasn't the only way women were wearing it. Plenty of lashes still came in black and brown as the natural look was still in fashion. Stars like Janet Jackson and Brooke Shields were often seen in more subtle mascara looks, but others like Madonna and Debbie Harry usually favored a bolder wear, loading it thickly on both the upper and lower lashes. Compared to the 1970s, mascara in the '80s was much bolder and brasher.
1990-1999: Hair mascara became trendy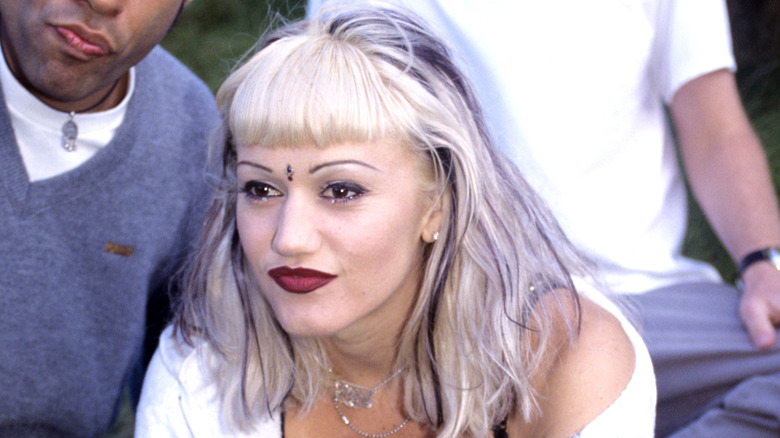 Tim Mosenfelder/Getty Images
Perhaps unsatisfied with the innovation, or lack thereof, of the major mascara trend of the 1980s, mascara manufacturers in the 1990s debuted a different kind of mascara — hair mascara. Instead of applying colored mascara to their lashes, women of the decade were encouraged to take the product to their locks. Of course, it wasn't the same product — there were entirely different tubes of mascara reserved for hair, many of which included glitter. The trend was short-lived, but its memory remains in the hearts, and potentially the drawers of vanities that desperately need to be cleaned, of millennials across the nation.
Advertisement
As for mascara that belongs on eyelashes, the '90s saw trends of the previous era stay alive, then gradually transitioned into more dramatic lashes. But by and large, mascara wasn't the star of the makeup show in the '90s. Soft glam was having a major moment, and with that came muted colors that were best served on lips, brows, and lids. Grunge looks were popular, too, and those tended to favor a wispy lash over one with lots of volume. Think Gwen Stefani in her "Tragic Kingdom" era.
2000-2009: Maybelline was just as popular as ever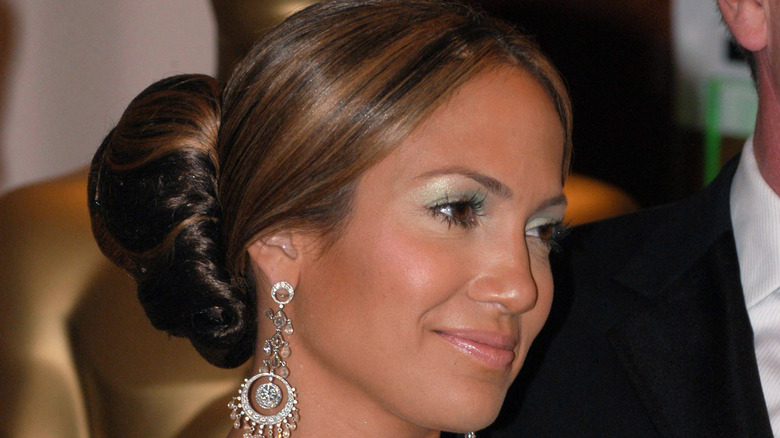 Jeff Kravitz/Getty Images
In the 2000s, lashes really had a moment. Thanks to Jennifer Lopez and the fur eyelashes she sported on the Oscars red carpet, makeup enthusiasts of the decade wanted lashes just as thick and dark as those made from an animal, and fake eyelashes took on a new life. They'd been worn by women for nearly a century, but they became a staple in makeup artists' boxes in the 2000s, and businesses opened for clients to have a pair applied for an occasion. But for those who didn't have access to a lash bar, there were plenty of mascaras available for purchase that promised the same effect as a pair of falsies, and one of those mascaras stood out among the rest.
Advertisement
In the 2000s, Maybelline New York Great Lash mascara found its way into homes in every neighborhood in America. It wasn't a new product, but it had almost anyone looking to enhance their eyelashes convinced that it would do the trick. The company even debuted its Great Lash Blackest Black mascara in 2003, promising buyers "blacker than black" lashes. Coming in its instantly recognizable pink and green tube, the Maybelline offering is still on the lashes of makeup wearers today.
2010-2019: Falsies took over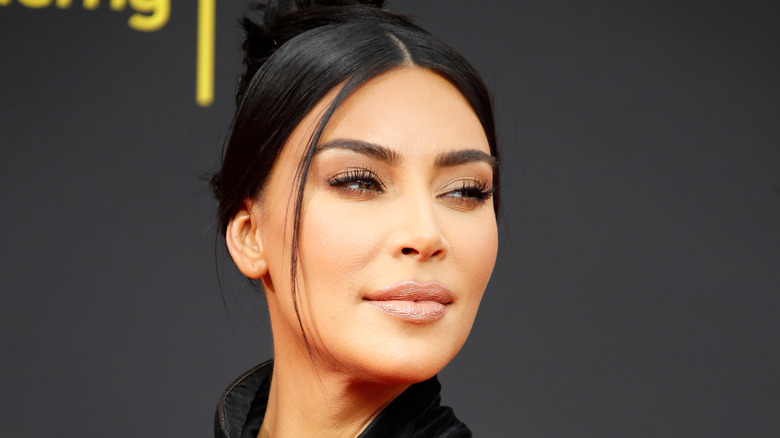 Kathy Hutchins/Shutterstock
Like all trends, false eyelashes evolved. What was once only applied for weddings and proms became prevalent in everyday life. Mascara was no longer enough for many wearers, and false eyelashes became part of many women's everyday makeup routine. Not everyone used falsies, though. Some eyelash enthusiasts preferred to get lash extensions, a treat that had to be kept up with as they often caused damage to natural lashes. Others opted for lash boosts like Latisse and other similar formulas to get the length of a falsie. Some blame television personalities for the rise in false eyelashes, but it could've also come from beauty influencers who often ended their filmed makeup routines by applying a pair of strip lashes.
Advertisement
The rise in false lashes didn't hinder the sale of mascara, though. As any beauty influencer would tell you, mascara is still a vital part of the fake lash routine. After applying fake lashes, it's recommended that you coat your natural lashes in mascara to blend them with the falsies. As such, mascara was still essential in everyone's makeup bag, and products that promised the length and volume of a false lash, like Too Faced's Better Than Sex and Benefit's buffet of mascaras like They're Real! And Roller Lash, were among the most popular.
2020-Present: Natural lashes have made a comeback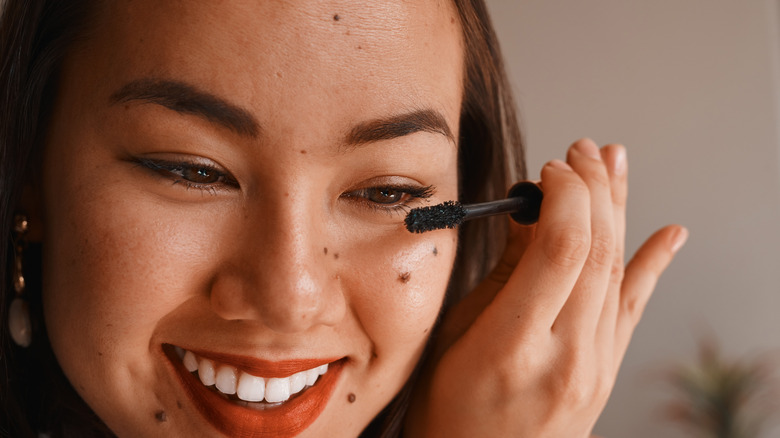 Hiraman/Getty Images
If false lashes aren't your thing, you're in luck. After a decade of an emphasis on thick, full, voluminous lashes worn no matter the reason, we've transitioned back to a more natural look. "The trend of big and bold lash extensions and false lashes is on its way out. This isn't to say people are ditching them altogether; they are simply seeking a more natural aesthetic," makeup artist Zara Kaplan told Harper's Bazaar. The trend comes after the first years of the decade were upended by the COVID-19 pandemic, which had a major impact on the beauty industry as a whole.
Advertisement
Lashes now favor a more natural look, one defined by length and separation. False lashes are still being used, just in a subtler way, and a variety of mascaras are being employed to aid wearers in achieving the look. Lots of lash enthusiasts also recommend layering mascaras, claiming the method yields better lashes than one mascara alone. For example, wearers will apply a lengthening mascara with a volumizing mascara in an effort to give their lashes both effects. But whether you're layering mascara, applying falsies, or keeping your lashes completely natural, apply the amount of makeup you're comfortable with, trends be damned.