11 Famous Women Who Are Unapologetic About Their Body Hair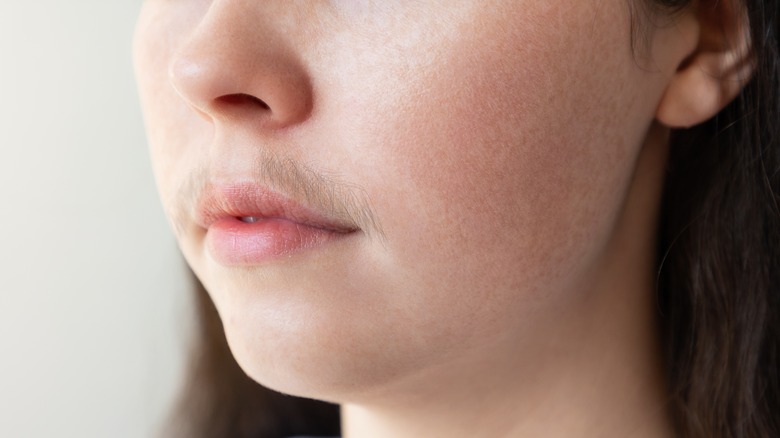 STEKLO/Shutterstock
Facial hair is extremely common for anyone, and lots of women are no longer hiding the fact that they, too, have mustaches and beards, whether they choose to remove them or grow them out. 
Facial hair is more common among certain ethnic groups. According to Margaret E. Wierman, MD, professor of medicine at the University of Colorado Medical Center in Denver, "The ethnicity with the least amount of terminal hair is Asian, whereas people of Hispanic and Middle Eastern descent typically have the most. Other ethnicities fall somewhere in between" (via Yahoo). Women with polycystic ovary syndrome, or PCOS, a condition in which "the ovaries produce an abnormal amount of androgens, male sex hormones that are usually present in women in small amounts," according to Johns Hopkins Medicine, are also prone to facial hair, and pregnant women or aging women might see a few extra chin hairs or other facial hair. 
Advertisement
In March 2023, Amazon debuted a commercial for their Prime service directed by Olivia Wilde that ran for the first time during the Academy Awards broadcast. In the advertisement, a woman is upset about the appearance of a mustache on her face until she realizes several of her idols, including Eddie Murphy, Freddie Mercury, and Frida Kahlo, also rocked mustaches, so she decides to keep her facial hair and wear it proudly. Get inspired to embrace your natural look by checking out women who are normalizing the presence of female facial hair. 
The most famous female mustache of all?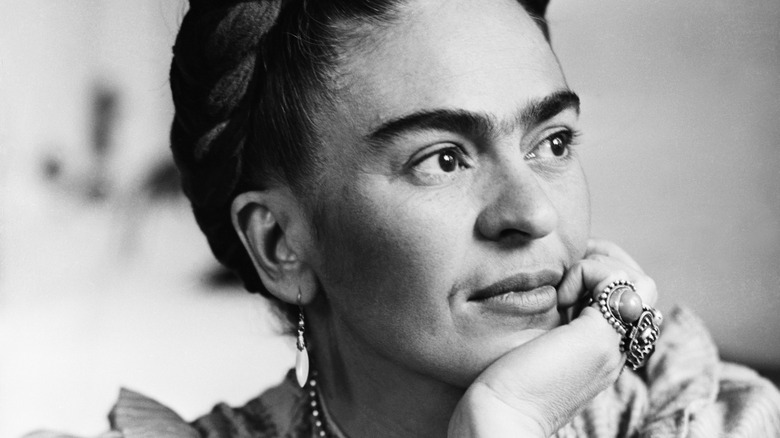 Bettmann/Getty Images
Frida Kahlo is considered one of the greatest Mexican artists of all time. Born in 1907, Kahlo was well known for her colorful and soulful self-portraits, which she began painting while spending time alone recovering from serious injuries inflicted during a bus accident, as well as her use of surrealist themes in her paintings. Kahlo was married to Mexican painter Diego Rivera and came to public prominence as his wife, but soon became known for her own work in addition to her partnership with a fellow famous artist. 
Advertisement
In addition to her usual uniform of colorful traditional Tehuana dresses and floral headpieces, Kahlo is famous to this day for having a prominent unibrow and mustache, as she often incorporated these features into her self-portraits. According to art historian Helga Prignitz-Poda, Kahlo "pointed out her mustache and joined eyebrows because they show a male aspect to her personality, and Frida always wanted to be both. She wanted to be a complete human being and not only the sweet wife, so this makes her look so strong" (via CNN). Kahlo died at the age of 47 in 1954. She remains an icon and an inspiration to many people not only as an artist but as a proud individual who celebrated and centered her entire physical self, including her famous mustache.
Advertisement
The Material Girl grows a mustache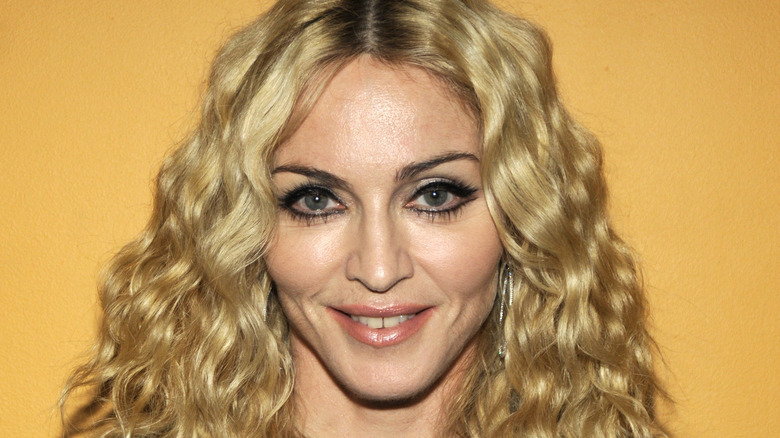 Kevin Mazur/Getty Images
Madonna has been setting the gossip columns ablaze throughout her long career as one of the most famous pop singers of all time and more often than not, the tea that's being spilled concerns her ever-changing, somehow ever-controversial appearance. Our girl Madge has gone through every possible look imaginable and had changed her hair, body, and face along with her wardrobe many times over the years, so of course at one point her facial hair had to take center stage.
Advertisement
In November 2008, Madonna took time out from her Sticky & Sweet tour to attend the Hollywood premier of her movie "Filth and Wisdom." Huffington Post reported on the star's appearance outside the theater alongside fellow celebs like Naomi Watts and Lindsay Lohan and added that an additional photo taken on the red carpet was "perhaps more surprising for such a perfectionist, a close-up of Madonna's upper lip hair." Obviously, perfectionism and mustaches are not mutually exclusive, but once again, perhaps 2008 Madonna was just a bit ahead of her time for mainstream entertainment reporting. In a 2013 article for Harper's Bazaar, Madonna actually referenced Frida Kahlo's famous mustache as a source of comfort to her, writing, "... the sight of her mustache consoled me. Because she was an artist who didn't care what people thought. I admired her. She was daring. People gave her a hard time. Life gave her a hard time. If she could do it, then so could I."
Advertisement
Cardi B has something to say about her facial hair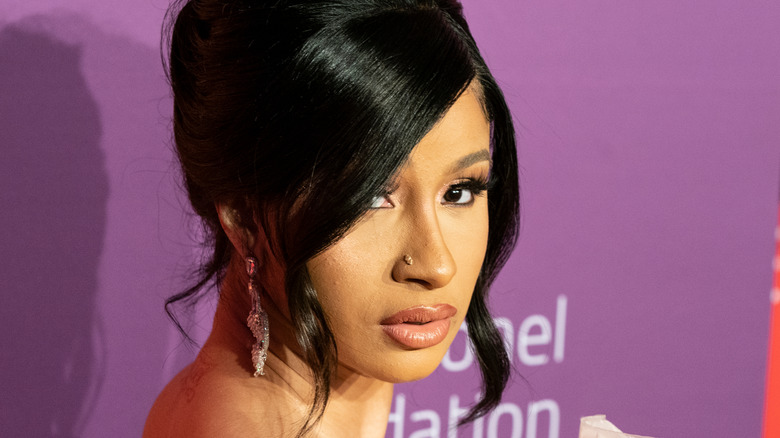 lev radin/Shutterstock
If there's anyone who's known for being consistently, hilariously, and, yes, filthily quotable, it's none other than Belcalis Marlenis Almánzar Cephus, better known as rapper Cardi B. Cardi first attracted attention from the public thanks to her notorious presence on Vine and Instagram, and even though she's a record-breaking international superstar, she still takes time out from touring and from the studio, not to mention raising her two children, to continue ruling social media with her frank, funny posts. 
Advertisement
In January 2022, Page Six reported that Cardi had posted an Instagram Story in which she appeared to be wearing no makeup, a pink headscarf, and a blue jumpsuit. She looked into the camera and mused "Mustache is mustaching. They said that if you have a mustache, you got a good p—y, so purr." While we can't confirm or deny her claim, we love to see a woman taking pride in her facial hair in any way she finds empowering. This wasn't the first time Cardi has offered up body hair content to her followers and fans. Other Instagram Stories have included live footage from a bikini wax in April 2020, which she announced as "pain day," and a lip wax in July of that same year. Sometimes you feel like a mustache, sometimes you don't.
Advertisement
Lea Michele got real about her facial hair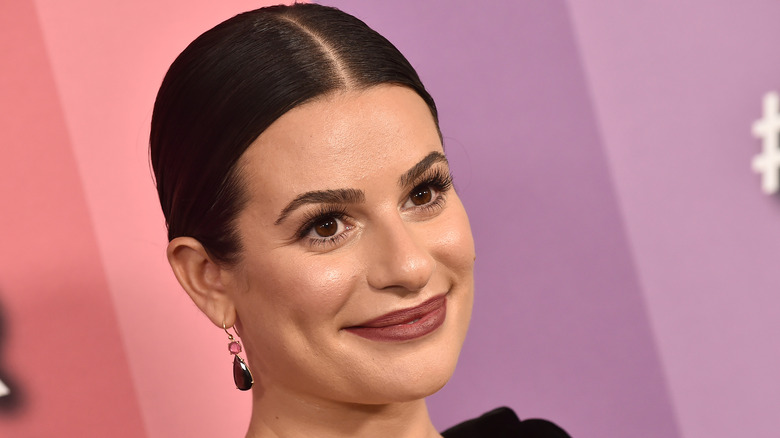 DFree/Shutterstock
Lea Michele of TV's "Glee" and Broadway's "Funny Girl" did her part to demystify the presence of female facial hair in 2016 when she candidly shared a series of videos via Snapchat in which she detailed her extensive facial hair removal routine . Michele explained what was happening as a technician waxed her eyebrows and mustache (adding a hashtag to the word "mustache" to helpfully guide anyone seeking mustache content to her videos), quipping "This is real beauty, you guys. This is what happens when you're half Jewish, half Italian."
Advertisement
While we disagree that "real beauty" requires the removal of facial hair, we recognize that plenty of people do prefer to remove mustaches and such rather than cultivate them. We appreciate celebrities like Michele acknowledging that facial hair does exist, is incredibly common, and isn't something to view with shame or embarrassment regardless of whether you take it off or leave it on. In the nearly seven years since Michele posted her waxing routine, many celebrities have taken breaks from posting all-filtered-all-the-time selfies that emphasize perfection and frankly unrealistic standards of beauty in favor of getting a little more real. We recognize Michele as an early adopter of this kind of social media behavior.
Advertisement
When Adele met Larry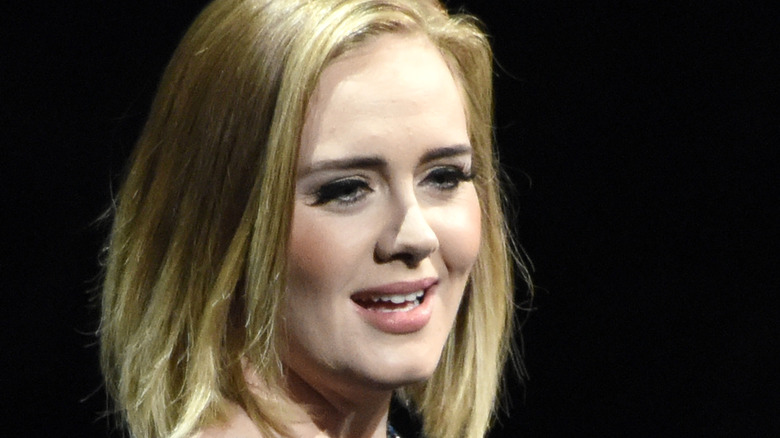 Tim Mosenfelder/Getty Images
Songstress Adele is nearly as well known for her wise-cracking, self-deprecating, often profanity-laden repartee as she is for her gorgeous, soulful singing voice. Adele's appearance has been a subject of public discussion since she first became famous in 2008, and she has never been one to shy away from joining in the conversation. In 2012, Adele gave birth to her son, Angelo. In 2016, while performing at a concert in Glasgow, Scotland, she took a break from belting out her signature hits like "Hello" and "Rolling In The Deep" to banter with the crowd. "When I got pregnant I had so much testosterone in me that I grew a beard," she announced. "I only cropped it last night. It's actually true. I'm not telling a joke. I actually have a beard, but I'm proud of it. I call it Larry."
Advertisement
While we applaud Adele's embracing of her facial hair, she's actually misinformed about the reason for her pregnancy beard. Denny Martin, D.O., associate chair of the department of obstetrics, gynecology, and reproductive biology at Michigan State University, told Glamour that it's incredibly common to grow more body hair during pregnancy, but it's because of extra estrogen in the body, which causes all hair to stay in a growth phase. Extra hair can show up on nipples, the back, the stomach, the face, and on upper thighs but will usually disappear one to six months after giving birth. 
Keke Palmer and her lowkey beard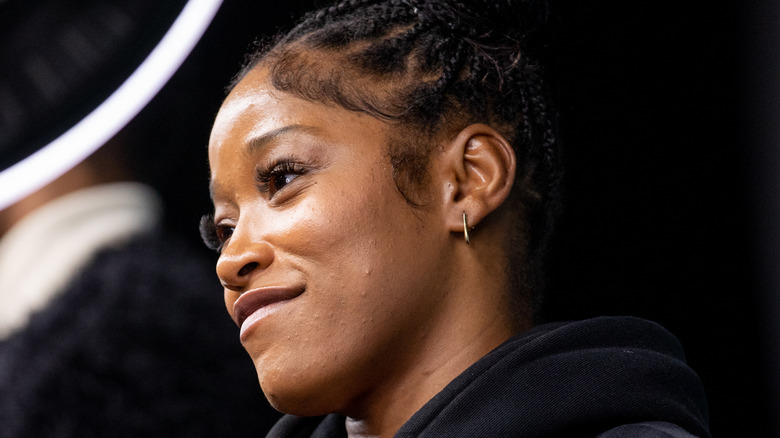 Emma Mcintyre/Getty Images
Actor and singer Keke Palmer has been famous since she was a child, taking on starring titular roles in movies like "Akeelah and The Bee" and television shows like Disney's "True Jackson, VP." Not only has she transitioned successfully into adult roles, including her star-making, scene-stealing role as Mercedes in 2019's "Hustlers," but she has become an outspoken advocate for herself and others who live with PCOS. Palmer went public with her diagnosis in 2021, a year after she learned that the hormonal condition was the reason for her adult acne and facial hair. "[I]t answered a lot of the questions to, not only why I had acne, but why I grow hair on my face or under my chin, you know I kind of have a lowkey beard going on that I have to shave every couple of days," she told talk show host Tamron Hall, per People magazine. 
Advertisement
Palmer says she decided to talk openly about PCOS and the physical symptoms that accompany it to not only bring about awareness of the condition and express solidarity with others who have PCOS, but to empower herself. "It was like me telling myself 'I love you girl no matter what. I love you so much. I'm going to show your whole self to the world and I'm not going to be afraid.'" Good for you, Keke! We see you and we appreciate your openness and honesty!
Shyja's mustache is just part of who she is
Shyja isn't the first mononym celebrated in this article, but she may be the one who is most exemplary when it comes to women with mustaches. Shyja lives in Kerala, India and is well known on social media for proudly celebrating her luxurious mustache. In a 2022 BBC article, she explained that she is often asked why she chooses to keep her mustache as it is rather than remove it, and her reasoning is simple: "All I can say is that I just like it. A lot." She went on to note that while she does thread her eyebrows, she has never removed any of the hair above her lip, and was delighted when it grew into a full mustache about five years ago.
Advertisement
Shyja has no use for the idea that female facial hair should be removed because it's unattractive, stating "I've never felt that I'm not beautiful because I have this or that it's something I shouldn't have." She went on to note that while she gets occasional negative comments from strangers in person and online, her family and friends remain supportive, with her teenage daughter telling her the mustache looks good on her. Her decision to keep and celebrate her mustache isn't political — it's simply part of who she is. "I just do what I like. If I had two lives, maybe I'd live one for others," she proclaimed proudly. Words to live by! 
Harnaam Kaur looks gorgeous, holds a world record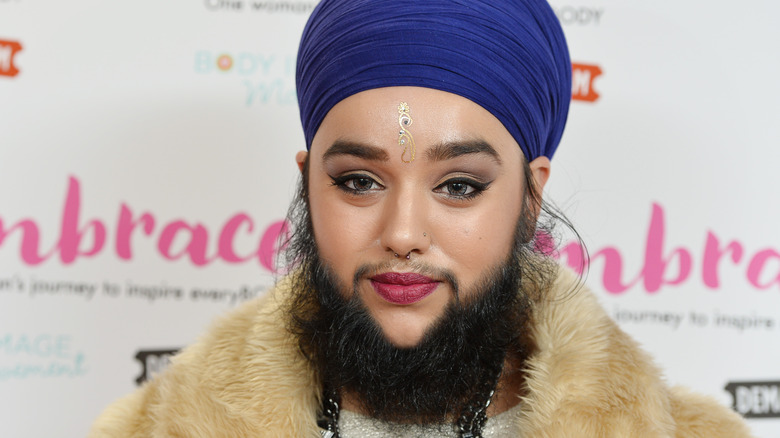 Jeff Spicer/Getty Images
When it comes to activism around PCOS, Harnaam Kaur has been leading the way for quite some time. Diagnosed with the condition as a teenager, Kaur had never heard the term before, despite it being extremely common among British women, and took it upon herself to become an advocate and an educator. PCOS makes it possible for Kaur to grow a full beard. In an interview with Dazed, she noted "Growing up, many of the South Asian women in my family had facial hair, baby hairs, upper lip hairs, sideburns, hair on their arms and their throat areas and stuff like that, so for me, it was the norm. I wasn't aware that I had an issue until I was bullied for it." 
Advertisement
After years of removing her facial hair, Kaur decided at the age of 16 to instead embrace it proudly, and at the age of 24 years and 282 days, she officially became the youngest woman to grow a full beard, as awarded by Guinness World Records. "It's so funny that it's ok when it's on a guy, but when it's on a woman it's mocked. Why do I need to keep explaining my body? Women's bodies are so policed," she said in an interview in honor of International Women's Day. Kaur has appeared on the covers of both Cosmopolitan and Glamour — here's hoping she's cleared the way for many more bearded cover girls in the future! 
Thandiwe Newton's groundbreaking Instagram snap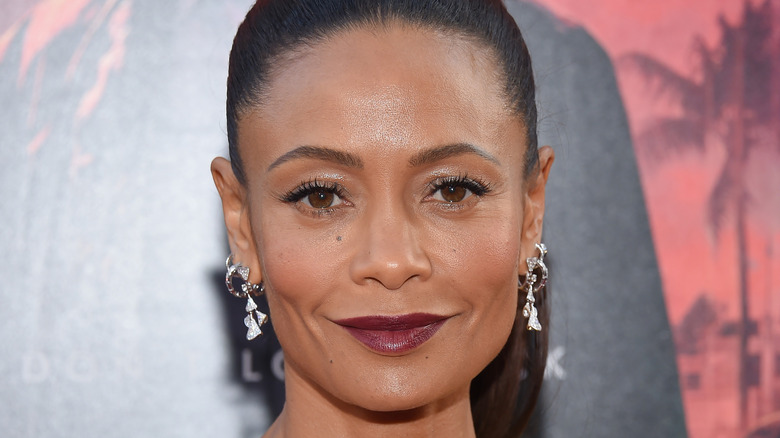 DFree/Shutterstock
Back in 2015, Thandiwe Newton led the way in normalizing feminine facial hair when she took to Instagram to detail the preparations that went into a night out in support of her then-husband Ol Parker at the premiere of his movie "The Second Best Marigold Hotel." In a series of now-deleted posts, as reported on at the time by several news outlets, including E!, Newton included a photo of herself with bleach on her upper lip, writing that she was "Dealing with the stash in readiness for the Royal Premiere tonight! Go Jolen! XT." Some expressed shock that a famous actor would admit to having facial hair at all, let alone publicize the fact that she used bleach to "deal with it." 
Advertisement
It's a small comfort to know that it's no longer considered groundbreaking when celebrities acknowledge the fact that they, too, put effort into looking their best. We salute Thandiwe Newton for her early embracing of body positivity and note that she started a project with makeup artist Kay Montano called ThandieKay in which they sought to investigate and broaden the meaning of beauty. "We want to look at how we define beauty, and to try and reimagine what that term means," Newton told The Independent in 2013. "Beauty is a feeling and a sensation much more than an actual."
Kareena Kapoor Khan accentuates her mustache with makeup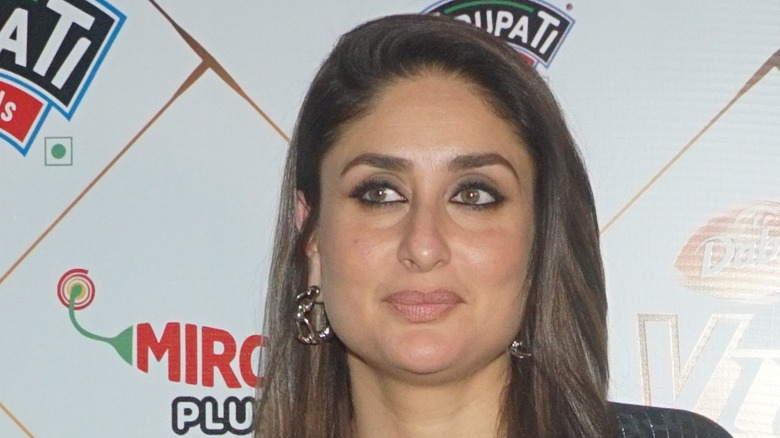 Prodip Guha/Getty Images
Kareena Kapoor Khan, also known by her nickname Bebo, is one of the most famous and highest-paid Indian actors of all time. She is the daughter and sister of other well-known actors, has appeared in a number of Bollywood films since her debut in 2000, won numerous awards, and is known for taking on a variety of comedic and dramatic roles. She has also hosted her extremely successful talk show, "What Women Want," for several years and has over 10 million followers on Instagram.
Advertisement
Khan is notorious for her free-wheeling relationship with the press and her fans and is not afraid to speak freely and openly about all sorts of topics, including her relationship with body hair. A 2020 article from the website iDiva quotes Khan's conversation with a body-positive influencer in which she proclaimed "I'm very happy to be like, 'Listen, I have not shaved today. Let's just wear jeans na! Can we not wear this skirt?'" As for facial hair, Khan is similarly breezy about her mustache, or "muchhi," going on to note "Suddenly, my manager will have a s–t fit that 'Oh God, what is this? You haven't bleached and the photographs are looking like this.' Apparently, makeup accentuates it." We say you only bleach if you want to and let your mustache do its thing, and if makeup makes it stand out even more, all the better! 
Advertisement
Emma Watson doesn't want to edit out hair removal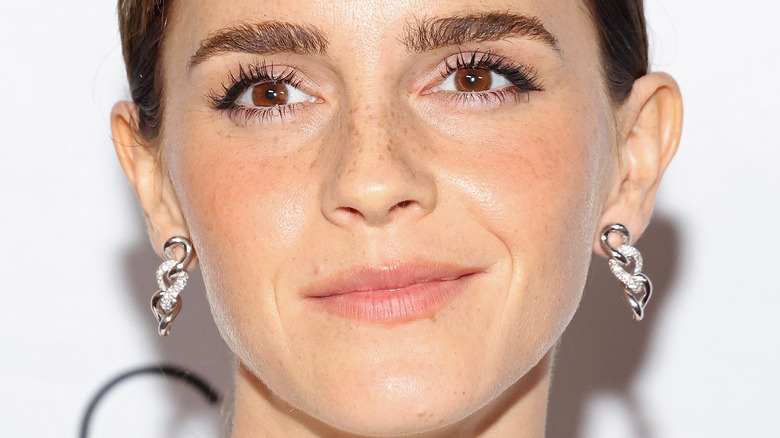 Taylor Hill/Getty Images
In 2017, Emma Watson discussed her beauty routine with the website Into The Gloss and was her typically open and frank self when it came to talking about the portions of her personal ministrations that actors typically keep to themselves. "It's funny — I was just talking to my friend before this about how in the Instagram era it's so easy to edit your life so that it looks perfect," she mused. "There's still so much shame around the things you do to get ready while you've got a towel wrapped around your head. It's important to me not to edit that out." 
Advertisement
She went on to share that she had been bleaching the hair on her top lip since she was nine years old ("I don't do it very often, but I do it!"), which was a full two years before she became famous for her role as Hermione Granger in the first Harry Potter film adaptation, "Harry Potter and the Sorcerer's Stone." She also noted that she tweezed her brows and recommended a moisturizing oil that she used "from the ends of my hair to my eyebrows to my pubic hair." Way to keep it real, Emma!