We're Going To Be All About Hailey Bieber's Tiffany & Co.-Inspired Manicure This Spring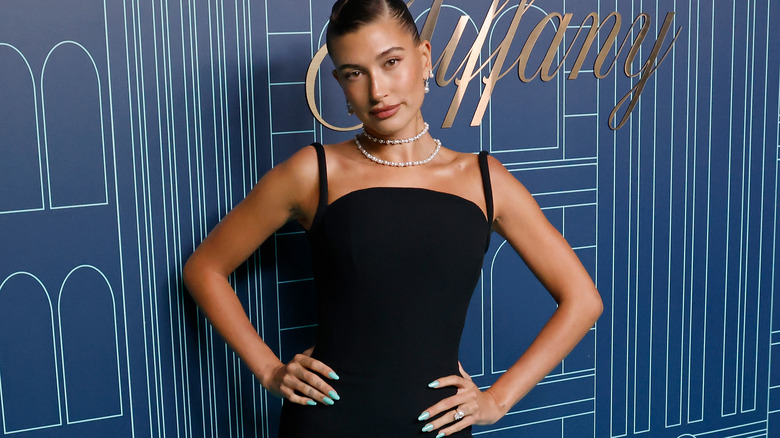 Taylor Hill/Getty Images
If there's one thing Hailey Bieber excels at, it is being a trendsetter. From glazed donut skin to pearlescent nails, or even the Nepo baby top, Bieber has remained an essential resource for all our favorite looks in recent times. Unsurprisingly, we've been influenced once again. And this time, it's back to her signature glazed nails but with a twist. The beauty brand founder popped out a new nail color, courtesy of Tiffany & Co.
Advertisement
On Thursday, April 27th, jewelry design house and luxury retailer Tiffany & Co. celebrated reopening its revamped flagship store on 5th Avenue in New York City. The event was packed with stars like Florence Pugh, Gabrielle Union, and "Euphoria" star Jacob Elordi (per Grazia). Still, our eyes were stuck on one place only: Hailey Bieber's outfit, specifically her nails, which were painted the iconic Tiffany Blue shade. Unlike her other pearlescent nail looks, like the glazed donut set or the crystal manicure she, which her nail tech Zola Ganzorigt, is known for, Bieber's been branching out into brighter, less neutral colors. From passionfruit yellow to Barbie pink and now Tiffany blue, she's keeping her signature glaze while making it more spring-friendly with color. We can tell you'll want to recreate the look soon, so here's how.
Advertisement
Zola Ganzorigt's glazed technique
Unlike Bieber's previous viral nail trends, Ganzorigt has yet to share any much-needed tutorials on how she achieved the Tiffany glazed nails. However, the glazed technique is one she has replicated in many tutorials on TikTok, and we imagine it'll be no different with this set. All you need is a base and clear top coat, your Tiffany blue color polish, some chrome powder, and of course, some inspiration from Ganzorigt's TikTok tutorial.
Advertisement
Although the clip was being done to show a lavender shade, you can get an idea of how to incorporate the Tiffany blue. To start, apply a layer of base coat on clean and wait about 30 seconds. Next, mix one coat of your preferred Tiffany blue polish with some clear top coat, and apply it on the nail. Then cure for another 60 seconds. While the specific polish Ganzorigt used to achieve the look is still unknown, we recommend the OPI Infinite Shine Nail Lacquer in the shade To Infinity and Blue-Yond or Lights Lacquer in the shade Pisces. After curing the color, apply some shimmery top coat and cure for another 60 seconds. Then, wipe the nail gently with some alcohol, and just like that, you're done with your base. Now for the glazed effect. 
Advertisement
Rub a light layer of chrome powder and apply one more layer of top coat over it with a small brush. Cure again for 60 seconds, and you will have your Tiffany blue glazed nails.
Some more inspo for your Tiffany blue nails
While Bieber's known for her almond or oval nails, that doesn't mean you have to recreate the look to a T. There are many other ways to wear this manicure for spring, and we'll try them all. For starters, try the Tiffany glazed nails on another nail shape. If you have short fingers, try recreating this manicure with round nails, squoval nails, or even stiletto nails. Finally, if you have sizeable nail beds and love acrylics, coffin or oval nails are a great option.
Advertisement
We love a good French tip, so feel free to recreate using your preferred Tiffany blue polish on the tips or some inverted moons on your lunula. And if you're more minimalist than an almond set would allow, take Andrea Barbet's via Instagram inspo and use your Tiffany blue polish to outline your nails with a thin nail art brush.
Spring is all about joy and growth, and what better way to show that on your nails than with some color?