Why A Brow Pencil May Be Exactly What You Need For A Precise Liner Look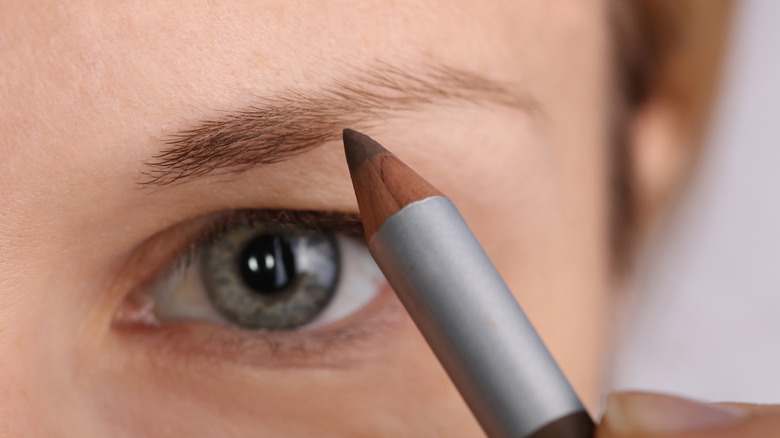 Albina Gavrilovic/Getty Images
Most of us reach for our brow pencil to define our brows and create a natural look. Unless you're in an experimental mood, the pencil is usually optimized around this area and doesn't venture far. However, brow hacks are becoming increasingly popular on TikTok, with the versatile makeup product now being used for more than just brows.
Advertisement
So, what other parts of the face can your eyebrow pencil work its magic on? While it may seem unusual, your nifty little pencil has a few tricks up its sleeve and may even transform your face in the process. Some individuals use the tool to add freckles, while others use it to contour their faces. However, this isn't the only facial area for which the product is valuable.
Your much-loved brow pencil can be used in place of eyeliner. This handy trick is perfect for creating a natural makeup look and can be easily implemented into any beauty routine.
Swap your eyeliner for a brow pencil for extra precision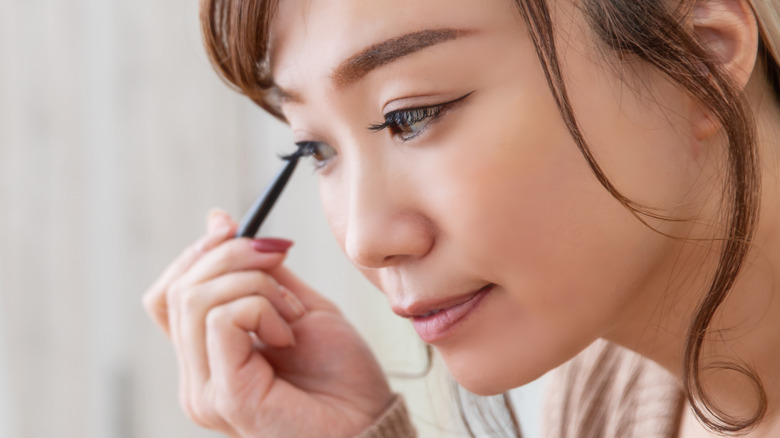 buritora/Shutterstock
If you want more precision when it comes to your eyeliner, then swapping it out for your trusty eyebrow pencil may be the perfect solution. Even better, it's likely already tucked away in your makeup drawer, so this trick really takes minimal fuss on your behalf.
Advertisement
Eyebrow pencils are great for creating a natural brow; however, they're also excellent at creating an easy, natural, and defined eyeliner that will pair well with any makeup look. As it turns out, eyebrow pencils help "achieve a precise line" explains celebrity makeup artist Jen Tioseco to Brydie. However, she recommends "[opting] for a waxy formula" to reap the full benefits. Of course, you should always ensure that your pencil is in top condition before using it; for example, you should always double check that it's sharp.
When applying your brow pencil, you can use it as you usually would when applying your eyeliner. However, rather than rushing, make sure you take your time. This should allow you to be even more precise regarding your brow pencil application. In terms of design, the world is your oyster. However, you should keep in mind that there are some risks associated with using wooden eyeliner, so make sure to brush up on your knowledge of how to apply it safely.
Advertisement
Use concealer for extra eyeliner precision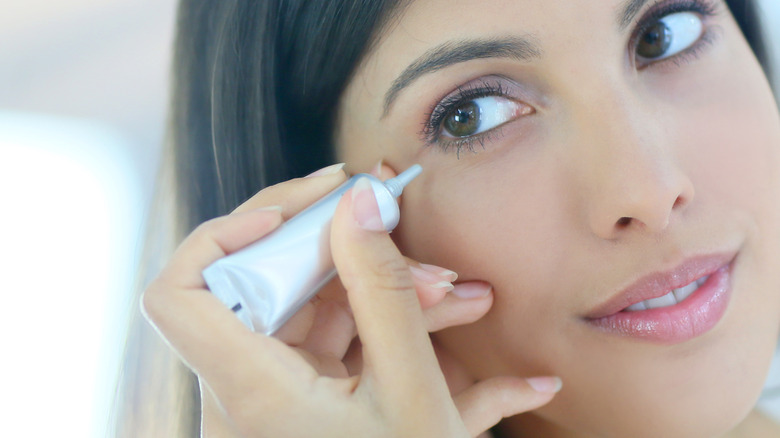 goodluz/Shutterstock
If you want to master a precise liner look with your eyebrow pencil, concealer will be your best friend. Of course, mistakes may occur as you will likely be getting used to using a pencil instead of your traditional liner. This makes concealer the perfect option for adding an extra dash of precision alongside your eyebrow pencil. However, if you've never tried this method before, it may be a bit daunting.
Advertisement
Speaking to Get The Gloss, makeup artist Aimee Connolly unveils her best methods: "Taking a flat concealer brush with some concealer on the bristles, I love drawing this up alongside the flick to clean any edges and create a tapered end. This gives the perfect effortless flick every time and hides any messy mistakes should they happen."
Thankfully, achieving a precise eyeliner look has never been so easy using these two methods. All you need is your eyebrow pencil and favorite concealer, and you're good to go. If you want to achieve a very subtle look, you should opt for the "barely-there" eyeliner trend, perfect for everyday wear. However, if you want something bold, you can run wild with your eyeliner. With your eyebrow pencil in hand, the choice is all yours.
Advertisement