What Is Microplopping - And How Can It Help Your Curly Hair Look Its Best?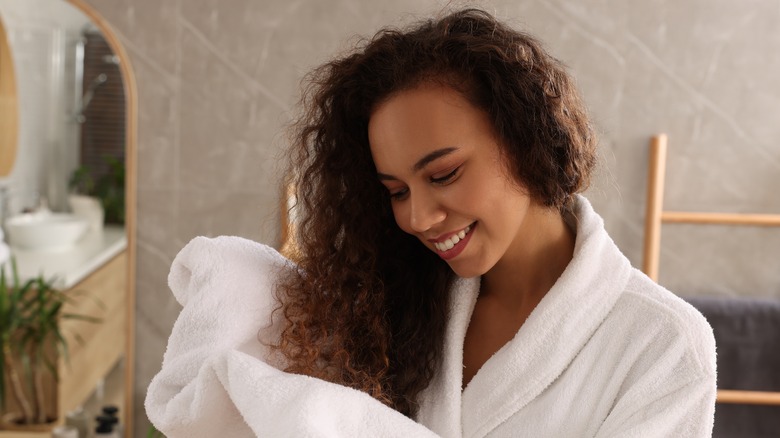 New Africa/Shutterstock
If you have curly hair, you may often find that maintaining it and styling it can be challenging at times as frizziness is a common concern. If your hair feels stuck in the middle of straight and curly, this may ring especially true. Sometimes your hair can look picture-perfect, and other times it may appear as a frizzy mess. Either way, the struggle is real. 
Thankfully, plenty of curly hair hacks scattered across the internet can help soothe your curly-haired woes in one fell swoop. Some prime examples of valuable techniques that have taken root include using hair mask recipes and combing your hair while it's still wet. However, the curly hair hacks don't end there. One that has also garnered much attention is the microplopping technique. Not only will this technique help you to restore your hair to its former frizz-free glory, but it should also help to boost your confidence so you can feel camera-ready no matter where you are. 
What is microplopping?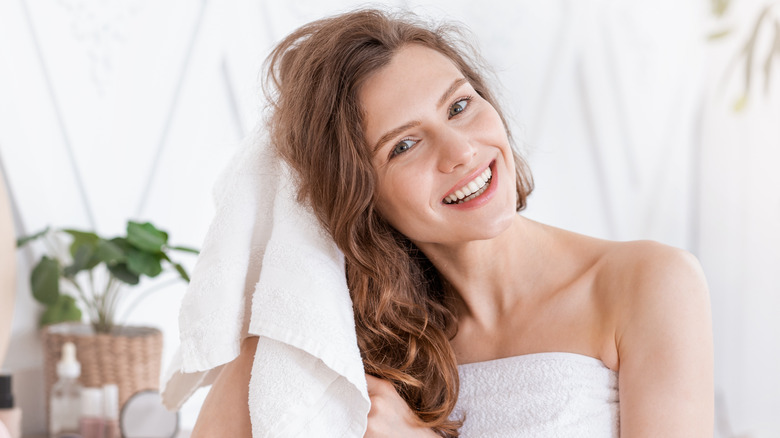 Prostock-studio/Shutterstock
Thankfully, the microplopping technique is relatively easy with some practice. But what is it exactly? While the name of the technique may sound fancy, Mia Emilio, a New York-based hairstylist, breaks it down into more understandable terms. "Plopping uses a t-shirt or microfiber towel to keep curls defined while removing excess water from the hair before air-drying or diffusing," she tells Good Housekeeping. The "plop" on the top of your head helps keep your curls in place, and the cotton t-shirt gently soaks up excess water. If you don't have a t-shirt, you can always opt for using a microfiber hair towel – a traditional one will cause frizz. 
As with any beauty technique, learning how to plop your hair will likely take some practice. However, once you master it, your curly hair should start seeing benefits. So, how does microplopping help your hair to look its best?    
The benefits of microplopping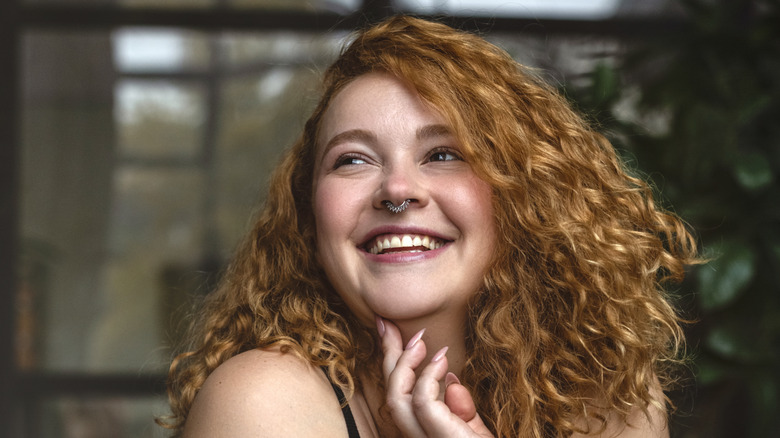 Anastasia Dobrusina/Getty Images
Using just a t-shirt and your regular hair care products, microplopping works to accentuate your curls, leaving them looking healthier, bouncier, and free of frizz. Ultimately, the technique is perfect for helping curly hair look its best. 
So, if you're looking to take your styling game to the next level and achieve flawless curls every time, then the microplopping hack may work wonders. However, it's important to note that this technique works best on 2a and 2b hair types, which carry more of a loose wave in comparison to other curly hair types, such as 4c or 3c. If you have tighter curls, then you may not need to use this technique. However, if you feel as though it would be beneficial for your hair, then the choice is yours. Who knows, perhaps your hair will love you for it! 
Another alternative technique for curly hair is the bowl method, which is always worth a try if microplopping doesn't work for you. Perhaps combine the two methods and see what happens.