If Your Hair Is Stiff Or Crunchy After A Fresh Wash, It May Be Damaged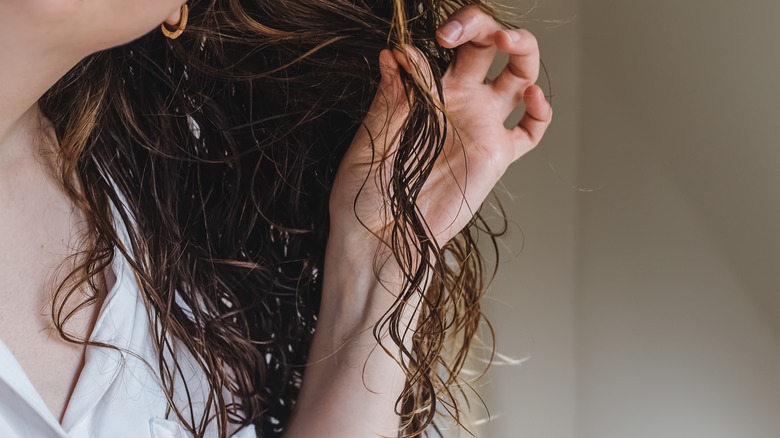 Chiociolla/Shutterstock
Research cited by Procter & Gamble indicates that more than half of women in the U.S. believe that our hair is in poor condition. Damaged hair is a concern for many, as it can prevent our hair from looking its best. In some cases of long-term or severe damage, trying to get your hair back to a healthy condition may be a struggle. While there are ways to stop hair damage for good, it can certainly be a time-consuming process. The first step is to identify that it's damaged. 
Advertisement
When we think of damaged hair, many of us think of split and dry ends. However, there are often other tell-tale signs that our hair is not in its prime condition. If you find that your hair is feeling crispy after washing it, as though you've just scrunched it with a stiff hair gel or mousse, it could be a sign that your tresses are damaged. Thankfully, it's not the end of the world, and the problem can be easily rectified with a healthy dose of hydration and an updated haircare routine.
Damaged hair will feel different from healthy hair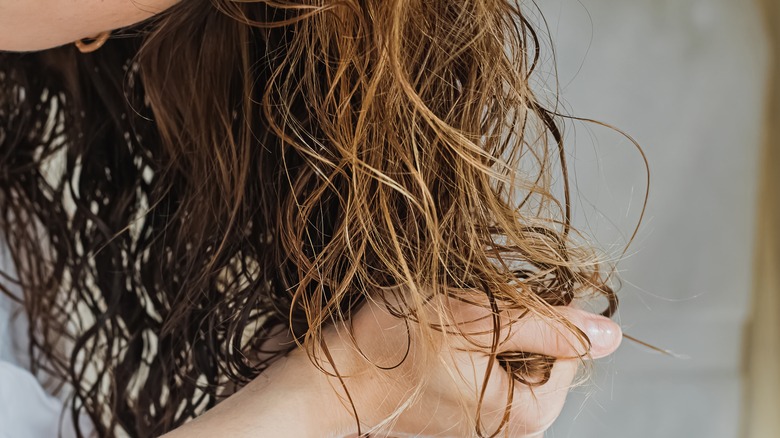 Chiociolla/Shutterstock
One tell-tale sign of hair damage is the hard and crispy texture of your clean wet hair, hairstylist and educator for Covet & Mane Taylor Blades explains to Yahoo! Life. "Over-exposure to the elements such as sun, salt water, and chlorine can make your hair almost feel crunchy when it's wet and appear dry and brittle on the ends after it is styled."
Advertisement
However, even if your hair isn't wet, you should be able to tell if it's damaged. Some other tell-tale signs include thin split ends and easy hair tangling. Some people even describe the texture of their dry damaged hair as being like hay or straw. Often, damaged hair is a result of frequent bleaching or styling of your hair with heat, which many of us turn to when we want to change up our hairstyle or rock a new look. It can also come about as a result of chemical treatments, sun exposure, certain hairstyles, or even underlying health conditions. Hair that has been damaged from bleach can be recovered, as can hair that's been damaged via other means. 
How to fix crispy hair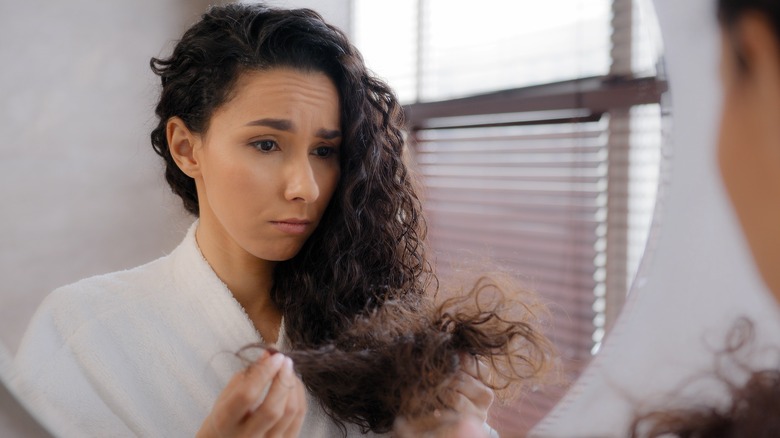 Maya Lab/Shutterstock
If your hair is feeling less than fab, you can always try dialing down on activities that you know cause damage. This means less bleaching, chemical treatments, and tight irritating hairstyles. In addition, keeping it moisturized may also help, with celebrity hairstylist Graham Nation recommending to Byrdie "a hydrating oil used one-to-three times throughout the day" to "give the hair moisture and shine by deeply sealing and protecting the hair from heat, frizz, and UV damage." So, if your hair is feeling very much like crispy fried noodles, try using these remedies first. 
Advertisement
In addition, a great way to take care of your hair is to tone down how much heat styling you do or remove it from your routine altogether. While it's likely easier said than done, your luscious locks will thank you for it. However, if you can't quite break up with your cherished heat styling tools just yet, it's always a good idea to add some heat protection to your hair with each use. As board-certified dermatologist Dr. Christina Han tells Seventeen, this will help to "provide a barrier to the hair and help to lock in moisture that can get lost." With all those tips in mind, you should be able to successfully restore your hair to its healthier days.