Is A White Makeup Base The Key To Flawless Foundation?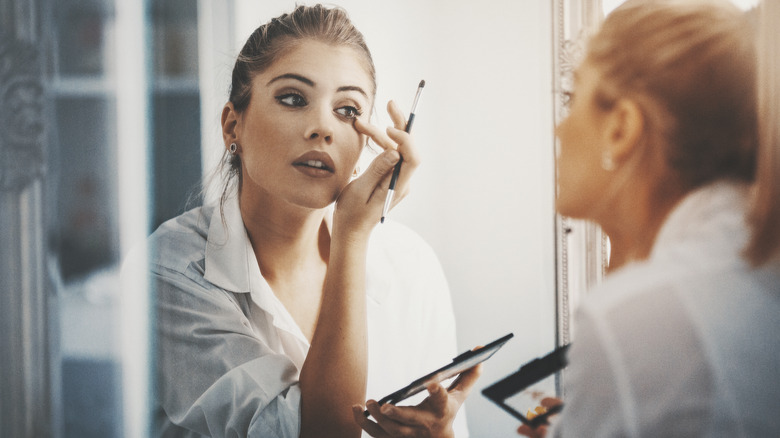 Gilaxia/Getty Images
Whenever we sit down to do our makeup, many of us instinctively reach for our foundation to help create a flawless and even skin tone. This miracle product is also great for masking any minor blemishes or any "pesky" areas that you want to cover, so it makes sense that it's most people's go-to beauty product. What's not to love?
However, what if there were a way to make your foundation even more "picture-perfect" than it already is? Say hello to a white makeup base. Adding this step into your makeup routine could be a game-changer.
Though you'd never pick it, white powder can help give your skin an almost airbrushed-like finish once you put your foundation on above it. The TikTok-born trend which has since been replicated by many BeautyTok gurus, including user Mireya Rios, showcases how to use a white makeup base to achieve flawless-looking skin. Below, we'll dive deeper into this exciting new trick.
Get a flawless finish with a white base
A flawless, seamless finish. That's what many of us are aiming for when we apply our foundation. Thankfully, this white makeup base hack will help you to level up your makeup game even further. All you need is a white base, along with your regular foundation.
For this hack, you should start by applying your white base, which could be a white foundation or concealer. You should ensure that you blend it into your skin thoroughly. However, your face should still be the white color of your product. This step is arguably the most crucial part of the whole hack. Once complete, you can move on to your foundation. Take your favorite foundation product and apply it over the top of your white base until it's completely blended out. Some easy ways to blend your makeup flawlessly include using specific brushes that match your product, though your fingers may work, too. Now, your foundation should give off more of an "airbrushed" look. 
Use a slightly darker foundation
While it's easy to reach for any old foundation, TikTok user Mireya Rios claims this hack works better with a slightly darker shade of foundation than your regular go-to. However, it shouldn't be so drastic that it doesn't match your skin tone. In this instance, it may be just one or two shades different. This part may all come down to trial and error so that you can find what works best for you. Of course, everyone has different preferences when it comes to makeup, so go with what you feel the most comfortable with.
The best part about this hack is you get to decide how you finish it. If you're unsure, you could always try going in with some blush and highlighter, or the makeup setting hack that involves dabbing your skin with toilet paper to lock in your flawless foundation. All you have to do is scoop up your makeup brush and work your magic to complete the look how you see fit.