Extra-Long Earrings Are The Jewelry Trend For An Effortless Yet Glamorous Look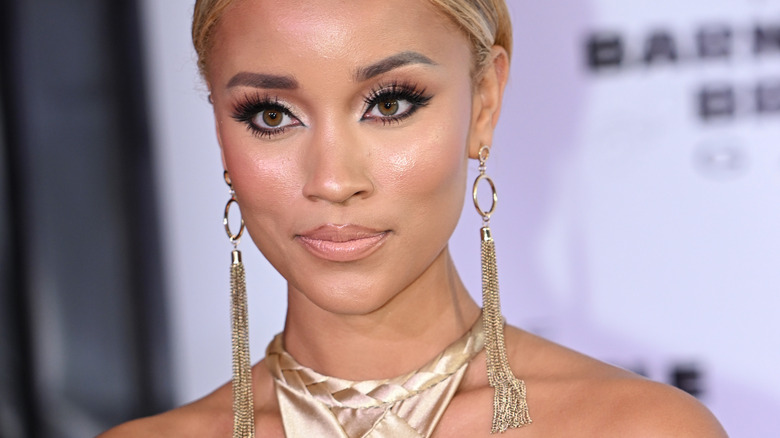 Stephen J. Cohen/Getty Images
When putting together your look for any event, earrings are often the last piece of the puzzle — not even the icing on the cake, but the sprinkles on top of the icing. When in doubt, many people default to the endless versatility of classic hoop earrings or mix-and-match smaller piercings by curating an earring stack. But some earrings are more than sprinkles. And right now, extra-long dangles are the trend proving that earrings can be the whole cake.
Advertisement
When we say extra-long, we mean it. The 2023 Met Gala saw fashionistas like model Quannah Chasinghorse and Instagram's own Director of Fashion Partnerships, Eva Chen, flaunting earrings that dangled for days. But even if you're not strolling the red carpet, you can follow their lead and turn heads with earrings that skim your shoulders or dip enticingly to your collarbones.
This impactful look may boast an extra benefit if you're rocking a round face shape. When it comes to clothing, many of us already know that creating a long, vertical silhouette is one of the classic fashion tricks to look taller and slimmer. Framing your face with extra-long earrings can be similarly flattering, gracefully elongating the appearance of your face and neck.
Advertisement
Extra-long earrings are an easy yet stylish way to elevate any outfit, whether you use them as a complementary component or as a pop of playful contrast. To help you get started, here are a few lookbook-worthy ways to incorporate extra-long earrings into your own personal style.
Ornate chandelier earrings bring the glam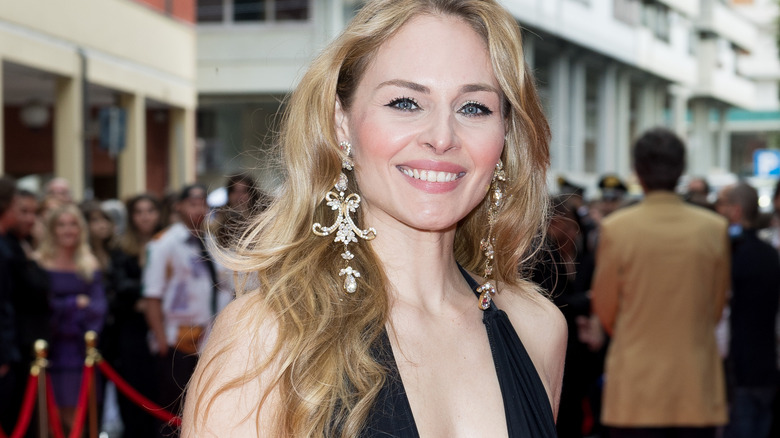 Jacopo Raule/Getty Images
To level up a little black dress or transition any ensemble from day to night, you can't go wrong with a pair of opulently oversized chandelier earrings. Wear bejeweled, super-glam earrings with any basic outfit to make it sing, from accenting the easy luxury of a casual jumpsuit to adding bling to a white t-shirt and boyfriend jeans.
Advertisement
Bold hoops add an edge of street chic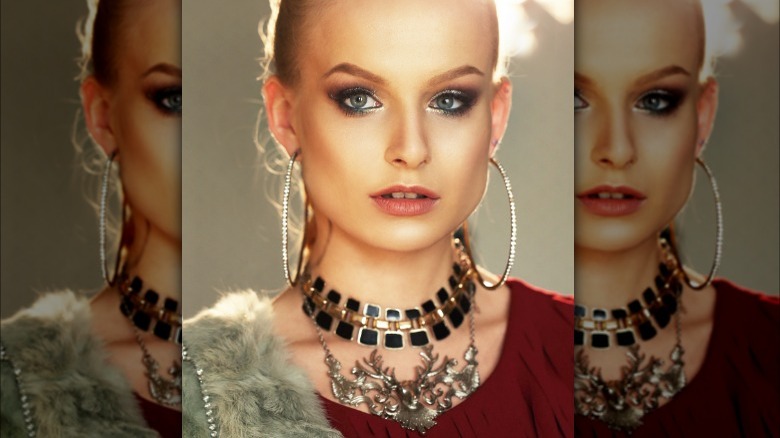 Gromovataya/Getty Images
Hoops may be among the most basic, go-to earring styles, but that doesn't mean they're boring. Add interest to any look by playing with proportions and donning an attention-grabbing pair of extra-large hoops. Hoops that brush your shoulders or traps not only bring length to the equation but also create depth with their spacious circumference.
Advertisement
A thin, delicate hoop will keep things light and enticing, but you can also double down by choosing hoops that are simultaneously long and chunky. Just remember that less is more, so if you go for hoops that are both extra-long and uber thicc, you'll want to balance them with a more restrained outfit.
Audacious statement earrings always turn heads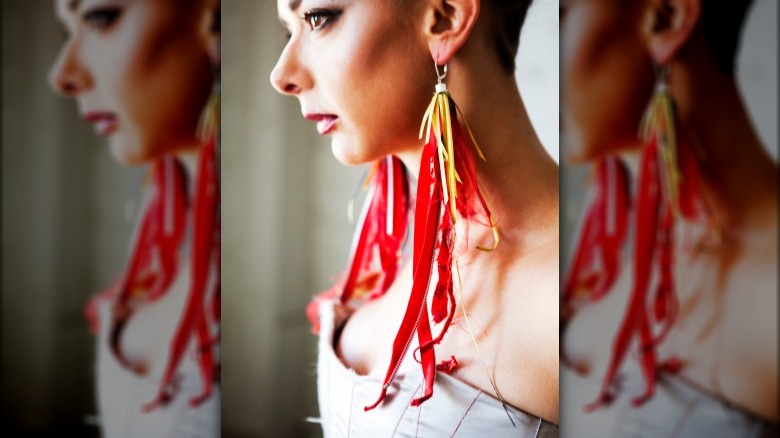 Renphoto/Getty Images
There's nothing wrong with a classy, minimalist chain earring, but sometimes you want your accessories to make a real statement. Use the opportunity provided by extra-long earrings to play with color and texture, choosing a pair that contrasts loudly with your clothing or is made from uncommon materials like leather and ribbon. This type of extra-long earring looks especially good with updos or short hairstyles like bobs and pixie cuts, which will let everyone around you get the full impact of your adventurous jewelry.
Advertisement
Monochromatic dangles create instant elegance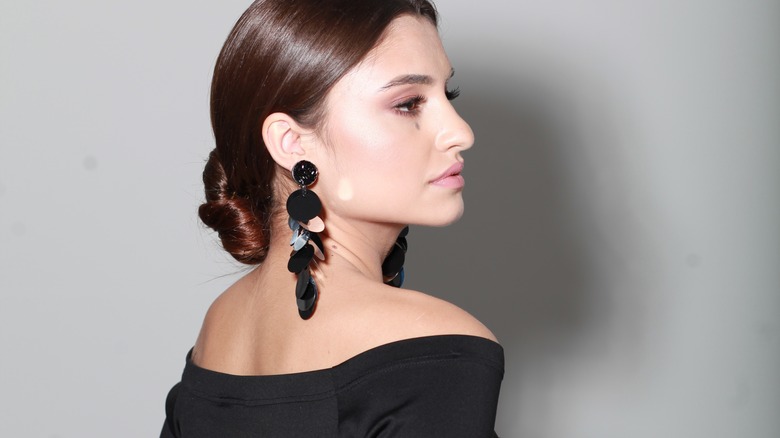 Ina ART/Shutterstock
Putting together the perfect monochromatic outfit is an art, and extra-long earrings are the final flourish you need to complete your masterpiece. Matching your outfit to a pair of long dangles in the same hue helps tie together your entire look, bridging the gap between your outfit, makeup, and even hairstyle. Plus, this is a wonderfully understated way to wear extra-long earrings, proving that they don't always have to be an in-your-face fashion choice. If you want to embrace the elegant lines of long earrings without feeling gaudy, monochromatic matching may be the style for you.
Advertisement
Boho beaded earrings are perfect for festival season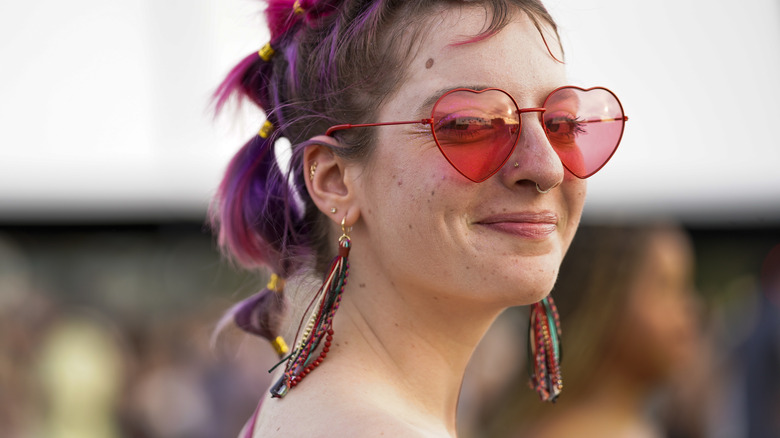 Presley Ann/Getty Images
Nothing screams bohemian whimsy like the onset of festival season, marking your perfect chance to break out bright and playful accessories like a pair of extra-long beaded earrings. Go for petite waterfalls of tiny beaded strands, or turn up the noise with bulbous beads the size of gobstoppers. For a similarly fanciful vibe, you can also look for extra-long dangles made of materials like macrame or feathers.
Advertisement
Long lace earrings offer sweet femininity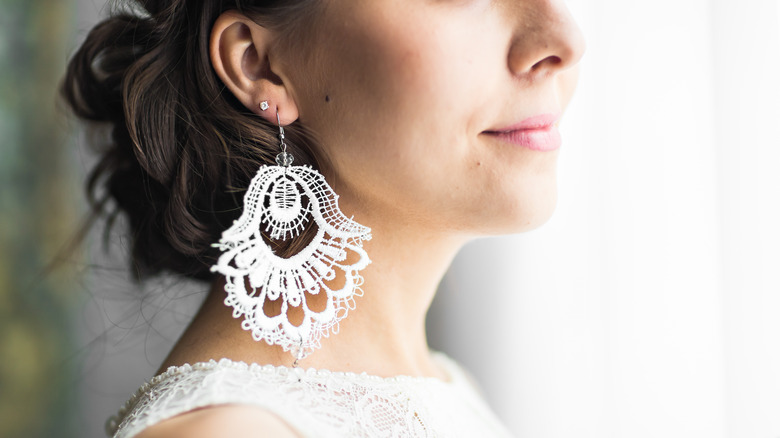 Satura86/Getty Images
Airy materials like lace help you style extra-long earrings without sacrificing delicacy. Tatted jewelry designs are perfectly paired with warm weather and a barely-there makeup look, whether your aesthetic leans toward boho princess, global citizen, or farmhouse chic. You can even wear long lace earrings for formal occasions like weddings, exuding elegance that is timeless without being flashy.
Advertisement
Oversized fringe earrings marry modern with vintage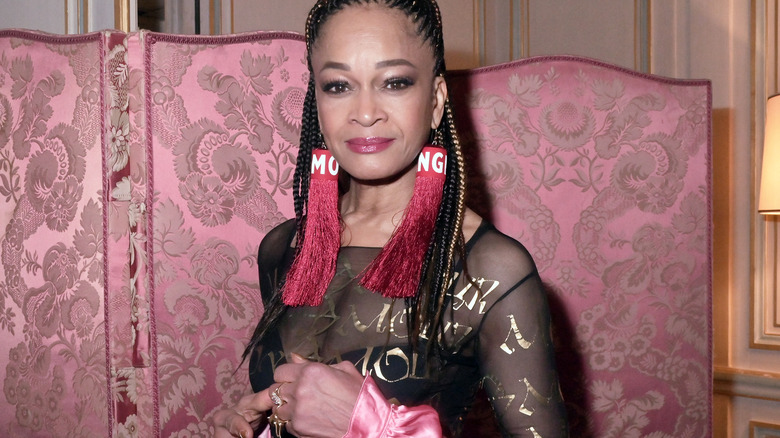 Foc Kan/Getty Images
Everything old is new again, and with extra-long fringed or tasseled earrings, you can lend an intriguingly vintage air to any ensemble. Of course, you can wear these oversized beauties with clothes that are already a bit retro, like a mod color block dress from the '60s or a bright t-shirt and cords to evoke the '70s. However, you can also use fringe to soften and mystify a modern look. The hypnotic flow and movement of long tassel earrings contrast especially well with outfits with a lot of structure, such as a tailored suit or anything bodycon.
Advertisement