TikTok's Skin Smoothie Mixture Is The Gateway To A Goddess Glow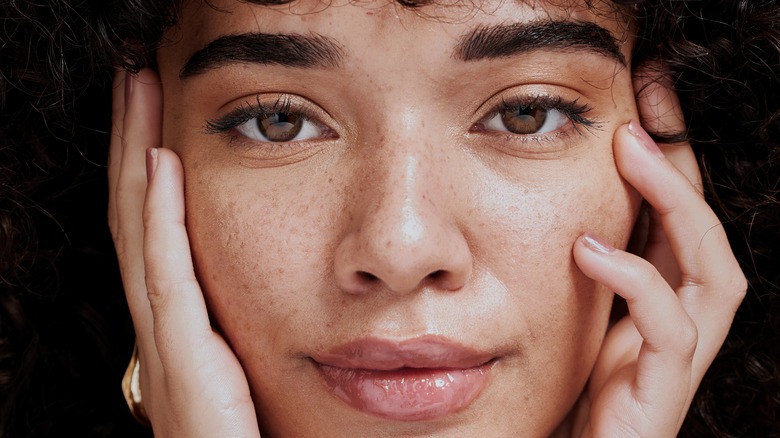 PeopleImages.com - Yuri A/Shutterstock
For some, TikTok's beauty filters are getting a little out of hand with how polished they make people look. The controversial "bold glamour" filter has been highly criticized for transforming users' faces from real people to supermodel-level makeup and skin. Some TikTokers are fighting back against face-altering filters and promoting authenticity, including Alix Earle, who posted an honest video showing how her real skin looks different without a filter. Meanwhile, some TikTok users enjoy using makeup to give themselves filter-like skin without having to use those effects on their phones.
One way to get that glowy, filter-like skin is to try the "skin smoothie" TikTok trend, which involves blending various skincare and skin-related makeup products to make a "smoothie" for your face. Many social media users appreciate how these "smoothies" make their skin look polished and glowy. A skin smoothie might inspire you to ditch the "bold glamour filter" or any other makeup filter and opt to mix skincare ingredients for smoother skin.
Combine different skin products for goddess-like skin
TikTokers are showing viewers various skincare smoothies. For example, TikToker @lexvalclem mixed a balancing moisturizer, face oil, a glowy skin item, and what looked like a tinted moisturizer and BB cream. Then she blended it all with her finger to create a creamy mixture — or dare we say "smoothie" — of ingredients to apply to her face.
Moreover, the skincare brand Nip+Nab shared a video making a skin smoothie with some of its products, including SPF Moisturizer, Extreme4 Serum, and Vitamin C Concentrate. This simple mixture seems like a more subtle spin on skin smoothies, helping your face achieve a healthy but not overly polished look.
Furthermore, TikToker @gehnaadvani1 made a skin smoothie with various Drunk Elephant items, including cream, serum, and Bronzi Drops, blending them with her fingers, and then spreading the concoction onto her face. The results appeared to be smooth, healthy-looking skin. All of these TikTok users created different variations of the same idea, using the ingredients that work best for them. You can do the same!
Some people prefer drinking real smoothies to improve their skin
Like any other skincare trend, skin smoothies aren't for everyone. "Not all formulas will mix well together and may end up 'pilling' on the surface of the skin, preventing products from absorbing properly and creating an uneven texture," Ada Ooi, a celebrity facialist and founder of 001 Skincare, told Stylist. "Mixing can also cause formulas to separate, creating a gooey mess that won't absorb effectively."
If you don't want to try trendy skincare smoothies, you might be more interested in drinking more traditional smoothies — involving fruits and vegetables, not makeup — that can greatly benefit your skin. TikToker @alexiskennedyofficial posted a video in which she shared that drinking a green smoothie with frozen pineapple, frozen mango, cucumber, baby spinach, banana, vanilla vegan collagen, and coconut can result in healthier-looking skin. Another TikToker @missskena stated in a video that drinking a smoothie every day with an apple, bananas, water, spinach, and flax seed helped get rid of her acne.
Whether you choose to concoct a skin smoothie with skincare products and makeup or drink a healthy fruit and veggie smoothie, your skin will thank you later!