The 'Skincare Smoothie' TikTok Trend Has Beauty Store Workers Ready To Quit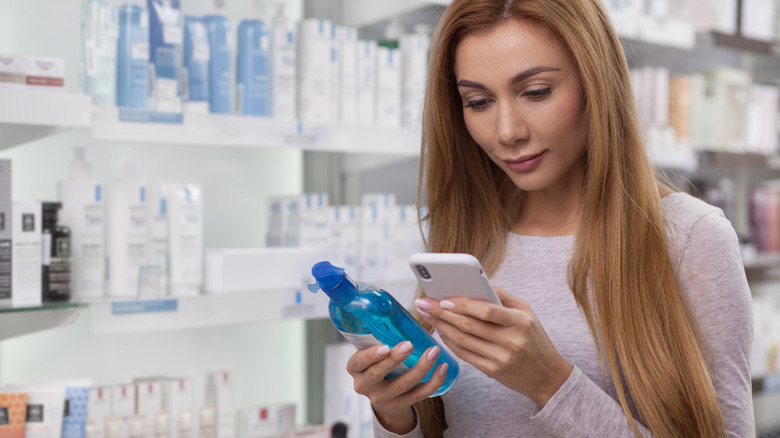 Oleksandra Polishchuk/Getty Images
TikTok is home to dances, recipes, and viral skincare advice ... and now a new trend is combining those last two niches. "Skincare smoothies" are all the rage, prompting users to make concoctions and make messes, in their bathrooms and beauty stores all across America. No matter your stance on their effectiveness, skincare smoothies are the opposite of "clean" beauty. 
These smoothies are not to be confused with edible beverages. These homemade mixes are a far cry from Hailey Bieber's popular wellness beverage (which sells for $17 and was taste-tested by Kitchn). On the contrary, TikTok's skincare smoothies should stay far away from your digestive tract ... and are even maybe questionable for your skin. 
Popularized by the beauty brand Drunk Elephant, which advertises that its products are made for mixing and customization, TikTok users are now swirling together their favorite products to create brand new "formulas" and personalized routines. The trouble has come as a result of some creators taking their kitchens on the road. Luxury samples and store spaces are being used as ingredients and testing labs and retail workers are begging for the trend to stop.
Skincare smoothies are making the most of free samples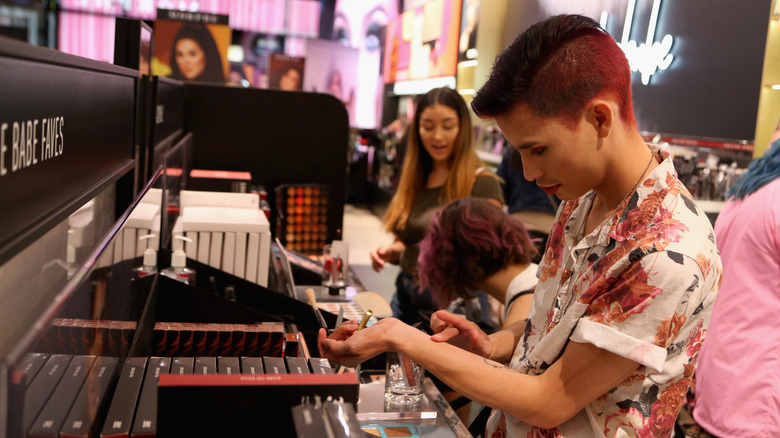 Gabe Ginsberg/Getty Images
Whether or not you believe in skincare smoothies' effectiveness, or buy into Drunk Elephant's claim that "mixing is the new layering," there's no harm in trying out a mixture in the comfort of your own home. Drunk Elephant has even created a glossary of online smoothie recipes that you can easily recreate using their products. 
Unfortunately, some smoothie connoisseurs simply can't wait until they bring their ingredients home from the store. Viral TikTok videos highlight users mixing experience-free samples on the tops of skincare containers, whipping up batches of "smoothie" inside Ulta or Sephora. One video, which received over 350,000 likes, showed friends assembling their mixture inside a retail store. 
Although the like count speaks to the trend's popularity, many were shocked in the comments. "In a store?!" one user wrote. Others speculated that the girls had visited their local Sephora, as they had seen messes on their most recent trip (although the sheer number of people saying this simply suggests that skincare smoothies are becoming even more popular than we originally feared). 
Store workers and brands are begging for the trend to stop
In a now-deleted TikTok, summarized by Yahoo! Life, a Sephora employee aired her frustrations about the skincare smoothie trend. "This was all within the first three hours of my shift," the user said, showing off messes left behind. "Y'all have to stop." Another employee took to Twitter to complain: "Our drunk elephant display is literally ALWAYS caked in product from kids doing skincare smoothies."
Some TikTok users have taken it upon themselves to disavow the actions of their smoothie-making contemporaries. "Repeat after me," said one woman in response to a smoothie video. "If you're going to go into any makeup store and treat it like it's a playground, you're too young to be in a makeup store." 
The distasteful trend spread so far that the Drunk Elephant brand itself had to speak up. They created a TikTok featuring a series of skincare smoothie messes, set to Barney's "Clean Up" song. "Hey kids!" they wrote in the caption. "You know we love to see you mixing your favorite skincare smoothies, and when you're done ... you know what to do! #cleanup." Hopefully the trend dies out before we all get our free sample privileges taken away.