The Bold Inner Corner Eyeliner Trick To Try To Spice Up Your Look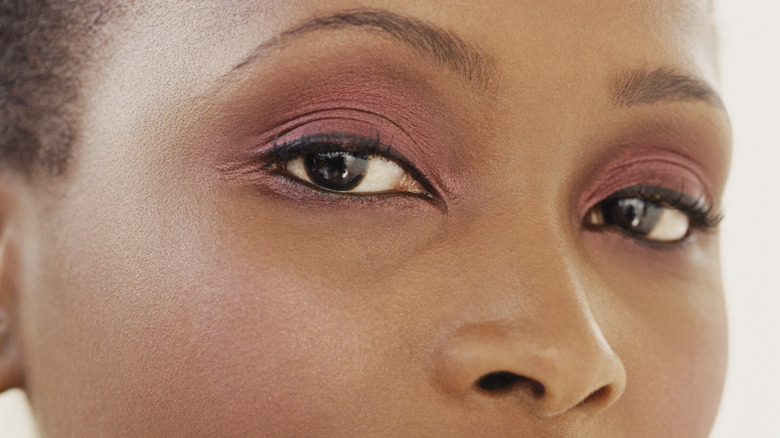 Digital Vision./Getty Images
A full face of makeup without eyeliner is like a cake without frosting. Whether your eyes are big or small, downturned or upturned, one good swipe across the lash line can perk them up and add flair to your face. From the classic cat-eye wing for a razor-sharp look to smokey eyeliner for a smoking-hot vibe, there are plenty of winged liner looks to help you express your eyes. 
But if you're into next-level statement eye makeup, the inner corner eyeliner look is the way to slay all day. This ambitious makeup look involves extending the top and bottom liner so they collide at the inner eye corner, creating the illusion of a longer, phoenix-like eye shape that recalls mesmerizing sirens. If you do it right, it can make you look like you've undergone an epicanthoplasty or a fox-eye thread lift to lengthen and define your eyes. 
"Eyeliner in the inner corner of the eye looks scarier than it truly is," M.A.C. Cosmetics' senior national artist Michelle Clark tells Bustle. It's no easy feat for an unsteady hand, but it's worth the challenge. Pulling off the bold inner eye corner eyeliner will give your eyes tremendous edge and spice up your makeup look beyond measure. Here's how to go about it. 
How to choose the right tools for inner corner eyeliner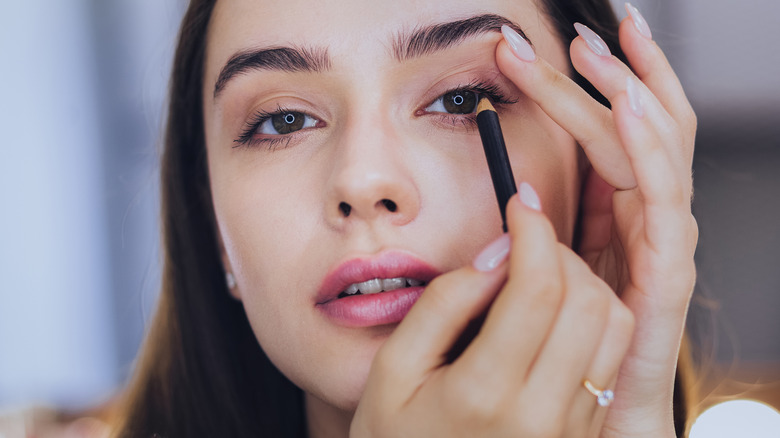 Dmytro Zinkevych/Shutterstock
For an inner corner eyeliner, any type of eyeliner will work. Sang Jeon, a celebrity makeup artist, suggests drawing out where you want your liner to go with a pencil first, and only using a gel or a liquid eyeliner when you start tracing the line to achieve the most precise look possible. 
A formula that can resist moisture is the key to keeping the inner corner eyeliner look on fleek. Water-resistant or waterproof eyeliners will be perfect for this look, makeup artist Michelle Clark suggests. Jeon recommends liquid eyeliners over their cream or pencil counterparts because they remain on the skin for a longer period of time, keeping your inner corner eyeliner in place all day. Color-wise, you don't have to stick to black all the time. "Inner corner liner is a super fun way to change up your look by using color," explains Clark. "Yellow, cobalt blues, violets, and greens look incredible and add a fresh vibe to any eye look." 
To prevent your eyeliner from melting or smudging, Clark recommends applying transparent setting powder on top of it to set the formula onto the skin. Before applying eyeshadow and eyeliner, apply a primer to your eyelids and the area surrounding the inner corner to help your makeup go on smoother and stay longer. You might also want to keep a bottle of micellar water and some cotton swabs handy to fix eyelining mistakes along the way. 
How to draw an inner corner eyeliner wing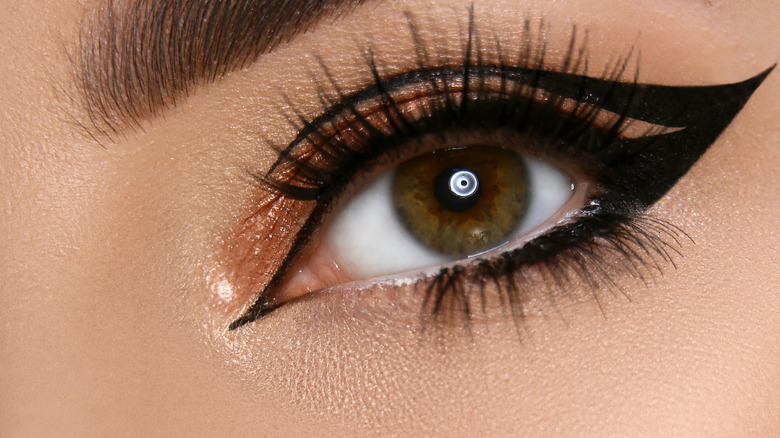 Veles Studio/Shutterstock
Everyone has their own way of drawing an inner corner eyeliner; you can choose whichever technique that works for you. 
Celebrity makeup artist Katie Mellinger also believes in outlining the wing with a brow pencil first before gliding a liquid liner along it. Mellinger tells Makeup.com by L'Oréal: "With the tip of the brush facing the nose, lay the tip of the brush down where you want a sharp point just beyond the inner corner and brush inward until you want the color to stop." In a motion horizontal to the surface of your skin, apply the same stroke to your upper lash line. To go from glam to grungy, use a pencil or a gel eyeliner to create a smudged, sultry effect. 
Makeup artist Smitha Deepak starts the look by extending her lower lash line at the outer corner and, at the middle of the wing, attach it to her lash line. Next, she fills in the wing and lines her top lash line. In the next step, Deepak grabs a brow pencil and warms up the tip to make it more pigmented. As she stretches out the inner corner of her eye with a finger, she uses the pencil to extend a line from her tear duct, pulling it outward in a flick motion. To complete the look, she joins the inner corner with the upper lash line and applies eyeliner to the lower lash line.