Retro-Style Sneakers Are The Stylish Shoe Trend That Won't Destroy Your Feet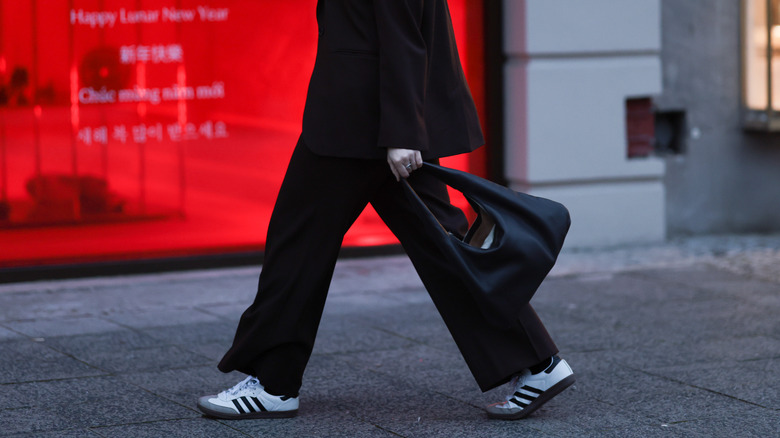 Jeremy Moeller/Getty Images
For a few seasons now, the fashion industry has embraced comfort like never before. While some prefer style over comfort, recent years have shown there's no need to pick between the two. With the recent Y2K renaissance and everything '90s trending again, the mix of comfort and style has never been as important as now. Many of the looks of this era combine minimalism, street style, and comfort in one ensemble. Items such as tank tops, cargo pants, and sneakers are known as iconic '90s fashion trends. Although some may find the fashion too casual, there's no denying these are some of the most practical pieces you can add to your wardrobe. Thankfully, for us, these trends have brought new pieces that will add both comfort and chicness to our lives.
Sneakers in particular can have a bad reputation for being too casual for certain looks. However, some of these newer styles take a cue from the past to give us a modern take on classic retro-style sneakers. These retro designs add a touch of '90s style but in a way that's apt for the modern era. These styles are perfect for looking chic while feeling comfortable.
Sneakers with slacks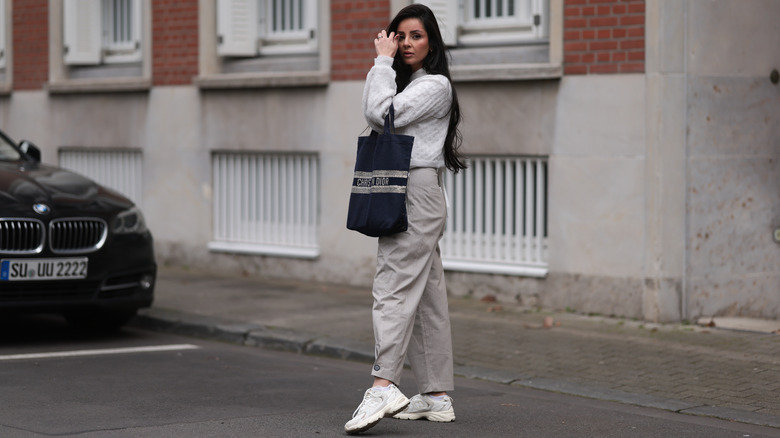 Jeremy Moeller/Getty Images
No matter the season, wearing slacks or trousers is an easy way to elevate a look and can give your outfit a touch of that workwear trend. Pair your retro sneakers with a modern pair of slacks to create a chic but comfortable contrast. While it may not seem so at first, this pairing is shaping up to be the ultimate street-style combination.
Sneakers with a twist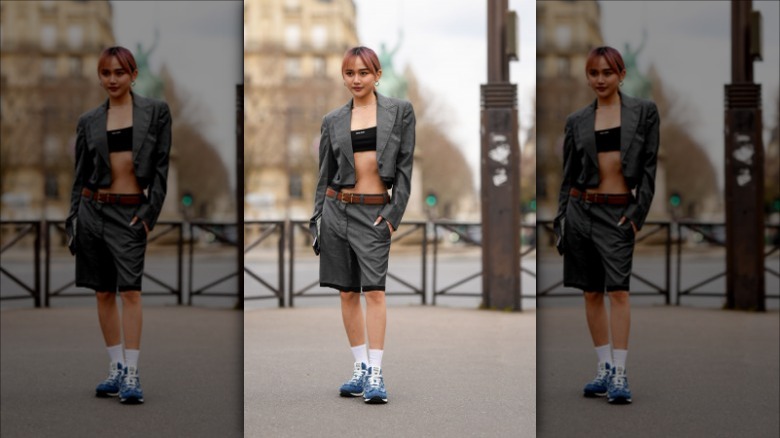 Edward Berthelot/Getty Images
A component of retro sneakers that stands out the most is the fact they never lack personality. No matter the brand, their offering of retro sneakers is sure to be full of prints, colors, and textures. Even modern designs now have this hint of retro flair to them. Reach for a chunky pair of eclectic sneakers that will keep your look chic and your feet comfortable.
Contrast with your sneakers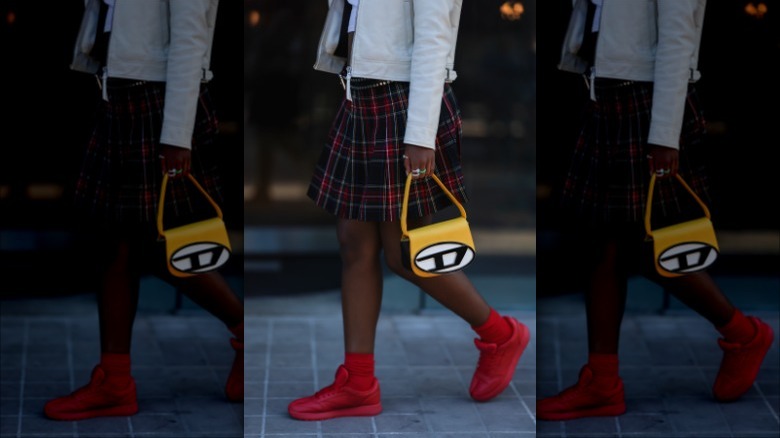 Jeremy Moeller/Getty Images
Retro-style sneakers can be symbolized by the sporty chic factor they can bring to your outfit. While this is ideal for those with that specific style, it can bring some confusion for those with opposing fashion preferences. However, these retro sneakers are not only sensible footwear, but they can also bring an interesting twist to any ensemble. Style your retro sneakers with a feminine and frilly outfit for an opposing chic look.
Embrace the retro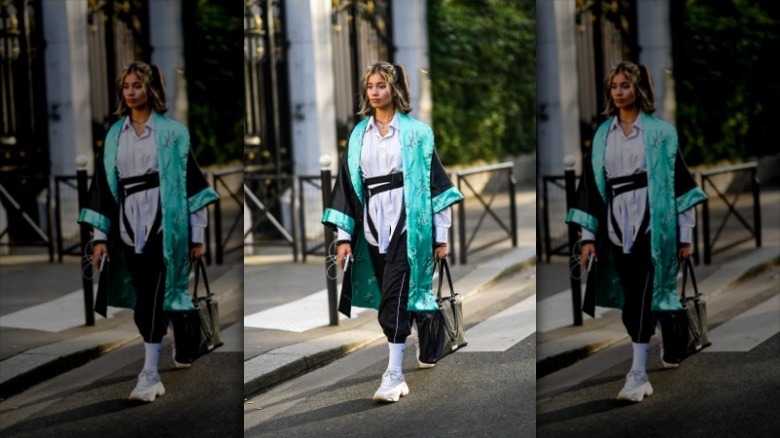 Edward Berthelot/Getty Images
An easy way to wear these comfortable shoes is by embracing the look they give. Instead of trying to dress them up, embrace the retro-ness of the situation and complete it with a head-to-toe '90s style. Chunky sneakers were one of the first practical retro-style sneakers to invade fashion trends, especially when styled with other retro pieces such as joggers, cargo pants, and white ribbed socks. Embrace the style and go for your dream Y2K look.
Go with the classics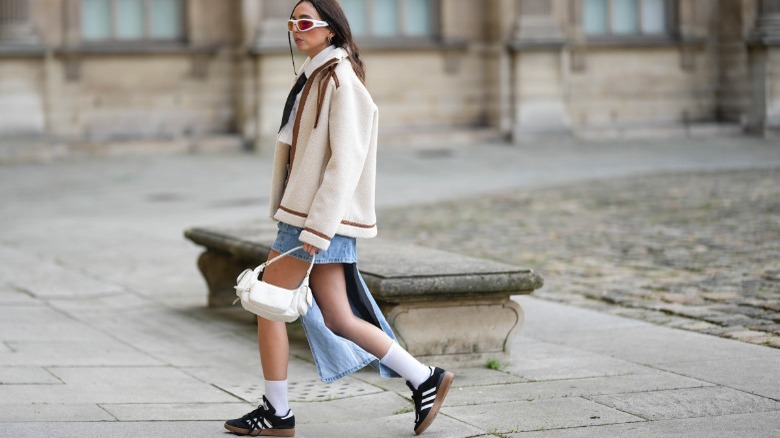 Edward Berthelot/Getty Images
If you're just beginning to look for your pair of retro-style sneakers, it can be overwhelming to know where to start. While plenty of options are modern with a retro twist, you can't go wrong with the classics of the era. Sneakers from Adidas – especially the Samba sneaker – as well as Reebok and New Balance, for example, are known for their perfect mix of retro and chic style combined with comfort. You can never go wrong with an iconic pair of sneakers that truly stands the test of time.
Add comfort to the uncomfortable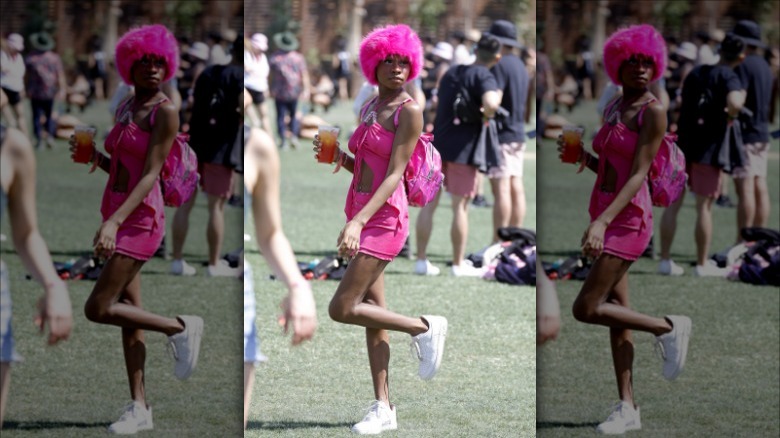 Frazer Harrison/Getty Images
Because sneakers are known as the go-to casual footwear, it's easy to think they can only be styled with other comfortable pieces. However, there's no reason why you can't wear them in interesting situations. These retro-style sneakers can add a touch of street-style chic to elevate any look. Since the current '90s trends are all about embracing comfort over style, there's no need to worry about mixing opposing pieces.
The finishing touch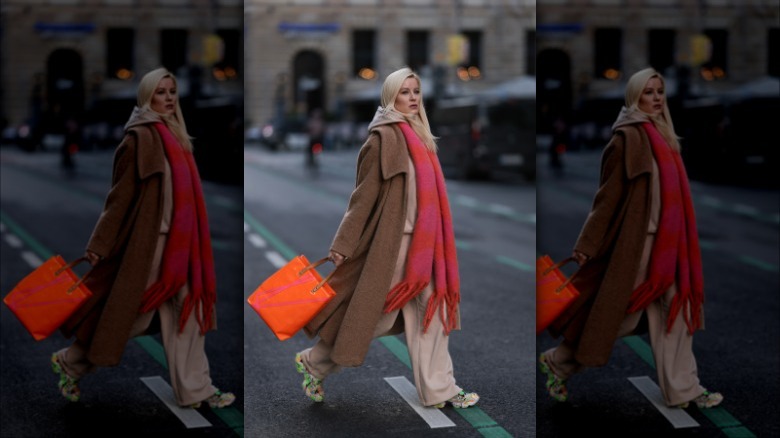 Jeremy Moeller/Getty Images
No matter the season, retro-style sneakers can be the finishing touch to your overall look. In the instances where you don't know what footwear to go with, these retro styles are the perfect way to bring your look together. Since they're universal and comfortable, they can help you look put together even when planning for a casual day out.