Unsure Of What To Wear? The 3-Color Rule Is Always A Trusty Fallback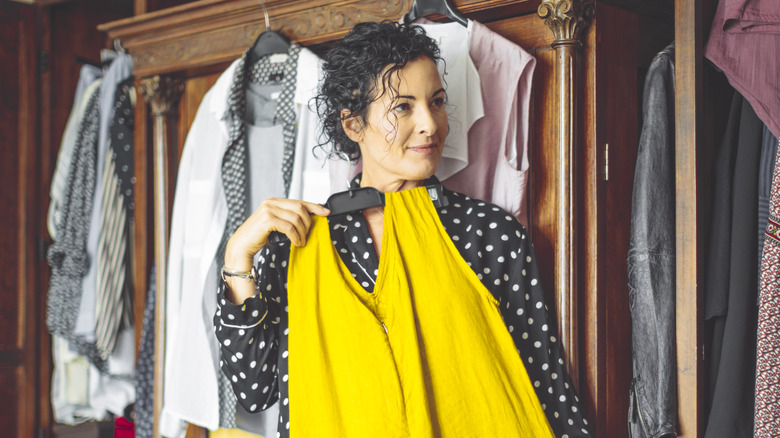 Eva-katalin/Getty Images
We all know that some fashion rules are made to be broken, as you should wear whatever makes you feel confident and stylish rather than worrying about "rules." However, some outfit guidelines are more helpful than restricting, and you should look to them if you feel stuck when trying to style an outfit. For example, the three-color rule can serve as a baseline to help you add enough contrast to your ensemble without overdoing it. 
What is the three-color rule? TikTok user @lovito_official posted a video showing how these guidelines are about incorporating only three different colors into your outfits to provide an appealing and balanced look. The video gave various examples: one look with beige, black, and white; another outfit with brown, white, and black; and one more ensemble, featuring green, brown, and black. Many viewers enjoyed this advice, with a couple of them commenting, "wowww beautiful" and "nice amazing style." Thus, sticking to the three-color rule can eliminate stress when styling ensembles.
The 3-color rule works for everything from neutrals to colorblocking
If you're not a fan of bright hues, remember that you should still use the three-color rule when working with neutral pieces. Too many neutrals in one outfit can appear overbearing, while not having enough contrast in a neutral look is famously dull. When you search #neutraloutfit on Instagram, you'll see that many outfits in the hashtag feature three neutrals per ensemble, such as black, white, and gray. You'll also see looks featuring cream, white, and black; or brown, cream, and white; or ivory, brown, and black. Do you feel your neutral outfits appear too forgettable because they're always only black and white or brown and cream? Or are they somehow too busy despite the lack of brightness? Try taking inspiration from Instagram and using the three-color rule to add more dimension to your neutral ensembles!
On the other hand, the three-color rule is arguably even more crucial for people who wear bright colors. If you want to embrace colorblocking in your wardrobe and hope to look bold enough to command attention but not have too much going on for a too-chaotic look, the three-color rule will help you. For instance, TikToker @stylingwithkenzie posted a video sharing different ways to colorblock using the three-color rule, such as wearing light pink, dark pink, and bright pink; or blue, green, and silver; or yellow, blue, and white.
Use contrasting accessories, outerwear, and footwear for monochromatic outfits
Using the three-color rule doesn't mean you must sacrifice your favorite monochromatic outfits. We love a chic neutral or monochromatic moment! An easy and creative way to add more life to classic monochromatic looks with the three-color rule is to implement accessories. For example, TikToker @volgaleoni shared a video styling an outfit featuring a black and dark-gray outfit — a dark-gray top and blazer with black pants and shoes. While the look was chic at that point, it still looked a bit dull. But the TikToker added a vibrant red purse, and that extra third color elevated the look from borderline boring to ultra-exciting.
Moreover, TikToker @shamiale posted a video showing monochromatic outfits with contrasting accessories, such as a black jumpsuit with a brown purse and tan shoes, along with the words, "Outfit recipe for when you don't know what to wear" and "Monochrome w/ high contrast accessories." Many viewers appreciated this idea, commenting, "OBSESSED" and "So cute!!!!!" 
When implementing the three-color rule into monochromatic outfits, outwear can be as effective as accessories like purses. For instance, TikToker @kelsey.pereyda posted a video styling a monochromatic professional ensemble featuring a black top and pants. Following the three-color rule, the TikToker added more dimension to the monochromatic look with a grayish jacket and tan shoes. Thus, outerwear, shoes, and accessories can be your best friends when working with the three-color rule and monochromatic outfits.