Is There Really A Difference Between An Eye Serum And Cream?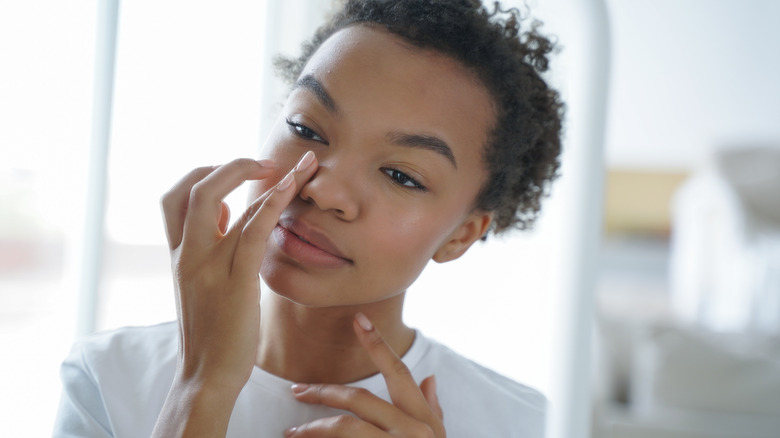 Viorel Kurnosov/Getty Images
Despite how long your skincare routine might be already, you should always include an eye product. Even a basic skincare routine filled with only the necessities needs to have a product that targets your eyes specifically. If you don't have dark circles under your eyes, then you're one of the lucky ones, but you could still benefit from using an eye product to ensure the area remains plump and hydrated.
Finding the best eye product for you will depend on various factors, including your goals and skin type. Those with an oily under-eye area will have to stay away from oil-based products. Meanwhile, those with dry under-eyes need products with hydrating ingredients. The easiest way to find the best eye product for you is to examine your under-eye area and determine what you want a product to do for you.
Like many other skincare products, eye products can come in a variety of formulas and consistencies. These factors will determine whether you need an eye serum or a cream. If you're finding that your current eye serum or cream isn't working well for you, you're likely using the wrong one of the two. While a small difference, knowing what separates an eye cream from a serum will help you get closer to your skin goals.
Knowing the difference between eye creams and eye serums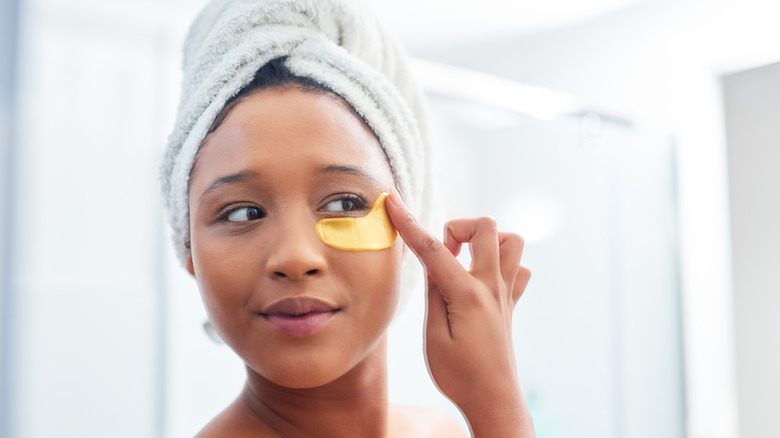 Hiraman/Getty Images
The main difference between a cream and a serum is its consistency. Eye creams are typically thicker than serums and will likely contain more oils. They're made to hydrate and replenish the under-eye area with nutrients and ingredients. Creams contain richer ingredients that can help smoothen any texture you may have in the area. While they aren't optimal for overnight results, they can help rehydrate the area if your under-eyes are severely dehydrated. Because they are thicker, it takes longer for them to penetrate the skin compared to a serum. Those with drier skin or fine lines will benefit the most from eye creams and their hydrating properties.
Eye serums, on the other hand, are lightweight products that can deliver more active and concentrated ingredients closer to the skin. Like facial serums, these eye products can help alleviate the under-eye quicker than a cream. With a higher concentration of ingredients, eye serums are more potent than creams. The benefits of eye serums are similar to that of eye creams, in that they can reduce puffiness and dark circles. Eye serums are beneficial to almost every skin type, making them ideal if you don't know where to start.
How to add eye products to your skincare routine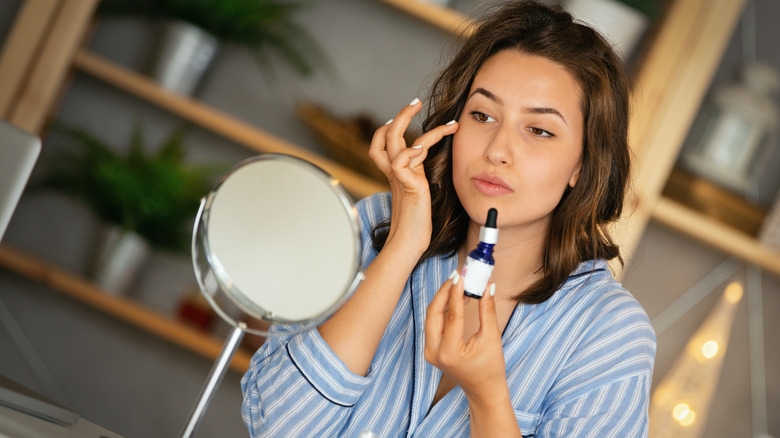 Aja Koska/Getty Images
To get the best results out of your eye products, you need to use them at the right time in your skincare routine. Using them incorrectly will render them useless and inefficient in treating your eye concerns. Eye creams should be applied in a pea-sized amount, which is more than enough to cover the entire area. Gently tap the product into the inner corner of your eye, working your way toward the brow bone. Once your product has been absorbed into the skin, give yourself at least 90 seconds before applying another product over the eye area.
Since eye serums are more concentrated, you should apply a pea-sized amount or less. You don't need much of this product to get the job done. Using the same method as with eye creams, apply the product starting in the inner corner. Like with eye creams, avoid applying the product too close to the eye, to avoid any irritation or injury. Eye serums can be applied once or twice a day depending on the product's ingredients. While serums tend to work quicker than creams, you want to give a product sufficient time before considering if it's working for you or not.