How Does Plant-Based Willow Bark Extract Really Stack Up Against Salicylic Acid?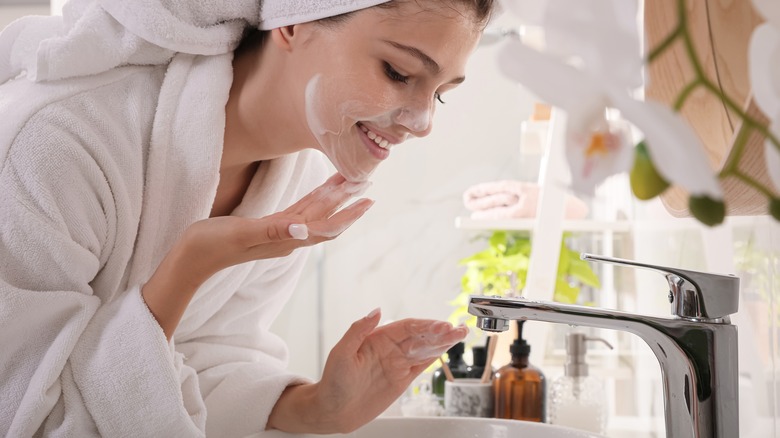 New Africa/Shutterstock
It's likely that at least one product in your bathroom has salicylic acid in the ingredients list. Salicylic acid is an organic compound with antibacterial properties. It can penetrate small oil glands, and is usually used to combat acne and breakouts (via The Zoe Report). The problem with salicylic acid is that it can be very harsh and drying when used on your skin. That's not to say that everyone should avoid it, but for some people with sensitive skin, a less-potent ingredient is a better choice. So, what do the experts agree would be an alternative to salicylic acid to prevent breakouts?
Since willow bark extract is the natural source of the compound salicin — from which salicylic acid is derived — willow bark seems to be the obvious choice. Cosmetic chemist Ginger King recently told The Zoe Report that willow bark is recommended as an alternative to salicylic acid as an ingredient that can be used to prevent acne — despite the fact that it is less potent. Of course, you will have to decide for yourself if you want to make the switch from the traditional compound found in most drugstore products to a plant-based option such as willow bark extract.
A closer look at willow bark extract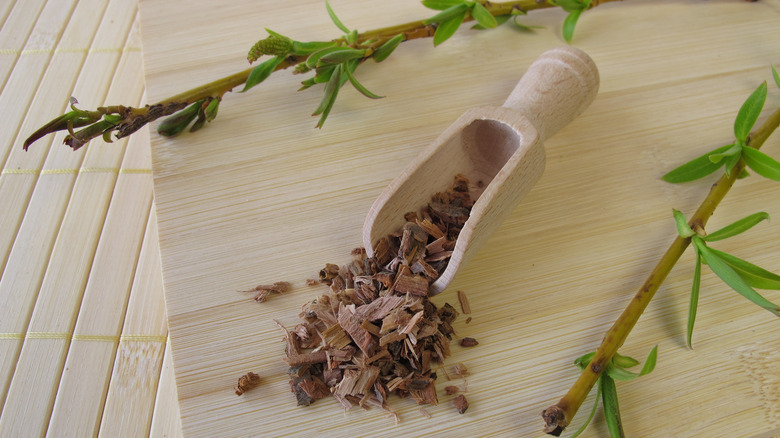 Heikerau/Getty Images
People have known of the benefits of the bark from a willow tree for centuries as a way to soothe irritated skin. Mainly derived from the white willow tree, willow bark extract can be found in plant-based skincare products, but is also used for medicinal and pain-relieving purposes (per MŪN). Willow bark extract has also been known to aid in cell regeneration, giving you a better complexion and a more youthful glow. When using it as a skin-clearing agent, willow bark extract acts as a natural exfoliant by getting rid of dead skin cells and clearing pores. The plus side to using willow bark extract is that it can be used by nearly all skin types.
Willow bark extract can be found in various forms on the beauty aisle. You can use it as a toner, serum, cleanser, spot-treating patches, exfoliating pads, or as a mask. Indeed, whatever your skincare goal is, you can typically find a plant-based alternative to use. 
Why use plant-based skincare?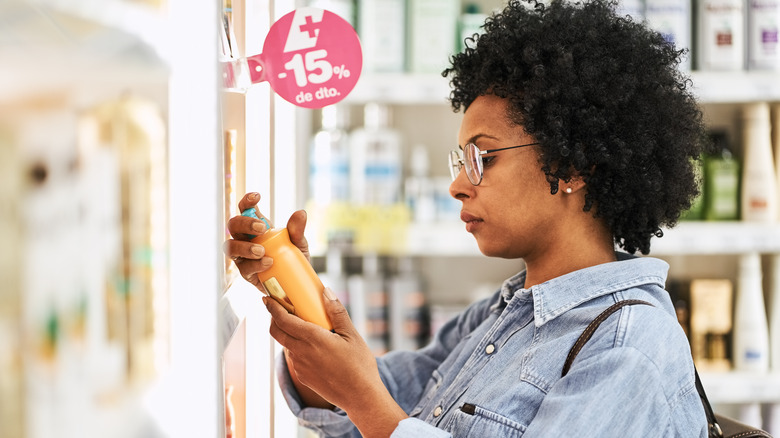 Hraun/Getty Images
The list of plant-based alternatives for skincare seems to grow each day. From willow bark extract to green tea to coconut oil — if you are looking to swap out your current products for a plant-based choice, you are in luck. This is especially true if you are like many people who prefer to do their own research on the ingredients they are ingesting and putting on their skin. The misinformation surrounding so-called clean beauty products can leave you feeling defeated when shopping for an alternative. The good news is that consumers are starting to look past the pretty label on the front of products, and investigate any harmful chemicals listed on the back.
There are so many reasons to switch to plant-based skincare. Typically they are more eco-friendly, sourced from natural ingredients, and are a better choice for sensitive skin types (via Newsweek). Because salicylic acid is usually used in skincare products for treating adult acne, you may be on the hunt for a product that clears your skin without harsh chemicals. Whether you are just looking for acne prevention, spot treatment, or everyday use — willow bark extract may be the ideal choice for you.