Roller Skating Has Been The Cool Girl Hobby Since The '70s - Here's How To Start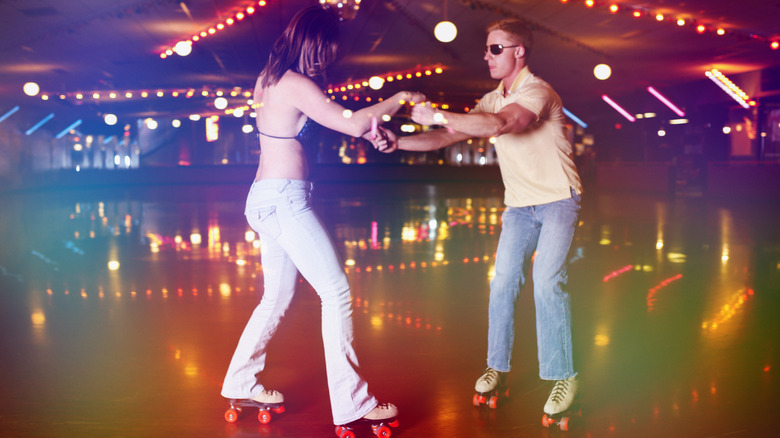 Powerofforever/Getty Images
Before there was rollerblading, there were the glory days of roller skating. Picture it: the 1970s, disco, shag haircuts, halter tops, and roller rinks full of glittering disco balls, bumpin' music, and people in short-shorts sporting their slick roller skating skills. If you weren't around back then, you've probably caught glimpses of the scene in pop culture, like Madonna's "Sorry" music video, Heather Graham in "Boogie Nights," or even "The Crown" where Emma Corrin's Lady Diana roller skates through the palace.
Because there's so much nostalgia for this era, now roller skating is having a bit of a resurgence in a post-COVID context. In fact, we might go so far as to say it is the cool girl '70s trend of 2023. TikTok user Ana Coto's fun-loving roller skating video went viral with over 2.5 million likes. Google searches for "roller skates" more than doubled between March and May, 2020. Coto even managed to translate her viral video into an appearance in Dua Lipa's "Levitating" music video, which featured a huge roller skate disco party.
So is it your turn to grab your mom's roller skates from the dusty attic and join a roller derby? Here's how you can jump on the trend and join the party on skates
You're gonna need the right gear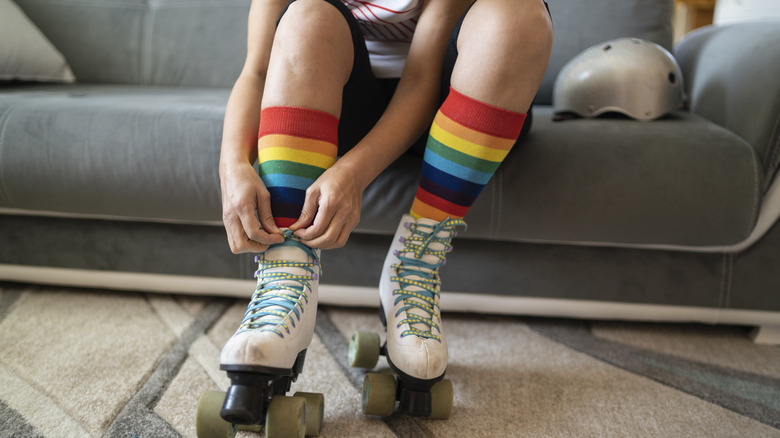 Vladimir Vladimirov/Getty Images
When roller skating took off during the pandemic as a socially-distanced retro workout, newcomers quickly realized they needed the right gear, and perhaps the best place to get your own pair of skates is in your parent's old boxes in the attic. David French, who co-manages a roller skating nightclub in London, told Harper's Bazaar that he noticed a "huge increase in the number of customers attending who were using their own" roller skates. You can also rent skates at most disco halls and derbies, which have more than 1,000 leagues worldwide, per the outlet. 
But safety first. Founder of the Beach Cities Roller Derby League Shayna "Pigeon" Meikle told Condé Nast Traveler that safety gear is your best investment. "The best type to get is the 3-pack which includes wrist guards, elbow pads, and knee pads," she said. You'll be grateful for the gear when learning new tricks!
Meikle suggests learning the roller skate basics from the professionals ("folks who have been trained to teach and do so consistently"), whether via YouTube videos online or by joining a skating community. But Saige B., who's the founder of a skating community for Black and Brown queer, trans, and gender-nonconforming people, told the outlet the best progress can be made alone! "Community sessions can be a vibe, but if you've set personal goals of moves you'd like to master or work at, it can be difficult to practice among others."
Indulge in some nostalgic outfits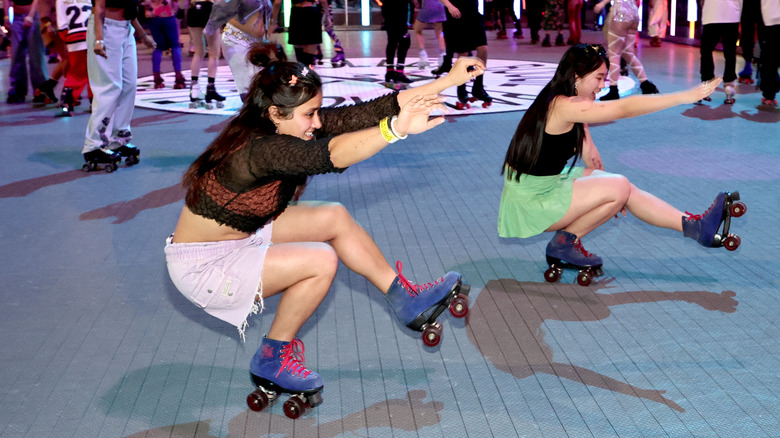 Jamie Mccarthy/Getty Images
On top of the physical benefits of roller skating (you can burn as much as nine to 10 calories per minute, according to Rainbow Rink), this is also the opportunity to indulge in some fun and flashy fashion choices steeped in nostalgia. Fashion and cultural historian Laura McLaws Helms explained to Elle that the '70s and '80s, when the activity first came to prominence, are associated with, "the innocence of youth unconcerned with the wider issues of the world, combined with the sweaty sexiness of skating ecstatically in tiny, glamorous outfits. By putting on our skates and hot pants, and skating on to the floor, we are leaving behind our problems for a song and just moving with the music — skating as an escape."
Roller disco apparel designer and founder of Dreamland Roller Disco Lola Star told Condé Nast Traveler that, "fashion is an essential component to the roller skating experience. Roller skating provides an excuse to bling it up, rock your most colorful outfit, bust out those sequined hot pants, bedazzled crop top, and colorful hair accessories." All those sequins and fluroescents combined with the physical activity are "great for your mood," personal trainer Amy Fanella told The Standard.
Like any new activity, learning to roller skate takes time and practice, so be patient with yourself, stock up on safety gear and fashion accessories, and don't forget to enjoy the experience of gliding on wheels!