Colorful, Blurry Prints Are The Perfect Middle Ground Between Fussy Florals And Basic Black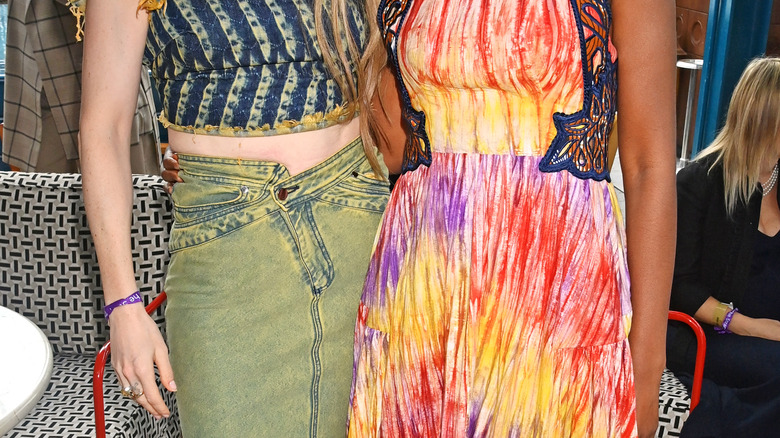 David M. Benett/Getty Images
Wearing black never goes out of style, making the classic hue a reliable fashion choice; however, wearing black all the time can get boring. Meanwhile, we sometimes get bored of wearing expected patterns, such as florals and plaids. If you feel the same way, you'll be happy to know that more unique, abstract designs are trendy in 2023.
"Not a tie-dye girl yet fed up to the back teeth with ditsy florals? Then a new wave of digitally manipulated, mind-bending blurry prints will provide you with some sweet patterned relief for the coming season — they're certainly my number one choice when it comes to adding a new, unique motif into my heavily printed repertoire," says Hannah Almassi, editor in chief at Who What Wear. These trippy prints are perfect for making a bold statement, offering a more exciting look than most traditional patterns. Thanks to growing interest in magic mushroom retreats and rave culture making a triumphant comeback, psychedelic experiences are having a fun influence on fashion.
Embrace the chaotic look
Colorful, blurry patterns aren't about looking prim and proper, so if you're looking for a more traditional, straight-laced look, these won't be the prints for you. But, if you want to flaunt the fun, artsy, or wild-child aesthetic, don't be afraid of looking too chaotic, as the busy, blurry prints should make a daring statement, appearing as messy and colorful as you want.
Rock a ravey bodysuit
Anyone who wants to rock a chaotic, ravey look should wear a bodysuit with a colorful, free-spirited pattern. Featuring a blurry, bright print, the bodysuit should be worn under jeans or leggings to make it more appropriate for various settings, or you can wear it without pants for raves and festivals to give all the trippy vibes in the party scene.
Swirly details are the best
We can't think of a better way to show off a rave-inspired or ultra-artsy look than by wearing an outfit covered in free-spirited swirl designs. Swirly patterns give off super psychedelic energy for eccentric fashion. Whether you're going for a creative artist style or carefree party girl vibes, colorful swirls will help you achieve those aesthetics every time.
Go as bright as possible
When rocking a colorful, blurry print, why not go as bright as you can for a wild, intense look? Trippy patterns usually make a statement anyway — whether the hues are bright or neutral — so you may as well take it as far as possible by opting for neon pieces. The vivid garments will appear bold, exciting, and eye-catching, typically what colorful and blurry designs are all about.
Show some skin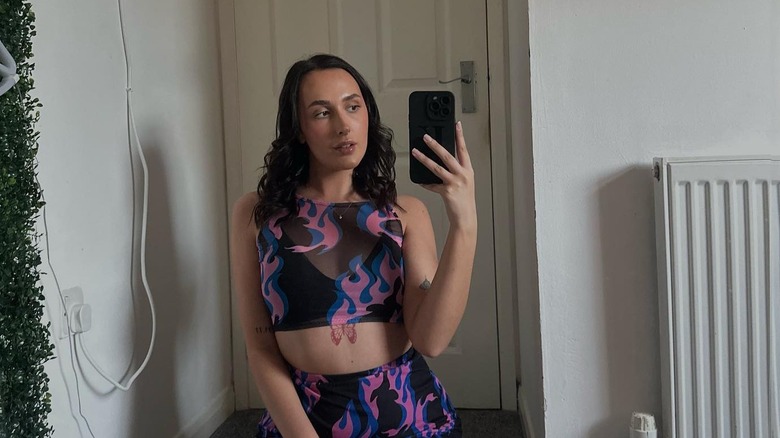 Instagram
If you're going for a sexy look and are shopping for pieces with colorful, blurry prints, look for skin-revealing options, such as crop tops, sleeveless pieces, cut-outs, and short shorts or skirts. Not only will the pops of skin provide balance and add some sex appeal, but they'll prevent you from getting too hot when wearing these pieces in sweaty, crowded party scenes.