Bye, Bye, Bodycon: Caftans Are Back And Comfier Than Ever
Are you dreading spending another summer sweating in tight bodycon dresses? If you start to feel a little suffocated just thinking about it, we have the most wonderful news for you. This summer, the comfiest dress option to ever exist on this planet — the caftan — is back, baby! If you're unfamiliar with this loose and free-flowing boho staple, be prepared to have your mind blown.
Advertisement
While caftans (also known as "kaftans") are considered traditional cultural and religious garb in some parts of the Middle East, the style didn't reach the American mainstream until the freethinking hippie era of the 1960s and '70s. By the time more structured looks emerged in the '80s, caftans had been basically shelved for everyone who wasn't a grandmother ... until now, that is. If you're ready to embrace the most carefree, comfortable summer fashion trend while it's still hot, take a look at the following examples of how to rock the caftan look.
Intricate embroidery
Traditional caftans often feature beautifully intricate beading and embroidery. If you have an eye for detail, this might be the way to go when it comes to finding one you love. If hand-embroidered pieces are out of your budget, high-quality prints can mimic the look quite effectively. 
Advertisement
Flowy and floral
If you're a big fan of spring flowers, a caftan can provide you with a way of wearing them from head to toe — allergies not included. Choose your favorite flower, color combination, or both, and see what you can find. Skip the shoes and throw on a sunhat for a truly bohemian look at your next beach barbeque. 
Advertisement
Tropical vibes
Looking for the perfect effortless outfit for your summer vacation, honeymoon, or cruise? Find yourself a caftan that features tropical flowers or palm fronds, and you'll be sure to win the titles "most festive" and "most comfortable." A caftan can also help shield you from the tropical sun more than a classic sundress would.
Advertisement
Classic neutrals
If you're not the biggest fan of bold colors, that doesn't mean you have to miss out on the effortless glamour a caftan has to offer. Choose a simple, solid neutral or pattern — as bold or simple as you like — that features a mix of neutrals like black, brown, navy, cream, gray, or white. A small pop of color via your headband, bag, or jewelry is optional. 
Advertisement
Bold prints and fringe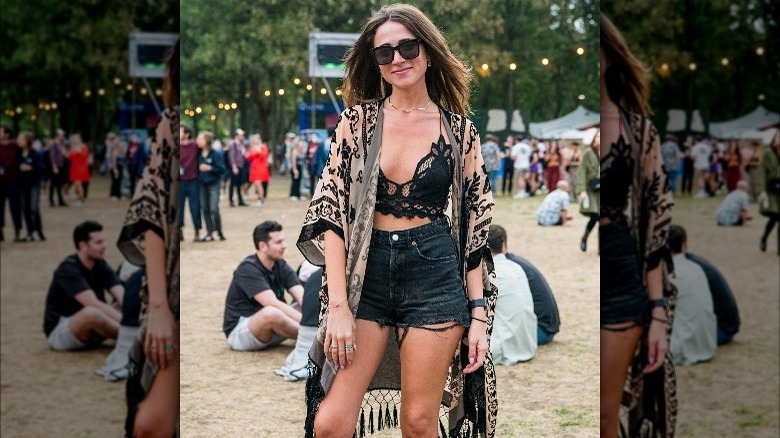 Kirstin Sinclair/Getty Images
Looking to jump in head first? If you're the proud owner of a strong, bold personality that doesn't shy away from attention, a caftan that showcases an eye-catching combination of prints and fringe in the shape of a bikini cover-up is the perfect summer wardrobe centerpiece for you. Pair with jumbo sunglasses or stacked bangles for the full boho glam experience. 
Advertisement
Cinched
It is a common misconception that a caftan is required to flow straight down from the shoulders with no waist definition. If you're looking for a dress that leaves your waist looking snatched to the gods while still providing ease of movement and strategic camouflage, look no further. You can select a caftan with a pre-cinched waist, or if you're in a pinch, employ this simple hack to make any dress cinched.
Advertisement
Go sheer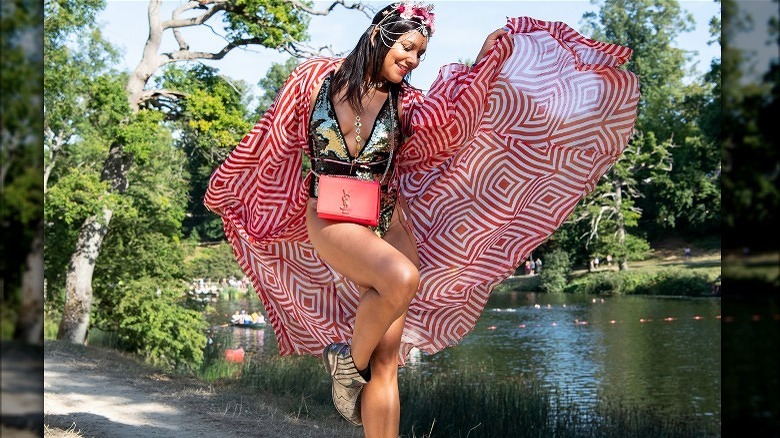 Kirstin Sinclair/Getty Images
Easy breezy caftans make absolutely fabulous summer swimsuit coverups. For maximum drama, get yourself a sheer robe caftan and a matching or coordinating swimsuit to wear underneath. Oversized celebrity-style sunglasses, giant sunhat, umbrella drink, and some high-heeled sandals are optional but highly, highly recommended. Just don't forget the retinol sunscreen! 
Advertisement
Warm summer hues
If you're ready for summer to just get here already, go straight for a caftan in a warm shade of orange, coral, or sunny yellow. At best, maybe you can manifest the warm weather. At worst, you can fake it 'til you make it. Either way, you win in your roomiest dress ever. 
Advertisement