Changing Your Face Shape With Nothing More Than Blush Couldn't Be Easier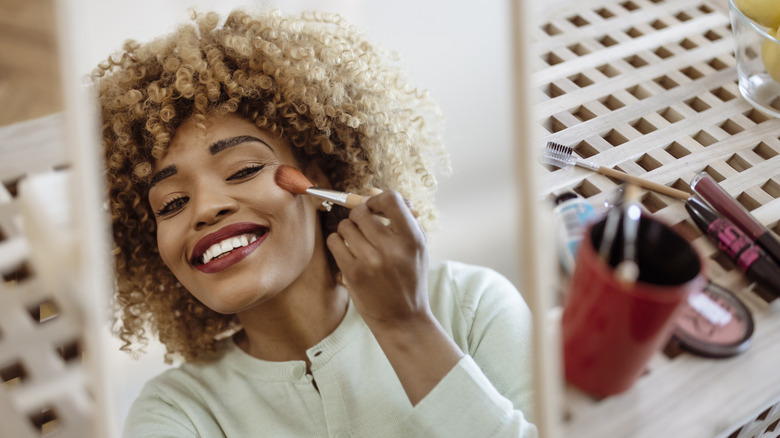 Pixelseffect/Getty Images
Blush is one of many magical makeup tools that can completely transform the structure of your face. The application of blush is certainly an art form and with some practice, you can easily master an array of looks, from angular to youthful. While the age of makeup contouring may be intimidating to some, those who opt for a more natural vibe can still utilize a simple blush to achieve some cheekbone distinction and a rosy glow.
Advertisement
Apart from the application, understanding your face shape — round, oval, heart, or diamond — is an important step when diving into your blush and getting a feel for the transformation you'd like to see. Blush tone and texture are also on the docket. You'll want to choose either a dewy or matte look and after experimenting with powder and cream blushes, you should know which blush is best for your skin texture. And depending on the season and your skin tone, you'll need to narrow down your optimal shade of blush, too. Once you've arrived at a decision, it's time to change your face shape with nothing more than a simple blush.
Higher placement to accentuate cheekbones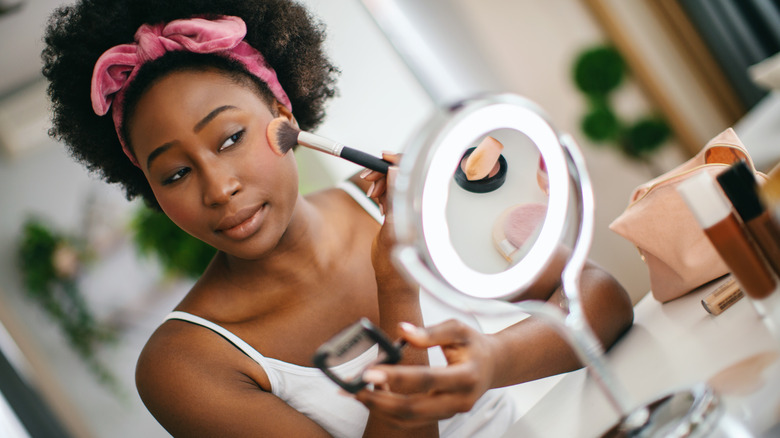 Aja Koska/Getty Images
If you've determined that you have a round face or are simply wanting a more angular definition in your cheekbones, you'll want to apply your blush towards the outside of your cheeks, near the outer edge of your eyes. This method will essentially lift your features and add structure where there isn't much.
Advertisement
If you're wanting to embrace this more angular face shape, it's best to use a matte blush rather than one with shimmer. Go slow and easy on the product too — you can always add more to your blush brush as you go, which is far easier than doing the opposite. You want to avoid applying blush to the apples of your cheeks as this adds roundness to the face. The beautiful thing about this method is it flows seamlessly with just about any fun, creative pop of color on the eye and elevates the overall striking essence of your look.
Apple of cheeks for a youthful look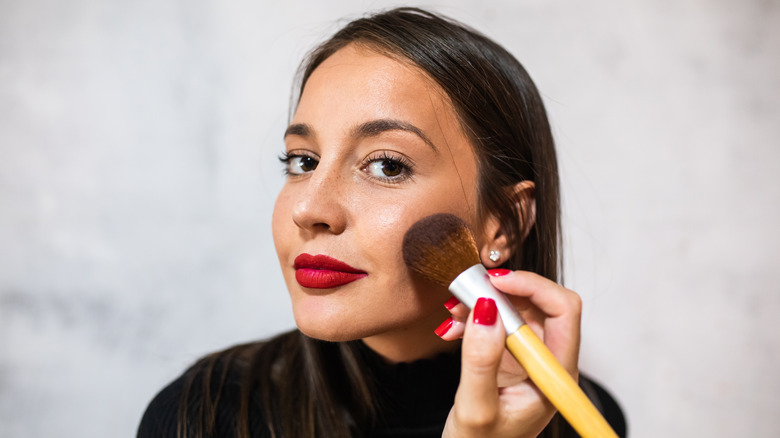 Aleksandar Jankovic/Getty Images
On the other hand, if you have an angular face and you are actually wanting to add youthful roundness, then you want to focus on the apple of the cheek. The angelic energy of this blush look may not be the one you see out in the wild most often, but there is certainly something timeless and classic about the soft, feminine glow it brings to the face. This gentle look will require a fair amount of blending as you aren't working with the cheekbones and just the plumpness of the cheeks themselves, so make sure you have a quality blush brush on hand.
Advertisement
It may sound just too good to be true, but if you are aiming to soften the angles of your face, blush placement is totally capable of doing the trick. This is also a great route to offset signs of aging if that's what you're after.
Along cheekbones for a universally flattering placement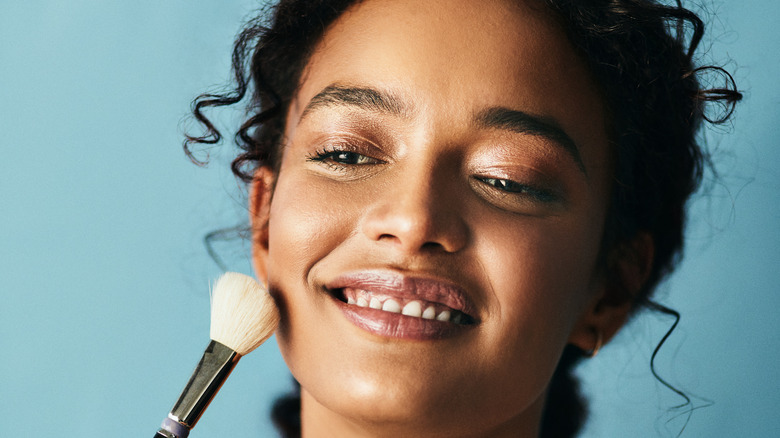 Delmaine Donson/Getty Images
If you have a long face shape, then you've sort of hit the jackpot when it comes to blush application, as you can pull off just about any placement. And blush applied right along the natural line of the cheekbone tends to be flattering on most. But if you're wanting to shorten the length of your face, try applying blush right along the cheekbone and adding a bit of contour underneath. It may take some experimenting to find the placement that gives you the change you're after in your face shape, but with the right product and brush, it should become second nature in no time. 
Advertisement
Alternatively, if you're wanting to minimize the surface area of your cheeks, try applying blush right beneath the cheekbone to create this change — also known as blush contouring for rosy sculpted cheeks. The results are likely to impress. Who knew the blush brush doubled as a magic wand?
Soften the points of a heart-shaped face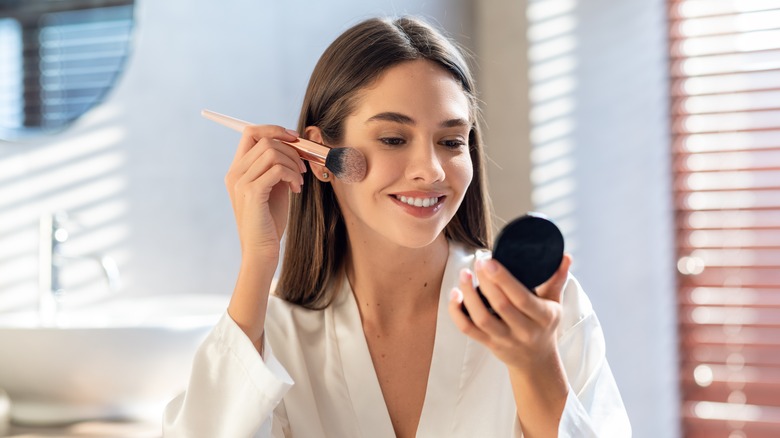 Prostock-studio/Shutterstock
If you have a heart-shaped face and you're wanting to soften some of the sharper points, there's a blush technique that accomplishes just that. You're going to make a 'C' shape with your blush brush from the top of your cheekbone to above the end of your eyebrow — the trendy technique is also known as draped blush. This may be counterintuitive as it's an unusual spot, but it'll give the youthful softness you're after. A small application of well-blended blush in the center of your forehead will also balance out the features of a heart-shaped face.
Advertisement
Make sure you're using a powder blush if your complexion tends to be on the oily side and a cream blush if you are prone to dry patches. As for tone, choose shades that complement your skin, whether it's warm or cool, and don't be afraid to experiment and opt for something a bit out of your comfort zone. 
Changing the shape of your face with these simple techniques can completely rejuvenate your makeup routine and if you've been feeling a bit jaded with the same old look, this may be your sign to switch things up.