The Easy Way To Brighten Tired Eyes (With An Eyeliner Color You Haven't Thought Of)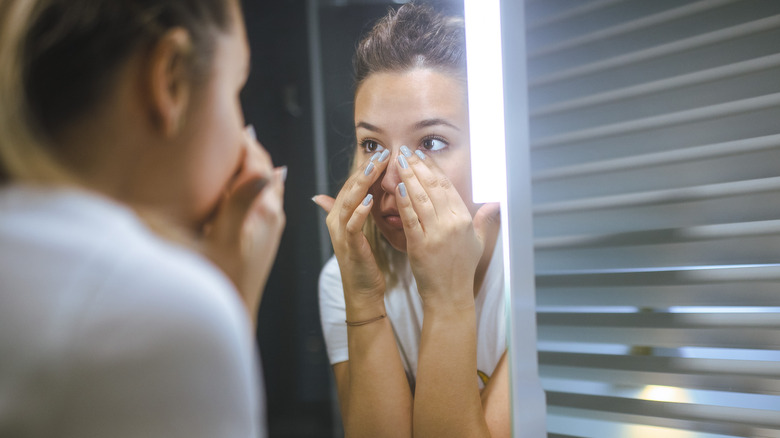 Lukatdb/Getty Images
Whether you are new to applying makeup or more seasoned, one of the most common beauty topics is how to brighten the undereye. It makes sense, considering how missing a good night's sleep can easily affect your appearance. The most common remedies for getting rid of dark under-eye circles include applying eye cream or using undereye brightening powders.
Advertisement
However, makeup artist Nicki Wolff has a new way to add some life back into your eyes, and it's with eyeliner! "The quickest way to brighten and wake up tired eyes is to line the waterline with a light eye kohl," she explained while talking to British Vogue. This allows the eyeliner to create interest around the eyes as well as enhance its color. This trick has been used on myriad celebrities, including Hailey Bieber and Courtney Cox. It's easy to incorporate the celebrity makeup hack into your everyday routine with a few simple steps.
How to use eyeliner to look more awake
If your goal is to look awake in the morning, eyeliner is a great step. Wolff explained to British Vogue that the best way to start is by picking the right color. "I prefer to opt for a cream shade instead of white because I think it gives a more natural effect. The softness of the kohl helps to cover any of the redness often found in the waterline and makes eyes look fresher, brighter, and a little wider too. It's a trick I use a lot."
Advertisement
While this could be used by itself to start the day, it's also perfect to rev up your look for a night out on the town. To do this, Wolff recommends lining the inner corner of the eye with cream or beige kohl and then following up with dark eyeliner around the rest of the eye. This lifts the eye and creates a sultry effect.
Eyeliner tips you need to know
Believe it or not, there are quite a few tricks to applying eye kohl that many do not know. Applying eyeliner correctly can be the difference between creating a polished look or a hot mess. One thing that people might not realize is that placement matters. According to Masterclass, if you plan to apply eyeshadow, it's best to do it first before applying eyeliner. If the order is switched, you're more likely to run into unintended smudging, ruining the bright look that was attempted to begin with.
Advertisement
If you notice that when applying the eye kohl, you are getting a splotchy finish, it's best to warm up your eyeliner before use. According to Makeup and Beauty Blog, taking your eyeliner and running it across your hand in order to warm it up will help the eyeliner apply much easier. This simple trick creates a seamless, professional look.