The Concealer And Contour Eye-Lifting Hack That Plays Double Duty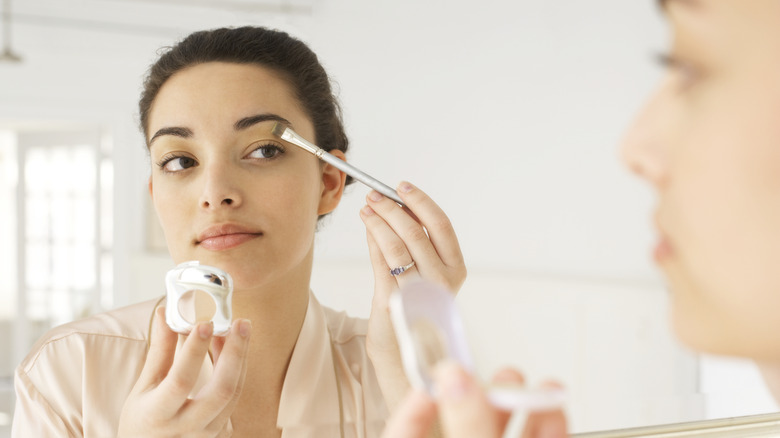 Christopher Robbins/Getty Images
Do you look eternally tired and angry, even though you're plenty relaxed? While some of us are eternally tired and angry, some of us just need an eye lift. If you had a good night's sleep and still woke up to tired eyes, and if you feel like none of the eye creams, serums, and eye pads are doing your tired eyes any favors, you're not alone. 
Droopy eyes and puffy eyelids get in the way of good eyeliner and happy days. But, lucky for us, the concealer and contour eye-lifting hack promises us a lifted-eye look that leaves us looking young, happy, and rejuvenated, bumping our makeup look to a solid 10/10. 
This hack will give you the same effect a cosmetic surgical eye-lift would without the huge price tag — plus, you won't have to spend months in recovery. You'll only need a good concealer, a good contour, and a good technique.
Concealer and contour: what they do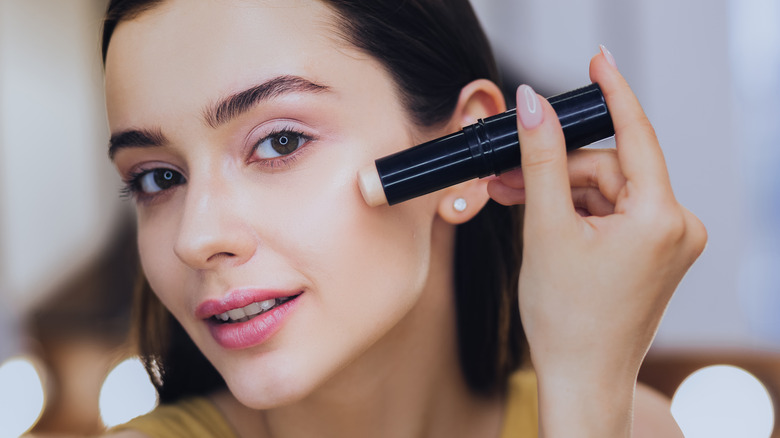 Dmytro Zinkevych/Shutterstock
Concealer and contour are game changers — know how to contour your face, and you have the power to change the shape, structure, and placement of anything on your face. Concealer is the key to looking sharp, bright, and youthful. Bring these two bad boys together and you can give yourself the ultimate eye-lift in a matter of minutes. 
An eye-lift will never look right if you have those stubborn dark circles, and this is where your concealer comes in. Concealers truly do live up to their name. They cover up all evidence of a bad night's sleep and help you look brighter and glowier than ever. 
Contours on the other hand do all the structuring. Your contour is your architect and your concealer is your interior decorator. So, to achieve the illusion of an eye lift, we are going to need both — and don't forget the fluffy brush for blending.
The How-To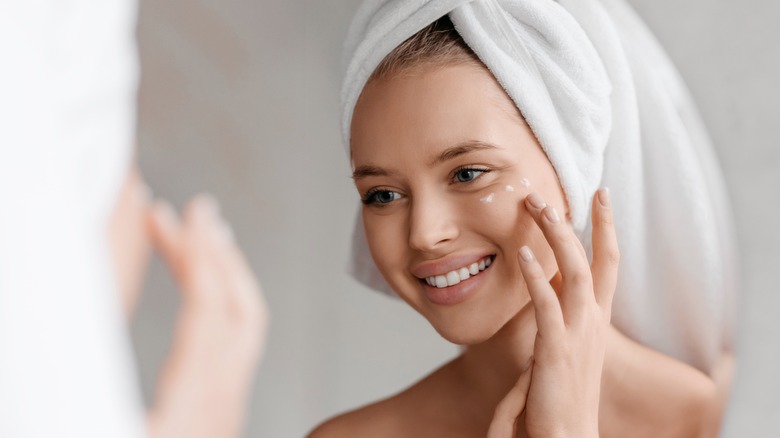 Prostock-studio/Shutterstock
Using your contour pen, draw a line starting from the crease line at the inner corner of your eye, and continue to follow the shape of your crease line. As you reach the outer corner of your eye, turn the pen upwards and drag the line up and away from your eye, just like how you would draw a winged eyeliner, only this time you're using a contour pen. Then, connect the tip of the line you drew to your lash line. 
Now, for the concealer. Take your go-to concealer and outline the "winged part" you drew with your contour pen. Remember to restrict the concealer to your temples. 
Once you have your outline drawn, you can start blending. Use a fluffy brush and while you are blending, make sure your brush is following the shape of the outline, and, most importantly, remember to follow an upwards motion.
Does it really work?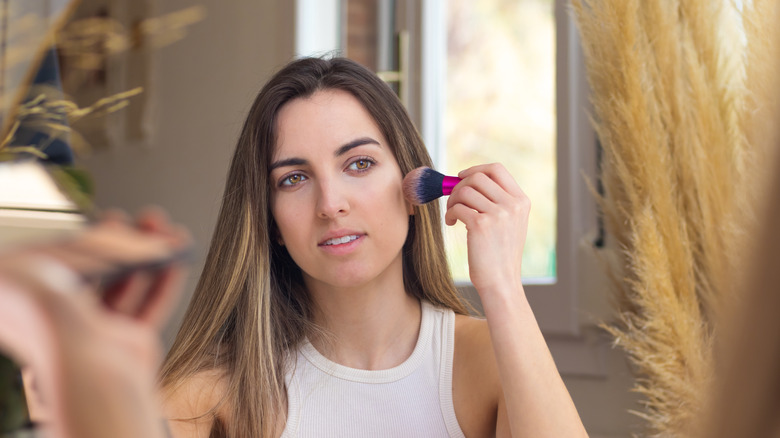 Pablo Vivaracho Hernandez/Getty Images
It's simple, it's fast, and it's not surgery, so we would say it's a pretty good makeup hack that works.
But, it's also not witchcraft, so for it to work, you'll have to find the right products and follow the right technique. Making sure you are covering your dark circles with a little bit of concealer, drawing those contour lines in the right place, outlining them with your concealer, and finally blending it all in using the correct technique, will make or break your eye-lift. So, remember to go slow and steady and to trust the process. 
Once you're done you will observe not only an eye-lift but also an invisible winged eyeliner look. The darker shade of the contour against the shade of your skin will give it that seamless, natural look. Plus, if you're really going in for the natural look, you can go without the eyeshadow and you'll still look awake and glowing. So, in addition to giving you an eye lift, this hack can also replace your eyeshadow and eyeliner.