How To Choose Heels, According To Your Foot Shape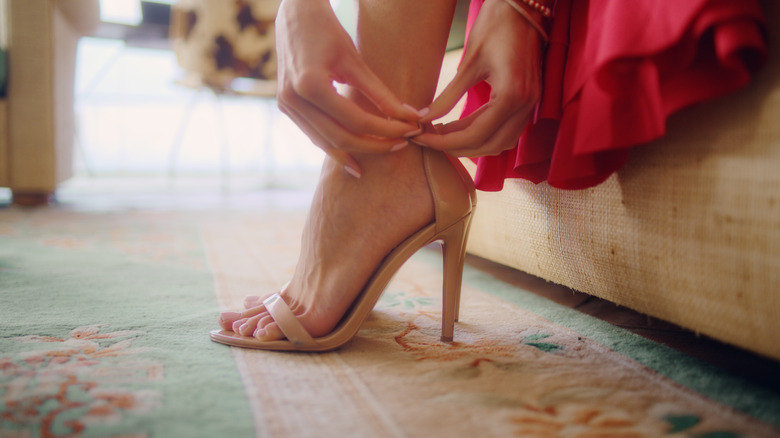 Janiecbros/Getty Images
Have you often found yourself wearing heels that aren't comfortable, no matter what type you try on? This is a common problem for a vast majority of heel lovers. The key to finding a comfortable heel that suits your style and doesn't feel like you're walking on a bed of thorns is simply figuring out what foot shape you have. Making sure you pick a heel based on your foot shape will guarantee a great fit, comfort, and a stylish look to tag along with new shoe trends.
In fact, a lot of fashion decisions are best made when you figure out what your unique situation is and how best you can make choices to suit those needs. We're here to enlighten you on what exactly makes up a heel, how you can figure out your foot shape, and how to use this information to find the perfect heel. Let's begin!
What makes up a high heel?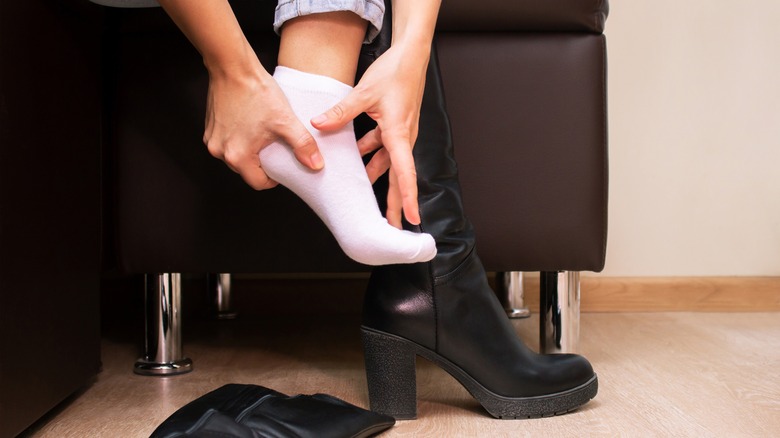 Marina Demeshko/Shutterstock
A high heel is composed of a range of elements. Now, you don't need to be an expert on everything that goes into forming a high heel, but a basic knowledge of how a high heel comes to be is great to have in your back pocket for when you shop for one next time.
The first is the insole. This is the inner portion of the high heel, which usually comes with a bit of cushioning for your foot to rest. Then comes the vamp and the topline. The vamp is the front portion of the high heel which covers the foot. The vamp can come in many different shapes, sizes, and styles. The stitching along the vamp is what is called the topline. Next, there is also the toebox. This is exactly what it sounds like. It covers your toes and secures them inside the shoes. However, there is no toe box in the case of open-toe heels. The back of the heel, which covers your ankle, is known as the counter, which houses the actual heel beneath it. Lastly, the bottom surface of the heel is known as the outsole.
What are the foot shapes?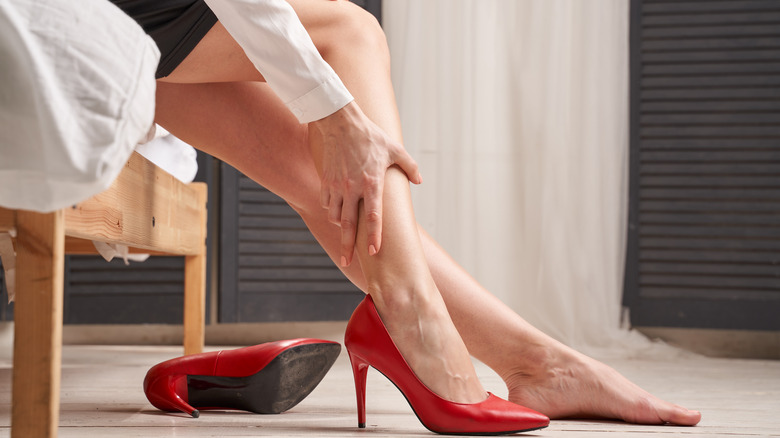 Sergey Mironov/Shutterstock
Now that you have some idea of all the different parts of a heel, let's move on to discussing what foot shapes are out there. The first characteristic distinguishing foot shapes is the foot arch — feet can be low-arched, medium-arched, or high-arched.
Another common way to differentiate feet is by their width. If you have wide feet, chances are you already know. Shopping for shoes with wide feet can be challenging, and shoes that accommodate your feet are probably hard to come by. On the other hand, there are also narrow feet. If you often feel like shoes have extra room in them despite them being your size, you likely have narrow feet.
Furthermore, there are also feet with conditions such as hammertoes and bunions. Hammer toes are the name given to feet where a toe apart from the big toe shows a bend or curvature. Conversely, a bunion is when your foot displays a bump on the inside of your foot, adjoining the big toe. It can feel like bone and is quite common.
Wide feet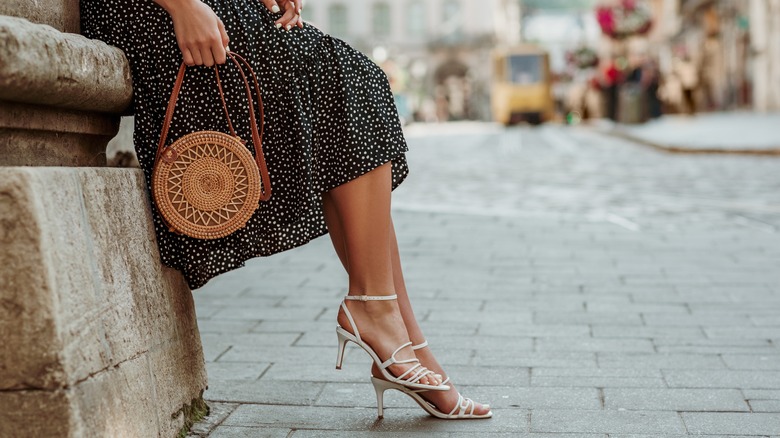 Victoria Chudinova/Shutterstock
Now let's take a closer look at each foot type and what kind of heel is best suited for it. Wide feet first. If you have a wider set foot, we recommend heels with a rounded toe rather than a sharply pointed toe style. Additionally, make sure you look for shoes designed specifically for a wider fit. They may be a little hard to come by, but if you look hard enough, you will surely be in luck. A wider foot needs a broader shoe to feel comfortable, and you will not regret making the investment.
You might also want to consider heels with an open toe if you have wider feet. Open-toed heels can offer more space for your foot to rest and make it a more comfortable fit in comparison to closed-toed shoes. However, this decision depends solely on your personal style and what aesthetic you prefer.
Narrow feet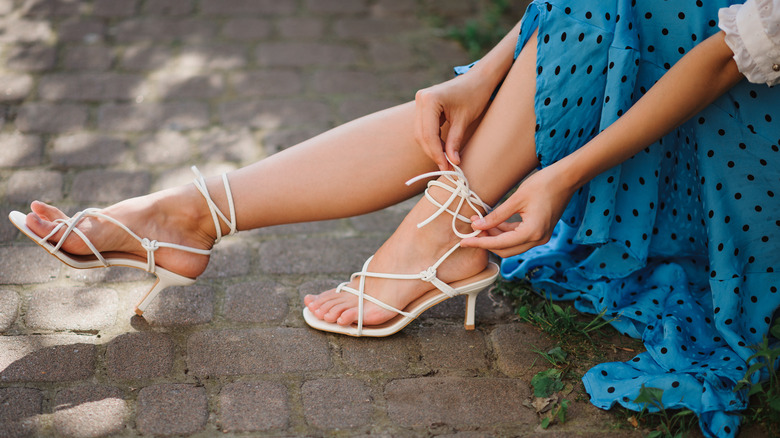 Victoria Chudinova/Shutterstock
In the case of narrow feet, your biggest concern will be finding a shoe that fits tightly enough to feel comfortable without it slipping off or feeling too loose. A great option to combat this issue is lace-up heels. Lace-up heels allow you to physically tighten the heel around your ankles to ensure they are not coming off.
Another option for those that don't like lacing up their heels is heels with an adjustable strap. These types of heels give you the freedom to adjust how loose or tight you want your shoes to feel. Closed-toe shoes are also an excellent option for narrower feet, as they help secure your foot in place.
You're better off with a wider, block-style option when picking a heel. Thinner heels offer less stability and make you feel like your feet aren't securely in place, causing discomfort. A thicker, wider heel, on the other hand, offers more stability. 
High arch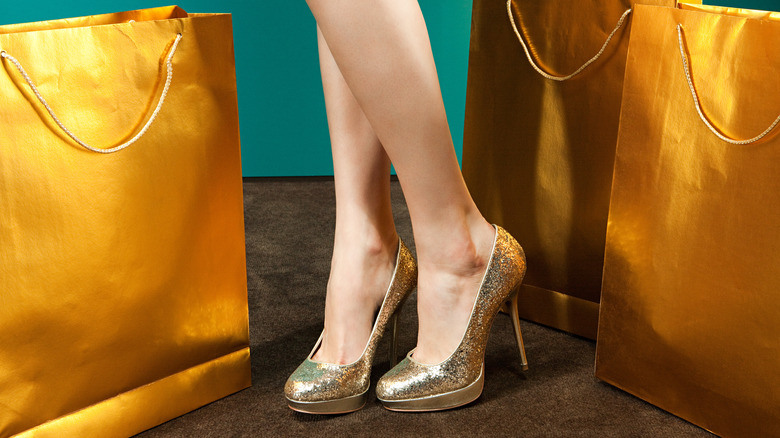 Image Source/Getty Images
If your feet have a high arch, it essentially means that the middle of your foot doesn't touch the floor. This can put additional stress on the parts of your foot that do, namely the balls of your foot and the front portion. This means you need to pick not only a great heel style but also the right material for your shoe. A shoe with a cork platform is a fantastic option because the material is excellent at shock absorption, which high-arched feet aren't great at.
On top of that, high-arched feet are very high-heel-friendly. You might even feel more comfortable in high heels. So make sure you use this to your advantage and go all out, trying all types of heels like stilettos, pumps, or T-bars. Not many can boast of being more comfortable in high heels, so this is definitely something you can play to your advantage and use to elevate your style and wardrobe.
Flat feet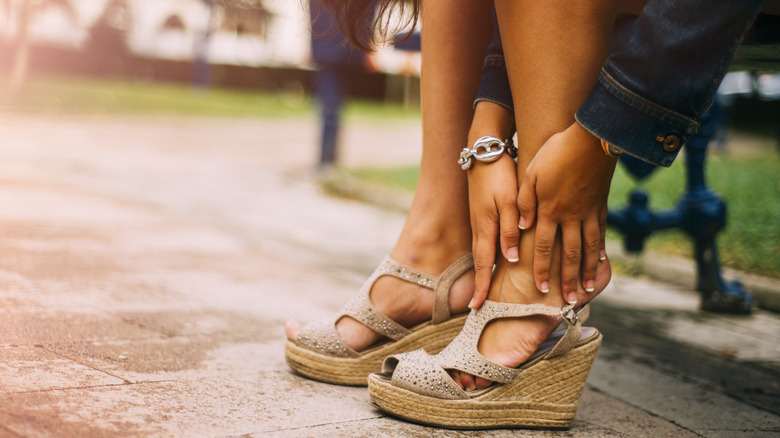 Marioguti/Getty Images
Flat feet are the opposite of high arched feet, where the base of your foot touches the floor — if not completely, then almost. In fact, unlike people with high-arched feet, those with flat feet might even find high heels uncomfortable. If you have rigid flat feet, it is recommended that you try to avoid high heels if you can do so.
On the other hand, if your flat feet are more flexible, they may be more high-heel friendly. If comfort is your main concern, your best bet is kitten heels. They are very short heels but are still a chic and trendy option for you to try. You could also experiment with platform heels and wedge shoes. Staying away from traditional high heels is recommended for flat feet as it may cause discomfort and isn't the healthiest option. Don't let that discourage you, however! These are merely guidelines to help direct you to a good shoe fit but feel free to bend the rules and find what works best for you.
Hammertoes and bunions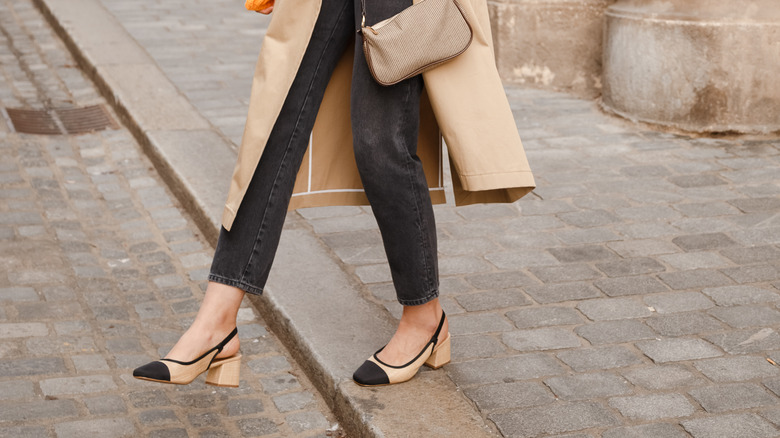 MS_studio/Shutterstock
There are also common conditions out there, like hammertoes and bunions. If you suffer from hammertoes, the key to finding suitable high heels is to find one that gives your toes enough breathing space and room. For example, a shoe where the toe box is square-shaped can do the trick for you.
If you have bunions, you want to look for a high heel that gives you enough room to accommodate the bunion without the shoe feeling too loose. In this case, you do have to try them out for yourself and see if it works for you. Don't be afraid to walk around in your new pair of shoes before you purchase them to make sure your feet feel comfortable in them. If you do, however, buy a pair that initially felt comfortable but is starting to cause pain, you should immediately stop wearing them.
A few more tips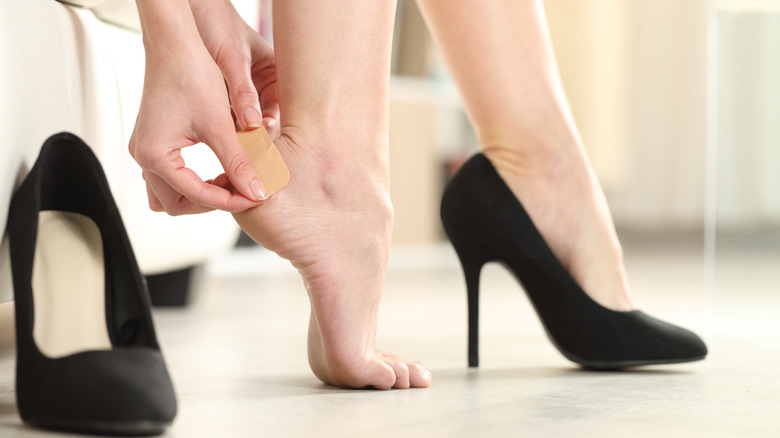 Pheelings media/Shutterstock
On a final note, there are also a few more tips you should have up your sleeve to make wearing high heels a more pleasant experience. One of the main things to remember is that if you wear high heels daily, try to opt for a smaller heel that'll put less strain on your feet. Also, make sure you shop for the right-sized shoe. In fact, sometimes it might be advantageous to buy high heels in a slightly bigger size so you can add silicone pads for more comfort.
Another great tip is to break your heels in before taking them out on their first run. This is important with all types of shoes — and foot shape — especially high heels. High heels are not known as the most comfortable footwear option, but breaking them in can make them mold to your foot and give them better flexibility.