Are Wedge Shoes Better For Your Feet Than Traditional Sandals?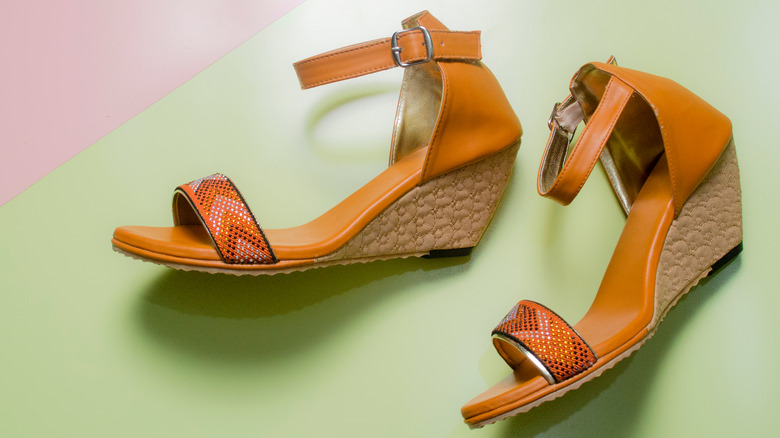 Rani Restu Irianti/Shutterstock
There are so many factors to consider when it comes to the shoes you wear, like overall comfort, width, shape of the toe box, what you'll be pairing with them, where you'll be wearing them, and what you'll be doing in them. Even if your feet are flawless, there are certain shoes that can cause issues later if you wear them often enough. For example, it's widely known that wearing stiletto heels can lead to problems like hammertoes, calluses, and even arthritis. 
Many people assume that wearing shoes with low or no heels is the safest way to go, but what about wedge shoes? They're safer and less likely to cause foot problems than stilettos or other skinny heels because the wedge-shaped sole balances the weight of the foot. Wearing high heels forces most of your body weight to be exerted on the balls of the feet, which can lead to those aforementioned conditions. 
But how do wedge shoes compare to traditional sandals with no type of heel at all? Are they better for your feet than flat sandals?
Some wedge shoes offer features that traditional sandals don't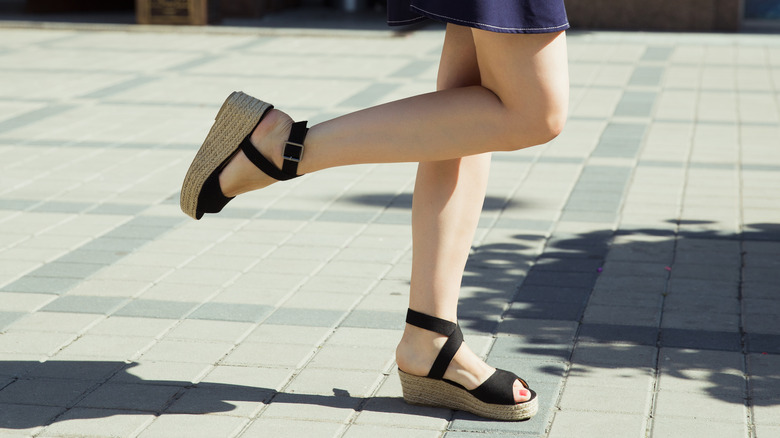 Cozy Home/Shutterstock
According to Dr. Chanel Perkins, a board-certified podiatrist at UTMB Health Internal Medicine (via Prevention), sandals with wedges provide a benefit that flat sandals don't. That advantage is balanced pressure across all areas of the soles. Also, because the soles of wedge sandals are angled, they provide arch support, which can be especially beneficial if you have flat feet. So yes, wedge shoes are better for your feet than traditional sandals, as Dr. Perkins explains.
Does this mean that you should always choose wedge sandals over flat sandals? Not necessarily. There are many flat sandals available with an extra layer of cushion, like Skechers, which offers styles with a memory foam footbed intended to provide all-day comfort. Plus, some flat sandals, like select Birkenstock styles, also offer arch support. However, you may have to pay extra for the added comfort and arch support in a flat sandal compared to a wedge-style sandal.
Wedge shoe styles to avoid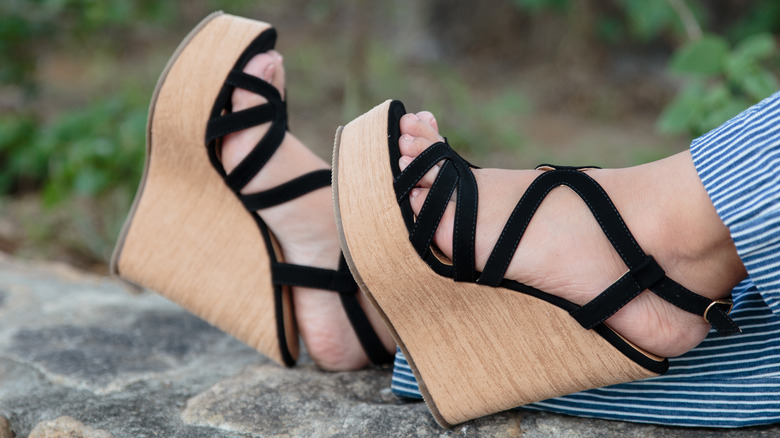 Wirestock Creators/Shutterstock
When it comes to shoes, sometimes there are certain styles that are far better than others within the same category. For example, 2-inch-tall block heels are typically better than 6-inch-tall stiletto heels in terms of safety and comfort. Also, running shoes with added stability are better for runners with overpronation.
In the wedge shoe category, styles with shorter platforms and heels are usually a better choice than taller styles. Dr. Casey Ann Pidich, a podiatrist in New York City, told Prevention that you should avoid wedges with platforms or heels that are more than 3 inches tall. The taller the shoes are, the greater the risk of injury.
We've all seen those videos of models tripping and falling on the runway while wearing ridiculously high platform shoes that were clearly not made for walking. It's unfortunately common in that setting, but these embarrassing and potentially dangerous tumbles can happen, even with shorter-height shoe styles, to any woman anywhere, not just models on the catwalk.
Another feature to avoid with wedge shoes is a very narrow toe box, which is typical with pointy-toed shoes. Over time, this can lead to a condition called neuroma, which is a type of inflammation that can be painful and even require surgery, as Hackensack Meridian Health explains. Instead, stick with wedge shoes with a roomy toe box.