Glam Survey: Which Is Your Go-To Style Of Shoes For Everyday Wear?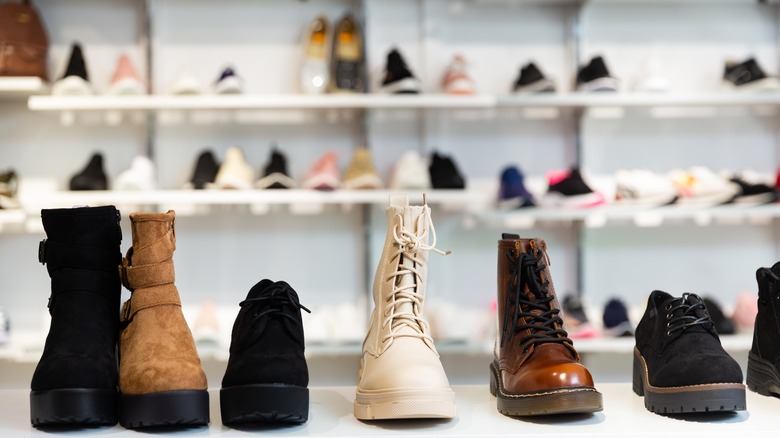 BearFotos/Shutterstock
People have been wearing soled shoes for about 40,000 years, according to Britannica. Early models appear to have consisted of simple untanned leather wrapped around the foot and secured with rawhide laces. By the 14th century, however, fashion had crept its way onto the footwear scene. For the next century, it would be considered stylish to wear shoes that came to extreme points up to 18 inches long. Over the next couple of centuries, shoes and boots would see many transformations reflecting current fashion trends, including a variety of toe shapes, heel heights, and decorative adornments.
Today, shoe trends aren't only alive and well; they are moving faster than ever. From mass production to massive marketing budgets and online influence, it's difficult to avoid knowing exactly what's in style. For example, Birkenstock Boston clogs rose to fame and sold out nearly everywhere in the Fall of 2022 after they went viral on TikTok (via Insider). But how much do trends really matter when it comes down to the shoes you reach for to get you through the daily grind of work, school, parenting, or life in general? Glam asked 587 readers for their go-to shoe style for daily wear. Here are the results.
Athletic shoes take the title of most popular daily style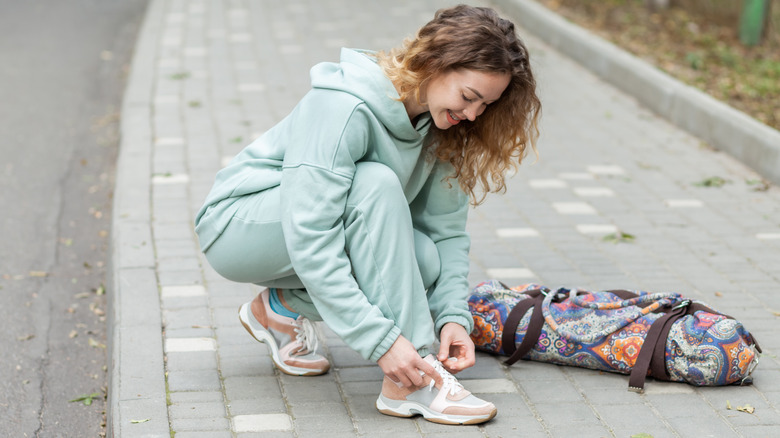 Vladimir Sukhachev/Shutterstock
Glam readers chose athletic shoes as their most reached-for daily footwear option with 169 votes (28.79%). Athletic shoes, according to OrthoInfo, are shoes specifically designed for a particular sport. This includes tennis shoes, running shoes, cross trainers, trail shoes, court shoes, and hiking shoes. Technically, cleats are also considered athletic shoes, but it's probably safe to assume they aren't a popular go-to for daily wear.
Casual sneakers came in at a close second with 147 votes (25.04%). This prompts the question of what exactly the difference is between sneakers and athletic shoes. As explained by Dignity Health, a sneaker may look similar to a running or other athletic shoe, but the designs differ. Sneakers are designed for casual walking, which most humans do in roughly the same way. They offer more flexibility than athletic shoes and a thinner, flatter sole. These choices for daily styles don't necessarily signify a decision to place comfort over fashion; sneaker trends are a fashion category all their own with many dedicated followers. 
Styles with the fewest votes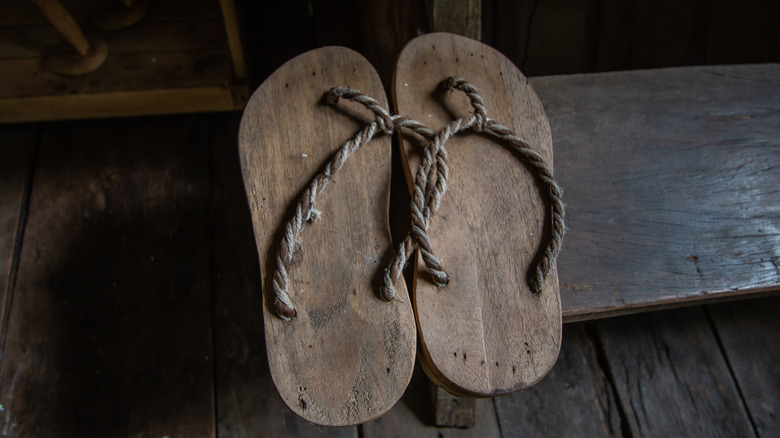 Noppakit 77/Shutterstock
Despite the 2022 holiday season being in full swing, boots came in second to last with Glam readers with only 59, or 10.05% of votes. Perhaps the chilly season hasn't quite taken full effect yet, and those boots will be ready for walking by the new year. Coming in last place was sandals with 49 votes (8.35%). Another seasonally affected choice, sandals actually represent the oldest known pairs of shoes as we know them in existence.
While there is evidence of ancient humans crafting footwear nearly 30,000 years prior, the earliest actual pairs of shoes ever found are known as Fort Rock sandals. The wicker sandals were found under a layer of volcanic ash in Fort Rock Cave in Oregon (and later at other sites) and are estimated to be between 9,000 and 10,000 years old, as detailed by Oregon Encyclopedia.
If you've ever wondered whether your daily footwear choices fell in line with other peoples', now you know. As always, the best fashion choices you can make are the ones that make you feel most comfortable and confident. Walk on, beauties.