Should You Be Applying Concealer In Dots Or Lines?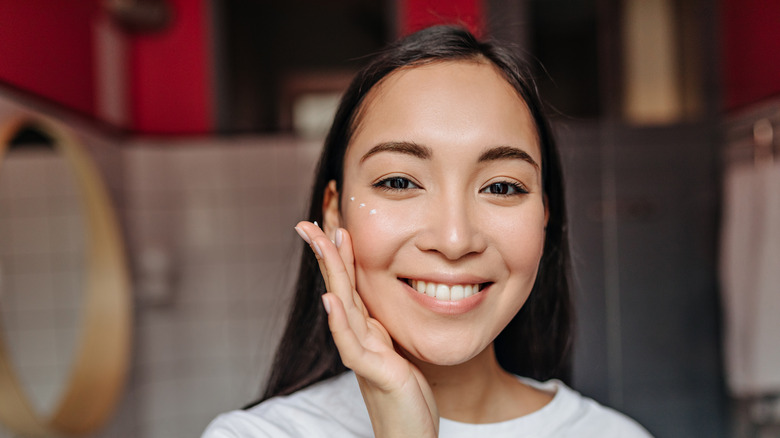 Look Studio/Shutterstock
Without concealer, it's difficult to imagine a flawless makeup application. Not only does concealer help with hiding small imperfections like acne or scarring, but it also helps to even out our skin tone to achieve a little balance throughout. Along with foundation, concealer can help create the perfect base for the rest of your makeup application. When working with such a small area that you'll be targeting, it's easy to see how even one misstep can change your entire concealer application. 
Your concealer application will depend on your coverage and ultimate goal. Typically, you want to avoid over-applying concealer as this can cause a cakey look and lead to streaking. Then if you need extra coverage, you can always continue to build up with your product. Regardless of how much product you use, you'll find that you have more control over the outcome if you apply your concealer in dots rather than lines.
Use dots over lines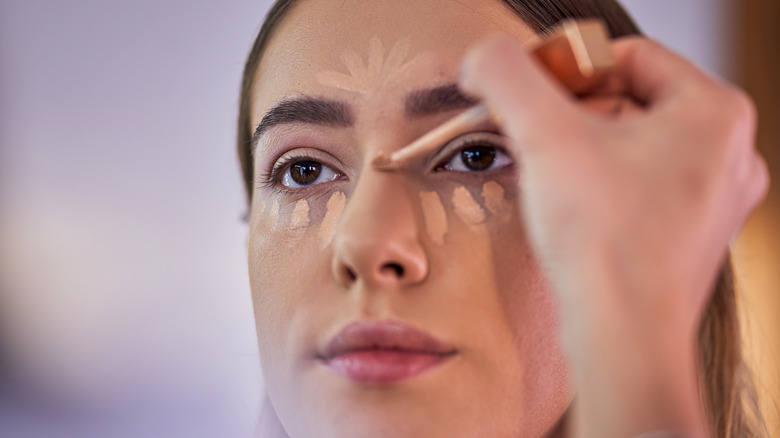 Fluxfactory/Getty Images
You may have noticed online beauty gurus applying concealer in dots rather than lines (via TikTok). This is primarily because lines use more product, so they are harder to blend in and can lead to a streaky, cakey result. To get lighter coverage and application, place the dots in the area where you want to apply your concealer, Lancôme explains. If your first dots don't provide enough coverage for your liking, you can always go in with more product until you've reached the coverage you want. 
When blending in your concealer, use the same technique with your fingers, sponge, or brush. Once you've dotted your concealer product, use your blending tool in a "stippling motion" to press the product into your skin, per Maybelline. This technique will give you a more natural finish than rubbing, which will only get rid of the product and cause it to slip into fine lines or wrinkles. Rubbing is one of the most common mistakes that people make with their concealer!
How to correctly apply concealer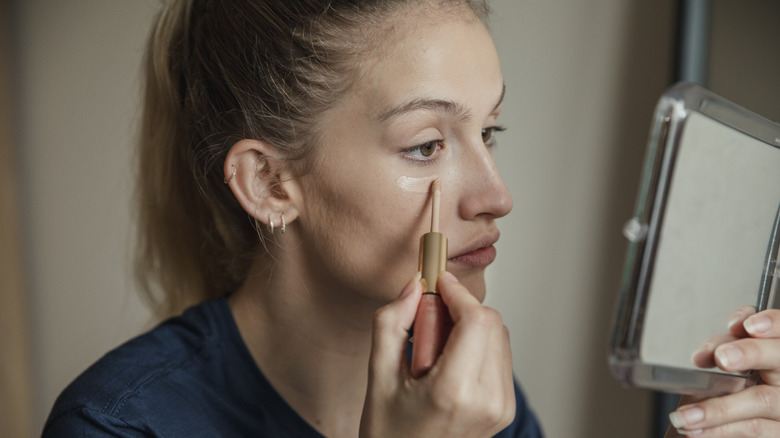 Dglimages/Getty Images
Applying and blending are only part of what it takes to get a perfect concealer application. Everything begins with choosing the right concealer to go with your skin tone and type. Choosing the right shade will determine whether you can brighten up your under-eye area or simply conceal any imperfection. If you're looking to highlight the area, pick a shade that's one or two hues lighter than your skin. If not, opt for the closest shade to your skin tone. Those with oily skin will want to reach for a mattifying concealer that won't add oil to the area. Mattifying concealer will help eliminate that extra shine, and be sure to add enough setting powder to prevent it from sliding. Those with dry skin should reach for the most hydrating concealer possible, to add some extra moisture into the skin while concealing.
Before using your concealer, always start with a clean base. Like with foundation, your concealer application will look best when it has something to stick to. Primer is necessary before concealer as it smoothes and evens out your skin's texture. A good primer that goes with your skin type will always ensure that your concealer doesn't slide around during the day or lose its coverage later on.