The Shade-Matching Concealer Trick That Will Prevent A Cakey Look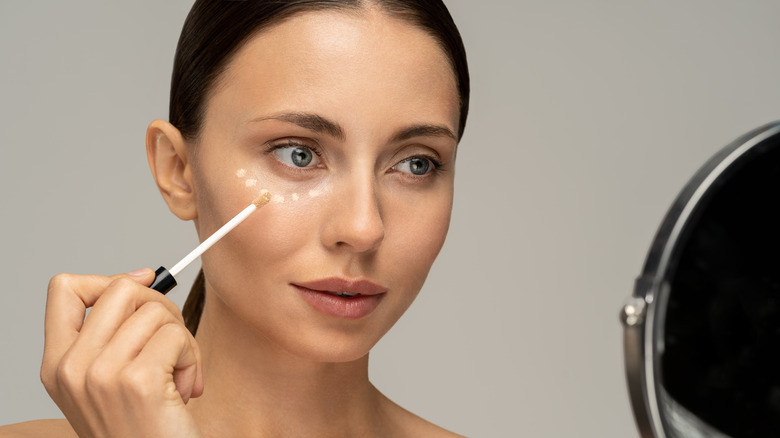 DimaBerlin/Shutterstock
Few products can compete with the versatility of concealer when it comes to multitasking makeup. Concealer can serve as an undereye brightener, blemish eraser, and, in a pinch, even eyeshadow primer. If your eyeliner's wing ends in a blunt tragedy, concealer is there to sharpen things up. There's a reason why many of us refuse to leave our trusty tube of the stuff at home no matter how limited our makeup bag real estate is. Plus, it's no secret that you can use the right concealer as the ultimate subtle contour. "I love concealer... I think it's so important to [use as] highlight. It just brightens the face and shows your cheekbones," celebrity makeup artist Amy Schmiederer tells E! News.
For all its merits, you'd think that concealer could do no wrong. Still, nearly every makeup user has encountered the drawbacks of cover-up at one point or another. Perhaps the most aggravating plight faced by beauty lovers is the dreaded appearance of cakey concealer. Creasing concealer always seems to occur at the worst possible times, and it isn't always easy to fix. Often, the situation unfolds a bit like this: shortly after applying a gorgeous look, you check the mirror, only to find your once-perfect concealer flaking, peeling, or pilling. True, you could scrub the offending product off right then and there; however, it's not an ideal solution when, say, on a first date. So, instead of letting patchy makeup pull a fast one on you, why not stop cakey concealer before it starts?
The expert-approved methods to prevent concealer woes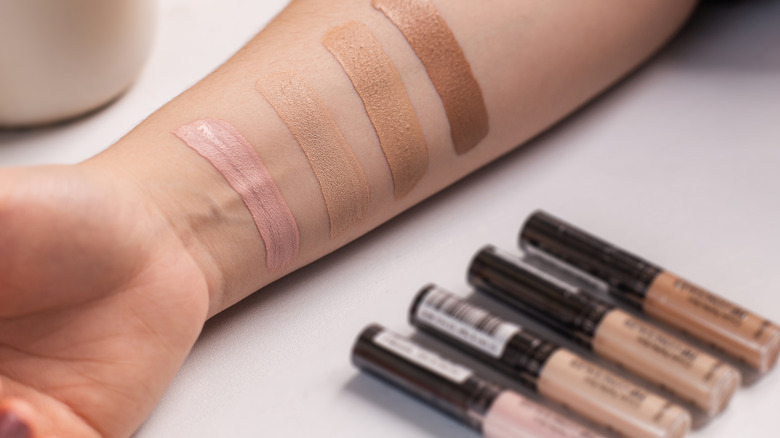 Sergey Zaykov/Shutterstock
If you want to stop your concealer from creasing, there's one preventative measure that beauty professionals agree on unanimously: don't use too much of it. Ideally, you want to apply concealer as sparingly as possible, whether using it under the eyes or atop a blemish. While some artists suggest letting the product dry slightly for more opaque coverage, others think blending right away is key. "Buff [the concealer] into a sheer finish with a fluffy brush, or heat [it] up with fingertips to cover the area without leaving too much product on the skin. That way, you avoid creasing, any sliding around, or having to use too much powder to set it," makeup artist Andrew Gallimore tells British Vogue.
Another way to keep your concealer looking fresh throughout the day (and night)? Make sure you use the right shade for the job. It's not unusual to opt for a light shade of concealer to highlight and correct discoloration — but it won't work as well to hide acne and hyperpigmentation. "[Lighter colored concealer] makes blemishes more noticeable and creates a whole host of problems. So I recommend that most people buy a concealer that matches their skin tone," Melissa Murdick tells Insider. You can even use darker concealer to help the discoloration look more natural on your skin.
Ultimately, you may need different concealers for different areas of your face. If you simply go up and down one shade, you then have three slightly different tones to use, and you can use them to highlight different areas, which will also brighten your face. Use darker concealer around your forehead and jaw and lighter concealer under your eyes — and voila!
Other tips to stop your makeup from getting patchy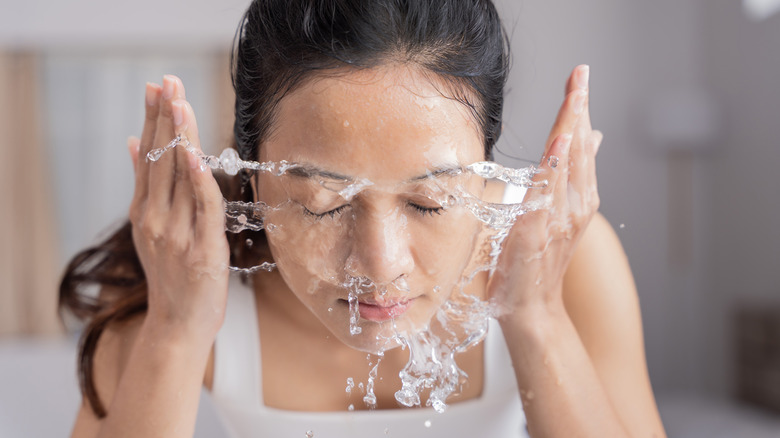 TORWAISTUDIO/Shutterstock
Now that you've mastered the art of applying your concealer, you should be aware of another culprit behind cakey makeup: improper skincare. "If your natural skin is very oily or very dry, and not properly prepped or treated with the right products, it can make the makeup on the face look extremely cakey," makeup artist Manuel Espinoza tells The Zoe Report. You might not be able to change your skin type, but you can adjust your skincare routine to address patchiness at its source. For example, regular sunscreen and makeup users should always double cleanse as part of their evening routine. To double cleanse your skin, simply wash off makeup with an oil or cream-based cleanser before lathering up with your favorite water-based cleanser.
Still struggling with uneven skin texture and cakey cover-up? If your cleansing routine isn't cutting it, take a look at the rest of your beauty regimen. Dry skin types can benefit from adding extra moisture, like overnight slugging, whereas oily, acneic skin might need consistent exfoliation. "Products and tools that help us exfoliate are designed to encourage a healthy behavior our skin does naturally," dermatologist Caroline Robinson tells The Washington Post. Physical exfoliators, like scrubs or polishes, can be used alone or interchanged with chemical products, such as glycolic acid or retinol-based formulas. Furthermore, all skin types feel their best when adequately hydrated, so don't skip the moisturizer before you put on concealer (or any other cosmetics). Once your finished look is complete, use setting spray for added protection against makeup meltdowns.