C-Beauty Is The Chinese Equivalent To K-Beauty, And We're Learning So Many Impactful Tips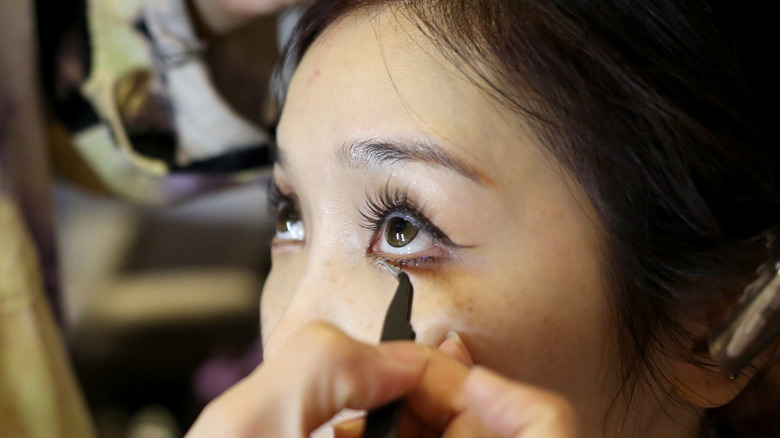 Alex Liew/Getty Images
We may receive a commission on purchases made from links.
If you're on TikTok, it's impossible to dodge all of the East Asian makeup tutorials thrown at you. And if you look close enough, you'll see that these videos include both C- and K-beauty. Though the two terms are used interchangeably, they are pretty different from one another. For starters, well, C-beauty is Chinese, and K-beauty is Korean. C-beauty concentrates on giving a wow factor, shimmery eyeshadow, while K-beauty holds back in the eyeshadow department. The same goes for eyelashes: C-beauty goes big, while K-beauty prefers to play it cool. However, they both concentrate on looking natural, glowy, and minimalistic.
Let's talk about C-beauty. C-beauty truly is the Chinese equivalent of K-beauty. It's also known as Douyin makeup, named after the Chinese version of TikTok. This makeup look has crossed over to the Western world, and many influencers and makeup artists who are not Asian have a go at it. TikToker Kamgregory's attempt at the trend demonstrates how gorgeous you can look with Douyin makeup. Even if you are not going for a full-on face of Douyin makeup, the makeup style offers many useful tips to add to your daily makeup routine. And we are here to break down those tips for you.
Eyeliner for doey eyes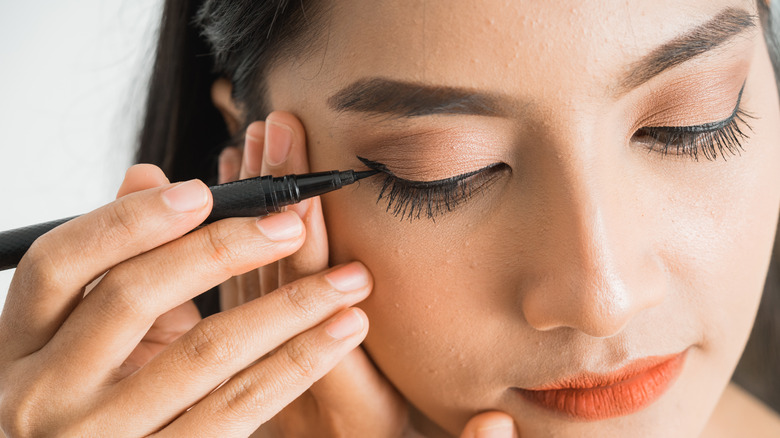 Odua Images/Shutterstock
Eyes come first when it comes to Douyin makeup. The final goal for your eyes with C-beauty is big-doll-like anime eyes that look natural, feminine, and dewy at the same time. And achieving all of this depends on how you master your eyeshadow, eyeliner, and eye contouring.
Let's start with eyeliner. Douyin eyes have the ultimate feline shape to them, achieved by a raised wing look. To draw the wing, you can start at the center of your eyelid and move the line, extending it toward your temple. Connect this line with your lower lash line and color it in. The inner corner liner trick in Douyin makeup enables those of us with heavy folds or epicanthal folds to achieve a more symmetric ratio of facial features.
For the trick, use a fine-tipped liquid eyeliner and locate the spot where your outer eyelid meets the inner parts of your lids. From this spot, draw a line slanting downwards to the inner corner of your eye. Make sure you are not meeting your actual inner corner — the line should go beyond, towards the bridge of your nose, but only by a few millimeters. After you have traced this line, use eyeshadow to connect it with your lash line.
Next is the Aygeosahl contour; in this trick, you'll give yourself puffy eyes for a doey look. Squint your eyes to locate your eye fat, and trace and blend in the lines using a brown eyeshadow.
Long lashes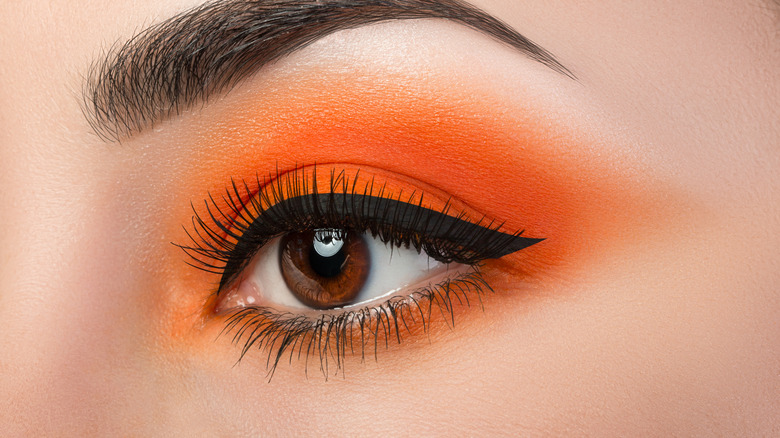 ldutko/Shutterstock
Be it Western or East Asian makeup, long eyelashes are all the craze anywhere you go, and C-beauty is no exception. The long lashes in C-beauty are known as the manhwa lashes or the manga lashes, as they replicate the exaggerated lashes we find in anime.
If you want to stick to your natural lashes without sticking on falsies, here's what you need to do. Go in with your eyelash curler and clamp your eyelashes. The third time's the charm, so repeat it three times, each time moving along the length of your eyelashes. Then use your mascara to thicken your lashes, making them more prominent and noticeable. For the final step, use your eyelash comb to separate the eyelashes.
For more length and curl, you can use false lashes. Individual lashes are the way to go when buying falsies for a Douyin look. Don't worry; you can always cut up your cluster lashes if you don't have one. When sticking them onto your lash line, make sure you are spacing them out and getting them close to your lash line as much as possible. And most importantly, don't forget your bottom lashes; they are a must for the doll-like eyes C-beauty is striving to achieve.
Glittering it up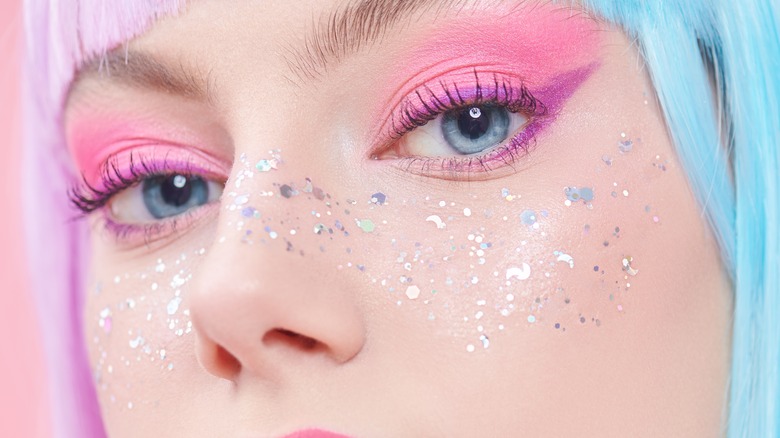 Kiselev Andrey Valerevich/Shutterstock
What's unmistakably C-beauty is the glittery part of this makeup look. On your eyelids, under your eyes, your eyelid corners, and on the tip of your nose, glitter can go in any of these places when it comes to doing makeup the Chinese way.
Most of the glitter is accompanied by the eyeshadow and follows the same direction as your eyeliner. But that does not mean you have to stop where your eyeshadow ends. Applying subtle amounts of glitter on your under eyes and along the Aygeosahl contour lines will help give you that ethereal look Douyin makeup is after. Go all out and apply a bit of glitter on the inner corners of your eyes to give them that animated, dewy quality. You can also use glitter on the tip of your nose to give it a more pointed look. 
If you want to play it cool with the glitter, you can opt out of applying it in all these places and limit yourself to your upper eyelids. Furthermore, the tones of pink and brown used in Douyin makeup takes in the full effect of all the glitter. This trick of glitter comes in handy when you want to draw attention to a specific part of your face. In Western makeup, glitter is often substituted with highlighter, but both have the same effect.
Blurry lips and 'M' shape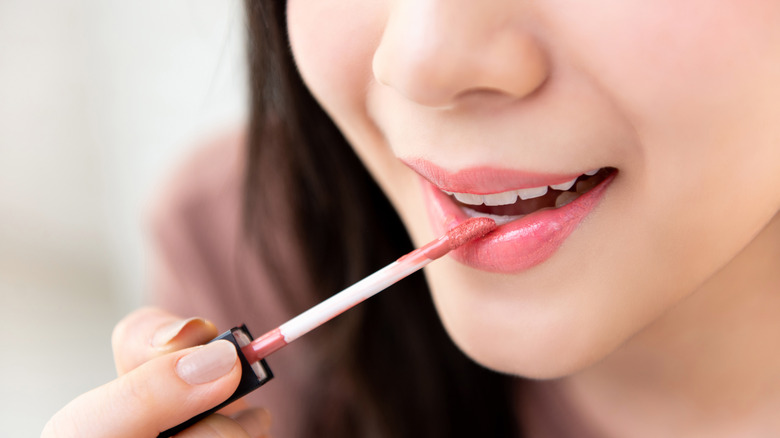 Atstock Productions/Shutterstock
We'll do away with the lip lining for subtle-looking lips with a blurred-out effect. Instead, we will go a bit rogue with our lipsticks. Since C-beauty is all about looking adorably feminine and youthful, the M-shape for your lips creates a permanent natural pouty look that also looks juicy. 
To give yourself smudged-out lips, start by applying lipstick or lip cream on the entirety of your lips. The fun part about this step is that it does not have to be perfect or ultra-clean because you're going to smudge it out anyways. But when applying it on your upper lips, make sure to draw an "M" shape at the center, right at your cupid's bow. Then you can smudge it with a lip brush or dab it away with your fingertips. 
Once all the smudging and blurring is done, grab your lip gloss and go to town with it. Since C-beauty is all about brightening and glittering all the right places on your face, a good plumpy lip gloss is needed to complete the look.
Going in strong with the blush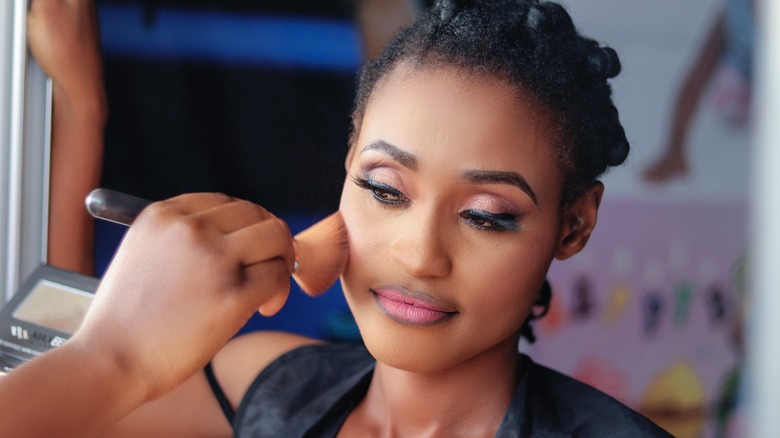 Nana Kakraba/Shutterstock
Applying blush is almost an afterthought in Western makeup looks, but when it comes to C-beauty, blush is the MVP. From where the blush is applied to how it is blended, C-beauty does it all differently. And their blush technique just might be a cut above all the other blush-wearing styles out there.
When it comes to where the blush is applied on your face, Douyin makeup goes for the cheekbone area instead of the actual cheeks. The blush is applied closer to the eye area but doesn't interfere with any of the under-eye contouring. It is also worn in an upwards and circular motion for that lifted, youthful feminine look. And instead of trying to blend it in with the contour, Douyin makeup styles appreciate the subtle blush application being more visible. 
So, C-beauty offers a more obvious-looking blush application that compliments the girlish tones in the glittery eyeshadow.
Subtle brows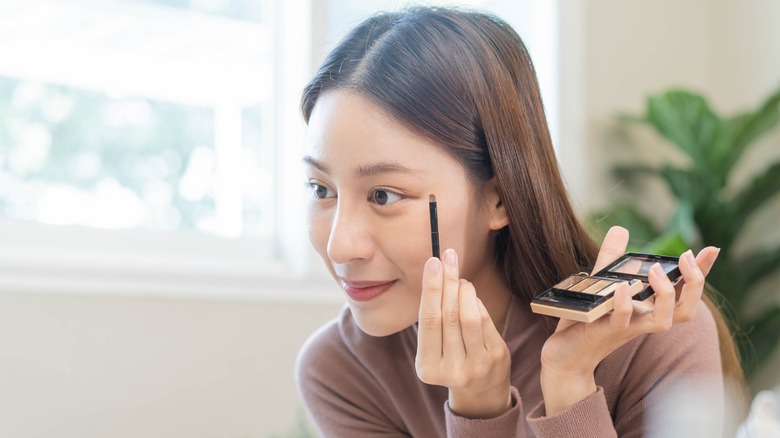 Kmpzzz/Shutterstock
Contrary to the arched, dark, and prominent eyebrows in the Western world of makeup, the C-beauty brows take a more natural, light appearance. The desired shape of the eyebrows is straighter-looking eyebrows without the arc. And when tinting the eyebrows, the recommended colors are lighter shades of brown. Make your eyebrows look as natural as possible, and you're good to go.
Chinese beauty standards of looking youthful and feminine have inspired these makeup tricks, and their effectiveness makes them appealing to the masses, hence the craze on TikTok. If you don't want to go for an entire face of Douyin makeup, you can always mix and match a few of these tricks, as none of them are interdependent. 
Another remarkable aspect of these makeup tips is that they are very practical and beginner friendly, so don't be afraid to give them a go. A C-beauty makeup routine guarantees an ethereal, youthful, and feminine look; if that's what you're trying to achieve, these techniques will be useful.