Peekaboo Vivids Are The Trendiest Way To Try Out A Fun Hair Color Without Committing Too Fully
One of the most overwhelming decisions one can make is whether or not to take the plunge with hair dye. Dying your hair a new color can be a fun and exciting way to create some change in your look. However, deciding on the right hair color can be challenging.
While some can easily opt for a vibrant and saturated hue, others may find the color too much. Thankfully, there is one way you can embrace some fun color without having to dive head-first into the hair dye. Adding hints of color throughout your hair can give you the change you want without having to dye all your locks.
These hidden pops of color are fun surprises you can easily play within your hairstyles. From creating colorful ponytails to multi-colored braids, there are many ways to show off your new color. Besides the joy and fun it brings to your aesthetic, adding hints of color can help give you a chic and runway-ready look without having to do much. With built-in statement hair, there's a reason why these vivid peekaboo hair pieces are the newest must-have hair color.
Dip-dyed vibrant hair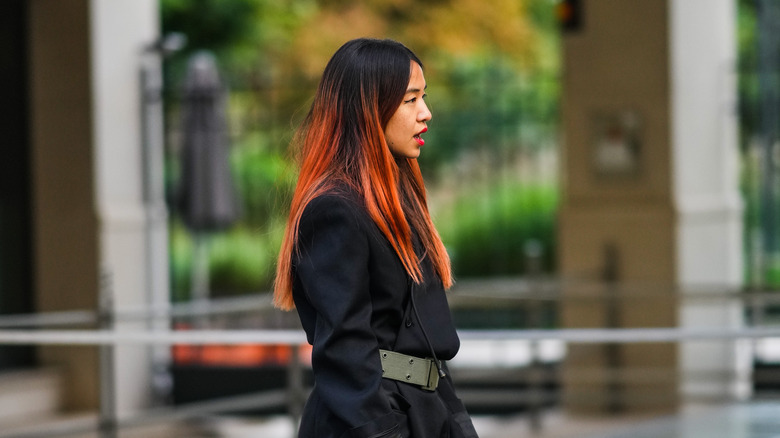 Edward Berthelot/Getty Images
We all remember the grungy dip-dyed hair trend as a pathway through our younger years. Well, this hair technique is coming back more stylishly. Instead of dunking our hair into a bucket of hair dye, we are headed to the salon for a pop of color on our ends. There's no better way to make a statement than with fiery tips that can be seen from miles away.
Pops of color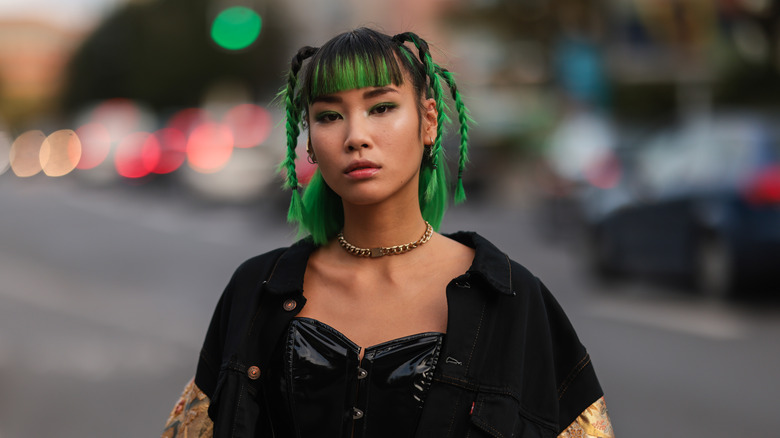 Jeremy Moeller/Getty Images
Being able to expose pops of color through our hairstyles for a fun and vibrant look should be one of the main reasons why you dye your hair. Create fun braids and ponytails dyed in an entire hue for a mixture of color and creativity. Not only is this a real-life pop of color, but it gives you easy built-in hairstyles you can turn to for statement hair each time.
Vivid on vivid hair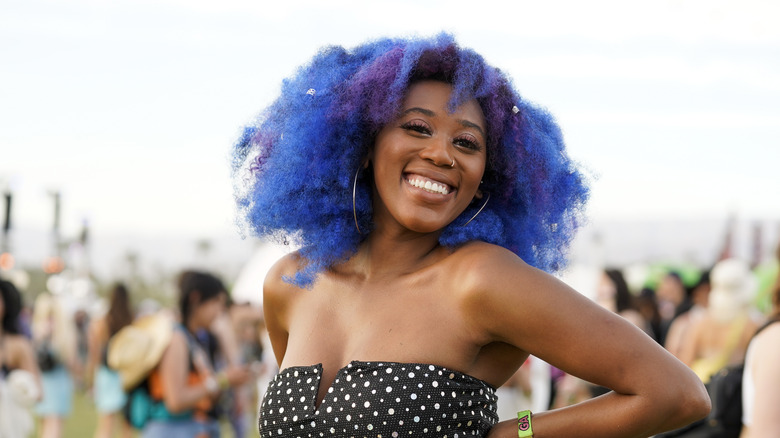 Presley Ann/Getty Images
Who said peekaboo color could only exist on brown, black, or blond hair? Give your color some more color by adding an even more vibrant hue to your already saturated hair. No one's expecting more vibrancy when you already have fun hair color. If you already have colorful hair, this is an easy way you can change up your hair without getting rid of your original dye job.
Dip-dyed pastel hair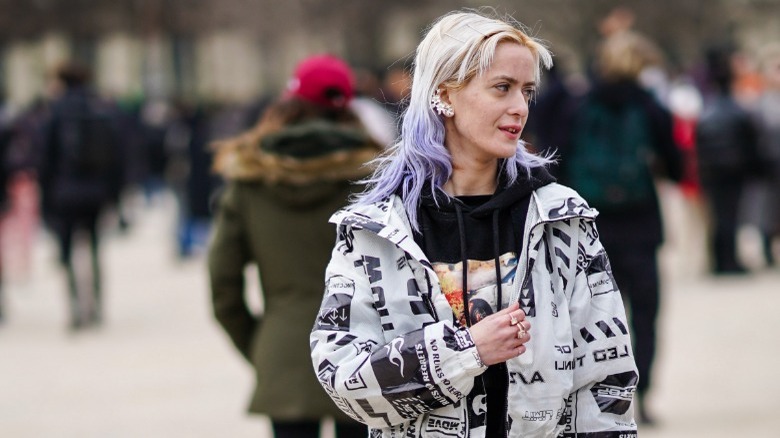 Edward Berthelot/Getty Images
We already know that dip-dye and vibrant hues are a perfect match, but this hair trick can also work with feminine pastel hues. Don't feel limited to electric colors for your hair — pastel colors can also add an unexpected twist to your hair in a light and airy way. Dip-dye your hair in your favorite pastel colors for a surprise twist to your strands. Pastel ends may be easier to achieve on lighter hair but can still be worked into darker shades with the help of a professional.
Face-framing color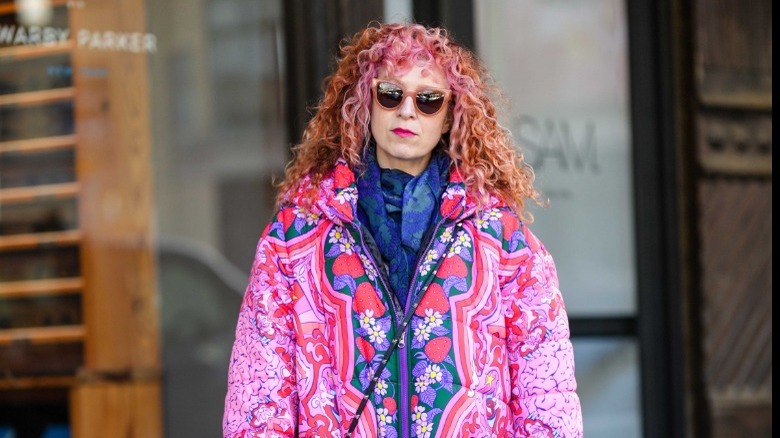 Edward Berthelot/Getty Images
In the era of money-piece hair, it's no secret that face-framing streaks are one of the trendiest ways to add a peekaboo color to your hair. This trend typically consists of adding a contrasting color to the hair strands surrounding your face. This close difference of color is perfect for giving you a fun and chic, high-fashion look.
Duo-toned ends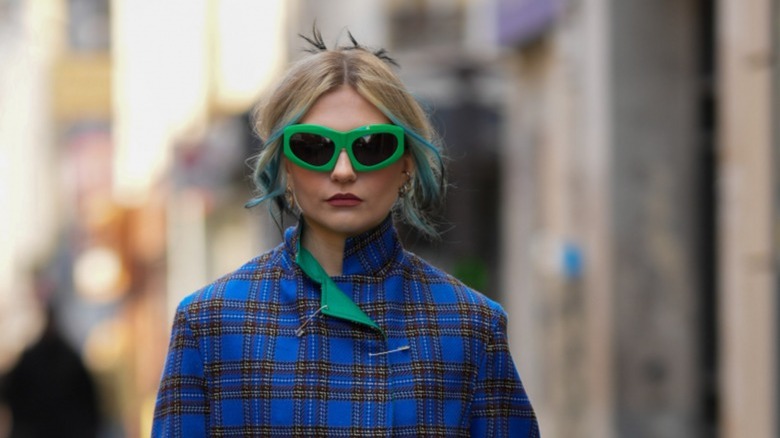 Edward Berthelot/Getty Images
Since you're already adding one fun color to your hair, why not add two? Add a combination of two or three various colors to give your hair even more dimension. Not only will additional colors create an even bolder look, but they will create variations in color throughout the hair for a playful vibe. Whenever you style your hair, these duo-toned ends will give your braids or pony a rainbow of colors that will stun.
Vibrant ombré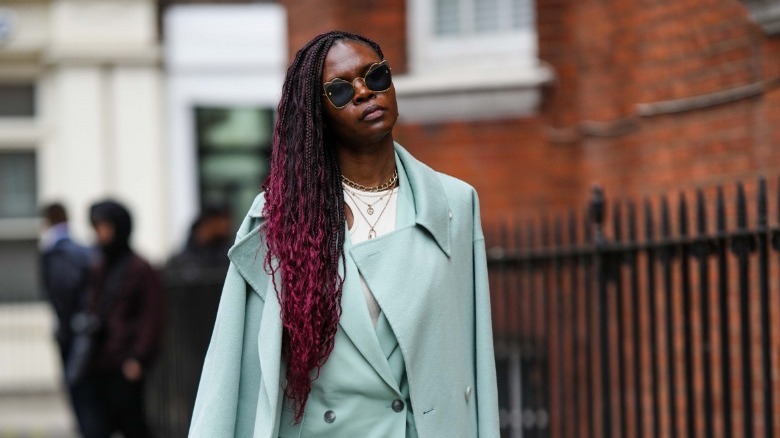 Edward Berthelot/Getty Images
We already know that ombré hair is back and in full force. With this trend showing no signs of stopping, it's time to embrace the ombré with a fun and unexpected finishing hue. Give your hair a vibrant ombré by opting for a hue that can flow easily from your natural hair color. If you already have a color like red, fade it into a fiery red or orange for a stunning turn of events.