How To Try The Less-Is-More 3-Dots Concealer Hack For Subtle Coverage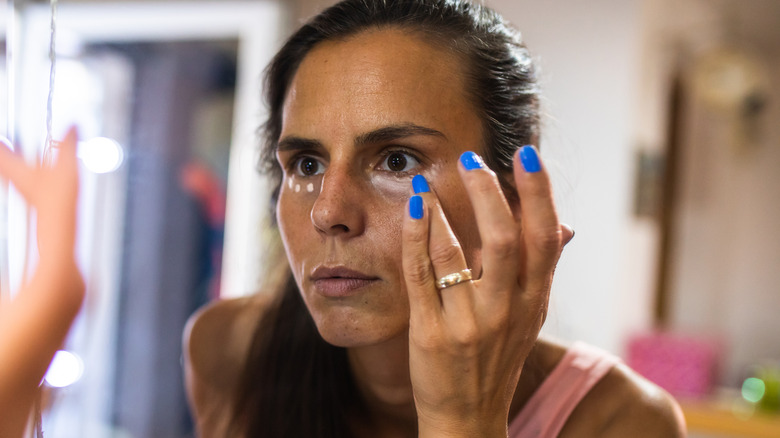 Aleksandar Jankovic/Getty Images
It's easy to overdo it with your concealer. It's been trendy to paint on large triangles in the past, but this is a common concealer mistake, as it can cause your under-eye area to look cakey. This will highlight any fine lines and wrinkles, aging you when your makeup should do the opposite. Now it's becoming more popular to focus on skincare and then use your makeup to highlight your favorite features instead of layering coverage over the spots you're not so fond of. The trick for subtle coverage and a more natural look is to only apply three small dots of concealer and then blend them out.
The three-dot hack, which has been trending on TikTok, works better because less is more when it comes to makeup. You should only place product where you need it, like over any dark circles. Then you can slowly layer more on as needed to build the coverage.
Place three dots under your eyes
Concealer application can make or break your whole look, so you need to be careful of the amount you use and where you use it. Otherwise, it can quickly change your bright under-eye look to crow's feet caked with product. 
TikTok user @jreybeauty shows in her tutorial that you only need three small dots of concealer to cover your under-eye area. The first goes in the inner corner, the second under the middle of your eye, and the third in your outer corner. Only the tiniest dots are needed. To control the amount of product you're using, consider picking up the makeup with a concealer brush instead of the doe-foot that comes included in your product's packaging.
Next, use the warmth from your fingertips to naturally blend the concealer out. Be careful to avoid pushing the product too close to your eyes. Doing this will cause it to settle into any wrinkles. Once you're done, step back from your mirror and decide if you need more coverage. If so, use your brush to draw a small line down from the inner corner of your eye and up from the outer corner. Then blend it out again. If you're using a liquid concealer, don't forget to set it with powder, using a powder puff to push it into the skin.
Don't forget to prep your skin first
Bymuratdeniz/Getty Images
Prepping your face with the proper skincare routine is necessary for flawless makeup application. If your skin looks radiant and dewy, you won't need to cover it with heavy products. You always want to start with a clean face and finish with a moisturizer. Following your routine creates a blank canvas for your makeup to sit on. If you have under-eye bags, you can reduce them with a cold compress. Wrap an ice cube in a paper towel and hold it under your eye for 10 minutes, per Makeup.com. You can also use eye cream to help minimize the appearance of wrinkles. Once you find one you like, apply it with your ring fingers so you don't tug too hard on your skin, since it's fragile in this area.
Now that your face is prepped for makeup, you can move on to color-correcting: the savior for preventing a cakey under-eye area. By placing a contrasting hue on the area, you can cover up dark under-eye bags without needing a thick layer of concealer. The pigment you should use depends on your skin tone. You'll need a light peachy color if you're between a fair to medium complexion. Meanwhile, if you have a dark or deep face, you should use an orange to red color. Lightly blend it out, and then you're ready to use the three-dot concealer hack.