TikTok's Easiest Hack For Hiding Hair Ties With A Paperclip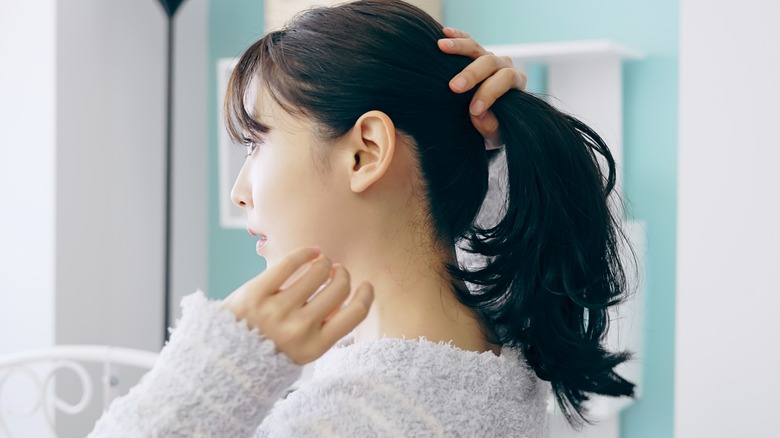 metamorworks/Shutterstock
Updos are a great way to keep your hair looking fabulous in the summer heat, whether it's a cute ponytail, braids, or a messy bun. But when you want your simple updos to have a more polished look, either for a special event or a day where you're feeling extra stylish, that plain old hair tie can leave a lot to be desired.
Concealing a hair tie is the quickest strategy to make an updo look more put together, and there are lots of easy ways to do it. If you need a more elegant method than the typical bobby pin approach, TikTok has the perfect hair trick for you.
This simple hair tie-hiding hack strays away from traditional hair accessories in favor of an ordinary office supply: a paperclip. As it turns out, a paperclip is a convenient tool for twisting a bit of hair around a hair tie. Here's everything you need to know about pulling off this hack and getting a gorgeous summer hairstyle.
How to hide your hair tie with a paperclip
TikTok user @emily.soper provides a helpful demonstration video on how to use a paperclip to get a neat and precise twist of hair around a hair tie, thus concealing the hair tie from view and adding an extra flair to your hairstyle. In the clip, Soper starts out with a cute braided style. However, the elastic hair ties at the bottom of the braids distract from the overall look. To remedy this, Soper takes a medium-sized paperclip and tucks it into the hair tie.
Next, a small section of hair from the end of the braid gets wrapped around the hair tie. When the hair reaches the paperclip, a bobby pin is used to gather up the section of hair and feed it through the top of the clip. Finally, the paperclip is pulled downwards, which in turn pulls the hair piece through the hair tie. The end result is a fashionable knot of hair that fully covers up the elastic. It's a fairly simple hack, but the knot looks surprisingly fancy and polished, making this a worthwhile style to keep in your summer rotation.
Other methods for hiding hair ties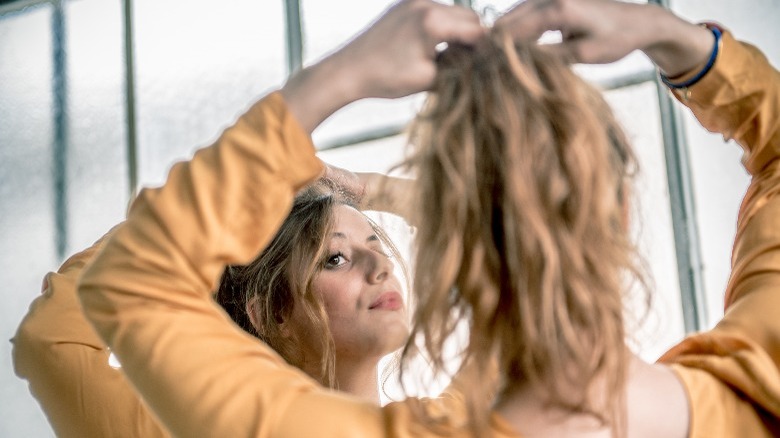 Ababsolutum/Getty
If you don't have a paperclip, there are other methods for keeping your hair ties out of sight. The most common method is to take a section of hair, wrap it around the hair tie, and secure it in place with a pin. This is a convenient option if you're wearing your hair in a ponytail or bun, since you can conceal the pin underneath the updo.
For ponytails, there's also a way to hide a hair tie while bumping up your ponytail volume. After securing your hair with a hair tie, pull the tie slightly loose. Use your fingers to gently separate the hair above the hair tie, forming a gap or hole. Then, take your ponytail and pull it up through the hole. Now, your entire updo will sit on top of the hair tie, giving you a fun boost of volume and completely hiding the hair elastic.
While all of these strategies are effective for hiding hair ties, which one you use will depend on your hairstyle and preferences. Pinning hair in place or flipping a ponytail is great if you have a hair tie near your scalp, but any longer styles with a hair tie at the end of a braid or ponytail are best served by a pull-through knot created with a paperclip or hairpin. It may sound strange, but as TikTok proves, a paperclip really is the ideal way to tie your hair off with an attractive twist.