Hair Bows Are The Accessory Of The Moment, According To Chanel & Hailey Bieber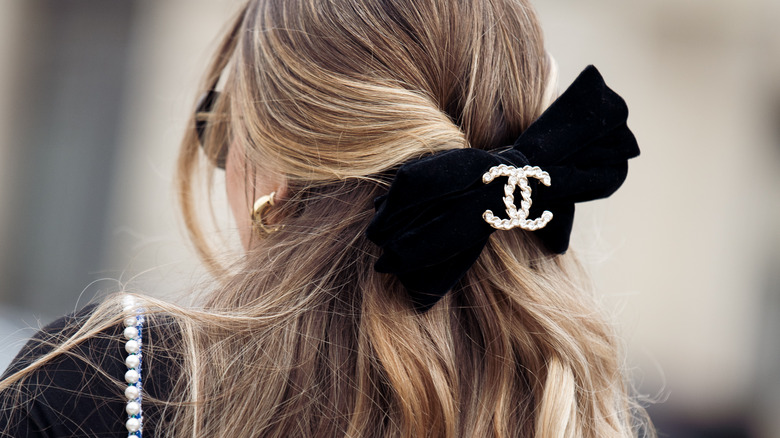 Raimonda Kulikauskiene/Getty Images
Despite the controversy and drama surrounding her, many fashion and beauty enthusiasts are always eager to copy Hailey Bieber's looks, from outfits to makeup to accessories. Regardless of how you feel about her personality, there's no denying that the model inspires the fashion and beauty worlds with her trendsetting style and looks stunning every time she explores different hairstyles and ensembles. Meanwhile, Chanel, although also quite controversial, is one of the most successful fashion names in the game and always offers beautiful fashion inspiration. So, what's one accessory that both Bieber and Chanel are embracing in 2023? Bows! So, get ready for them to be everywhere.
If you're looking for inspo, you can find Bieber rocking adorable hair bows on Instagram. And bows perfectly fit Chanel's girly, classic aesthetic; actress Kristen Stewart even flaunts many outfits featuring bows on the brand's website. Ready to follow in Chanel and Bieber's footsteps? 2023 is the perfect year to style your favorite hair bows.
Embellish your elegant bun
Are you looking for a way to make your elegant high or low bun appear even more classy and beautiful? Add a bow! Keep in mind, though, that hair bows typically won't work for messier buns, which are all about casual, cool-girl vibes. Instead, they are perfect for decorating your most precise, well-crafted buns for any formal event.
Go big, bold, and beautiful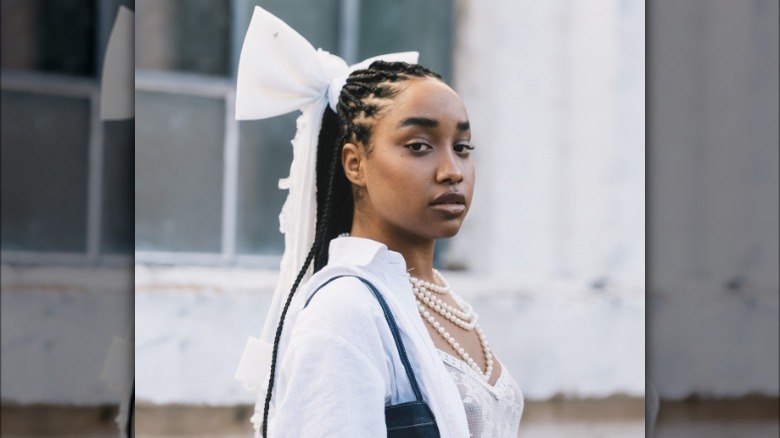 Naomi Rahim/Getty Images
While you might initially think of dainty, petite bows when you hear about this trend, hair bows don't have to be tiny. If you want a bolder, more dramatic look, opt for a more prominent hair bow that's more visible in your hair for more of a dramatic statement.
Double up
On the other hand, you can never go wrong with doubling up your delicate, little hair bows for cutesy, playful hairstyles. Try rocking two (or more!) bows in your hair for ultra-adorable, fun hairstyles that look more lively than wearing only one petite bow in your tresses.
Add interest to long hair
People with any hair length can wear hair bows and look great. But a hair bow in flowing, long locks is one of the most eye-catching hairstyles — the combo just makes sense. Long hair and bows both typically represent hyper-feminity, so a bow will effortlessly stand out in long tresses, whether straight, wavy, or curly.
Embrace cutesy vibes
Remember, you should wear hair bows if you're going for a cute, youthful look. Adding hair bows to your look typically adds a sweet, playful, and wholesome touch to your ensemble. If you want to look edgy or ultra-sexy, bows aren't the best accessory for those vibes, as the hair bows are more about cutesy styles.
Work with contrast
Do you want to ensure your hair bow will be visible and eye-catching in your hair? Pay attention to your hair color and go for contrast. For instance, a black bow will typically not stand out in dark hair, so wear a light pink or white bow if you want it to stand out against dark tresses. Moreover, darker hair bows will appear more noticeable in lighter hair colors.