Italian-Girl Style Has Officially Dethroned Parisian Summer Fashion - How To Rock It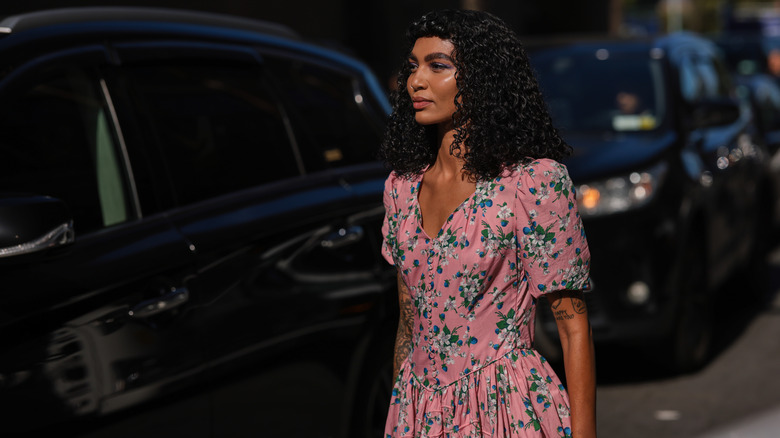 Jeremy Moeller/Getty Images
Although everyone loves a good Parisian summer, it's Italy that's currently infiltrating our hearts (and our wardrobes!). It's time to say goodbye to our favorite denim mom jeans and pull out all of our flowy and feminine pieces, because the Italian-girl style is here to stay. While not everyone can visit Portofino this summer, we can channel our inner-Italians by rocking some of the latest trends that are taking over our social media feeds. 
If you can't stop envisioning yourself in warm weather and walking the cobblestone streets of Italy, this style is perfect for fulfilling that craving for enchantment and magic. Not to be confused with the more simple and efficient French-girl style or the minimalist Scandinavian summer aesthetic, Italian style is filled with romantic detailing and vibrant colors.
Italian culture is all about "la dolce vita," or "the sweet life," so adopting a carefree attitude is the perfect way to channel that Mediterranean aesthetic. Grab your floral frocks and Aperol; we're (virtually) headed to the Amalfi Coast.
Midi-lengths all the time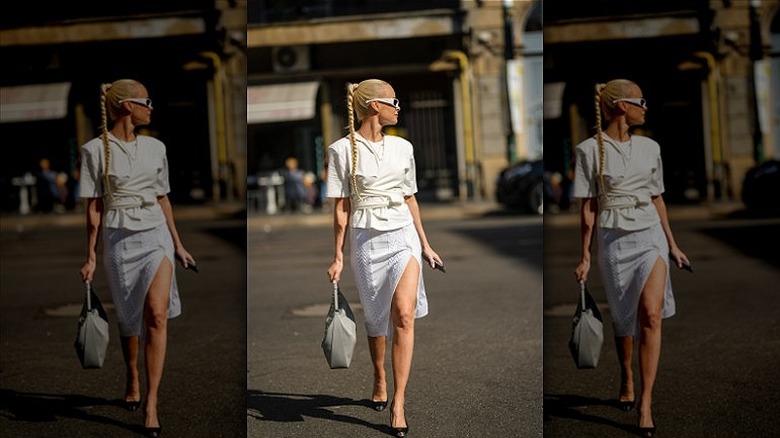 Edward Berthelot/Getty Images
To truly capture the Italian-girl style, you'll need to dive deep into the midi-length. Not only are midi-length pieces perfect for the summer, but they're also fantastic for elevating any casual look. Whether it's a cotton or satin midi dress or skirt, it will give you a flowy and graceful presence. It doesn't matter if you wear it up or dress it down; the midi is versatile for whatever your Italian travels might require.
Italian street-ready footwear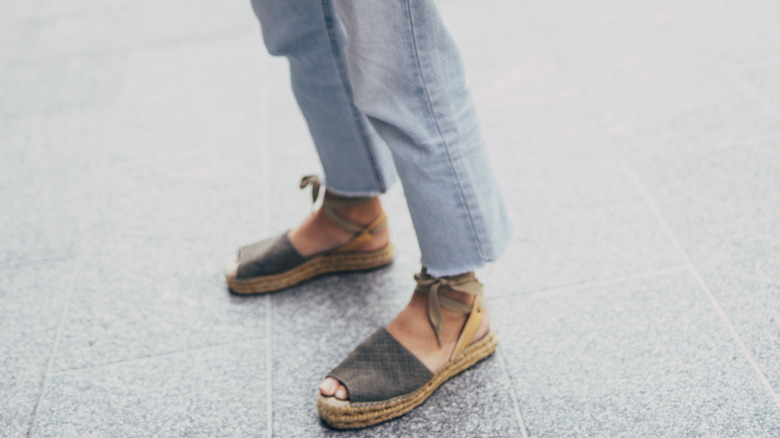 Freshsplash/Getty Images
No one likes to look underdressed on vacation, but they also don't want to be wearing heels on cobblestones. Italian girls know this and that's why they opt for the sensible espadrille. Espadrilles come in various styles, and though they originate from Spain, several brands design and manufacture them in Italy (via Toast). Espadrilles will pair perfectly with any look or outfit this summer while still keeping your feet comfy.
White flowy pieces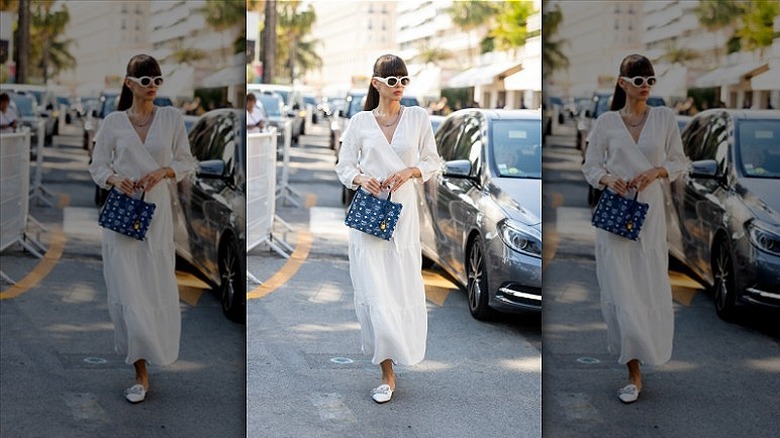 Christian Vierig/Getty Images
You can't have your Italian moment without a flowy piece that gracefully blows in the wind. Blouses or dresses are key if you want a true Roman moment.  No need to go above and beyond with this style trick; just opt for a slightly oversized garment, whether it's a top, bottom, or dress. Anything from white linen trousers to a puffy-sleeved white blouse will give your clothing some extra movement.
Embrace the citrus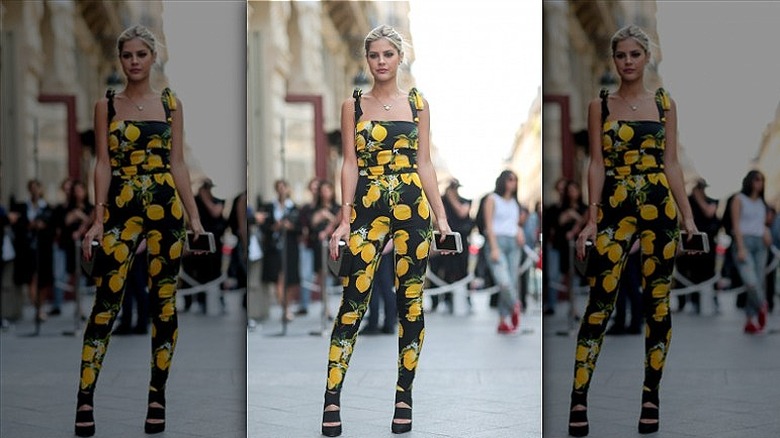 Edward Berthelot/Getty Images
Italy is known for it citruses, both in food and fashion. You can't ignore Capri-style lemons when picking out your bold prints for an Italian summer! Even if prints aren't your thing, you can still sneak in subtle hints by opting for citrus-shaped jewelry or accessories. Bags or hats with citrus embroidery can be the perfect addition to your summer fits.
Rock a straw hat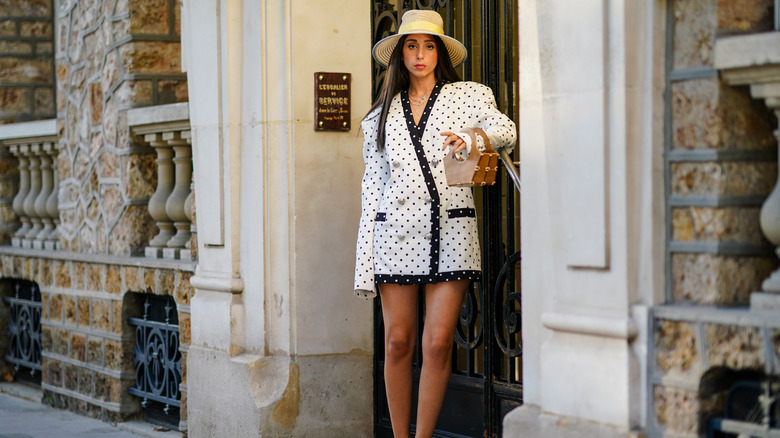 Edward Berthelot/Getty Images
Just because Italian fashion is about being chic and stylish, it doesn't mean we can forget about sun protection. While you're enjoying the Amalfi Coast (or your local beach!) this summer, protect yourself with a chic straw hat that will add style points and coverage simultaneously. 
Keep cool in a gilet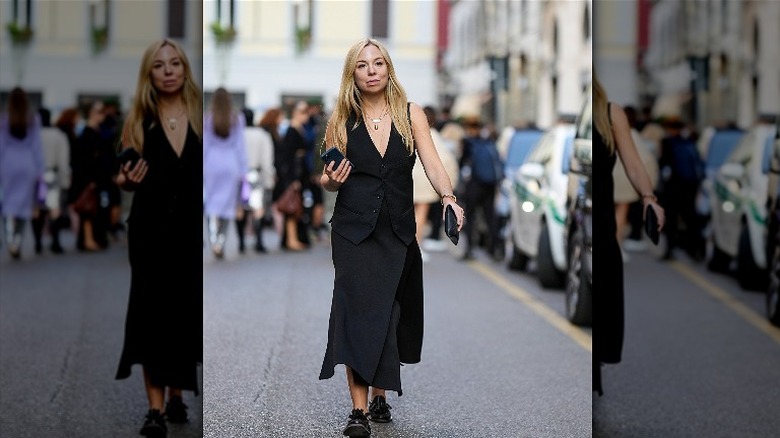 Edward Berthelot/Getty Images
Nothing says cool and carefree like a loose summer gilet. If the weather gets chilly, you can always layer up your outfit with a lightweight printed vest to bring a splash of color to your outfit. Create a bold aesthetic by adding a lightweight gilet in a printed pattern, or rock a more modern and chic vibe with an all-black Italian summer look. 
Romantic details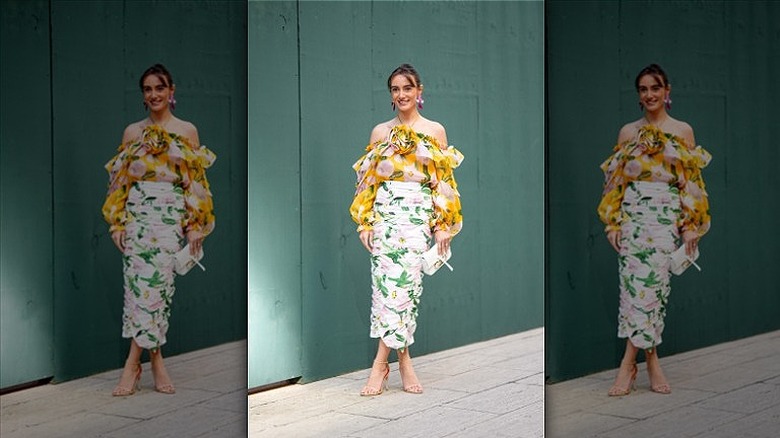 Edward Berthelot/Getty Images
What would Italian fashion be without a touch of romance? Like the French style, the Italian aesthetic is all about soft and feminine details that add some of that European charm to your look. Ruffles and off-the-shoulder details are perfect to give you a light and airy look that might even attract your summer romance. Fabrics like satin or silk and sweetheart necklines will also add an element of romance to your outfits — enough to make Romeo and Juliet jealous! 
Bright hues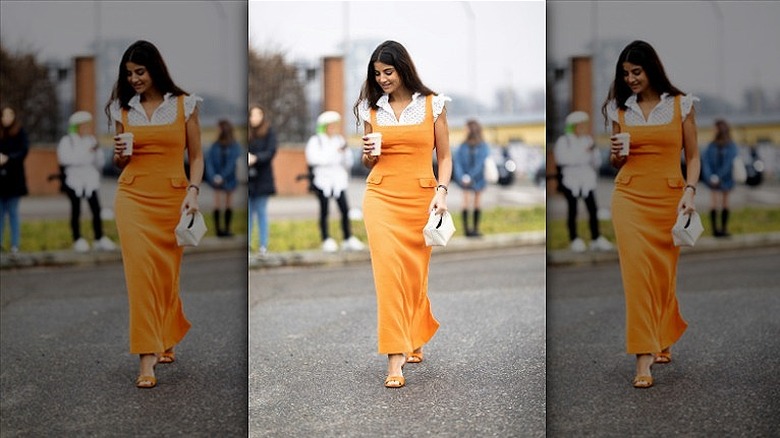 Valentina Frugiuele/Getty Images
Unlike quiet luxury, the Italian girl style is all about punches of color that will shine under the summer sun. Bright oranges, yellows, and greens are just some of the hues that can add the perfect Italian feel to your looks. While bright and saturated shades are welcome, you want to be intentional with your colors to create a cohesive and chic look.