Any Glossy Lip Product Can Have A Matte Finish With One Simple Trick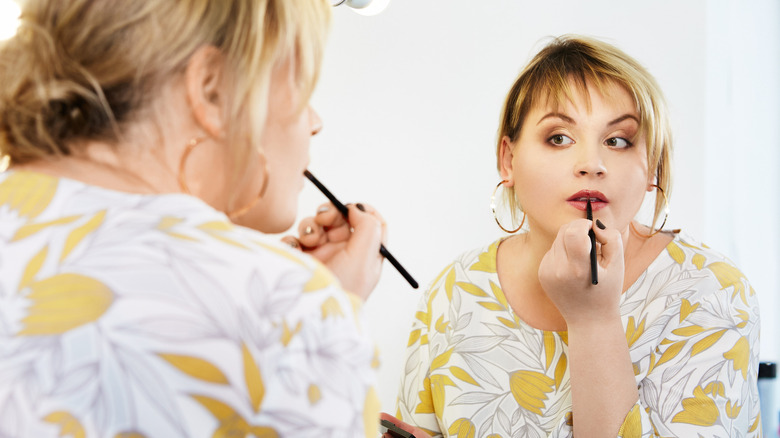 Red Umbrella and Donkey/Shutterstock
We can all appreciate a glossy lip product that packs as much shine as it does color. However, there are some days when you just want to keep it low-key, and that might mean steering clear of all things glossy — including on your lips. What should you do if you crave the color of your favorite shiny lip product? Is there any way you can rock it in a subtle way?
Turns out, glossy lipsticks and lip balms can be tweaked to create a more matte appearance. All you need is a few tools and products from your makeup collection to make it happen: a makeup sponge and translucent setting powder. Pair these two with a single-ply facial tissue, and you're ready to give your pout some color without turning up the high-gloss dial.
To begin, grab the glossy lip product that you want to wear. Proceed as if you were going to wear the product as is, prepping your lips beforehand if necessary. You may want to use a lip scrub to exfoliate your pout and remove any dead skin that may cause flaking. Don't skip your lip primer if you typically wear one — doing so may still be necessary if you're concerned about the color remaining vibrant on your lips throughout the day.
When you're ready, reach for the makeup sponge, your setting powder, and facial tissue.
How to create a matte look with glossy lip product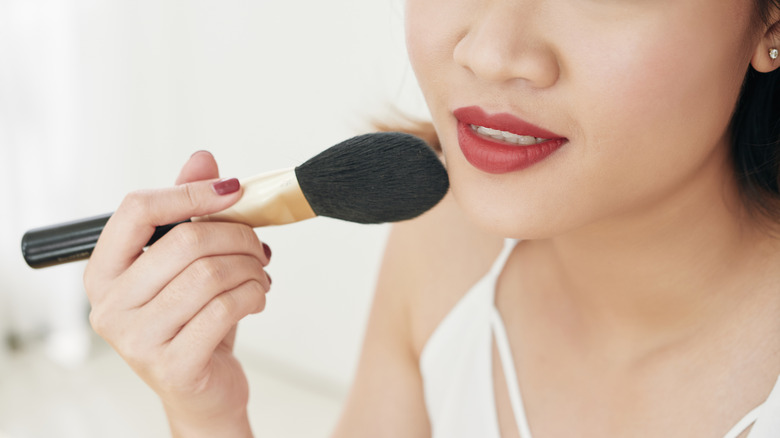 Dragonimages/Getty Images
Once you have your glossy lip product on your pout, lay the single-ply facial tissue gently onto your lips. The tissue you use should be able to absorb excess moisture without pulling the color you added from your pout. After a bit of blotting, check to see where you stand — now is the time to re-apply the lip product if you want more saturation. Repeat the process with the facial tissue to absorb as much moisture as possible.
After you're finished, it's time to work some magic with your makeup sponge and powder. Dip your makeup sponge into your powder, tapping off any excess. Then, gently apply it to your lips, making sure to evenly coat them as you go. When you're done, set the powder into place until it's absorbed, then softly press your lips together, and voila! You should have a matte look with the color you desire from your glossy lip product.
A little translucent setting powder goes a long way in terms of keeping your makeup intact. If you're seeking longevity with any lip product, you can try a similar hack using a single-ply facial tissue and a puffy makeup brush. To begin, prep your lips as you would for your product of choice. Then, apply the product until you're satisfied with the final look. When you're done, you can use your brush and tissue to extend the longevity of your lip color.
Unlocking the potential of translucent powder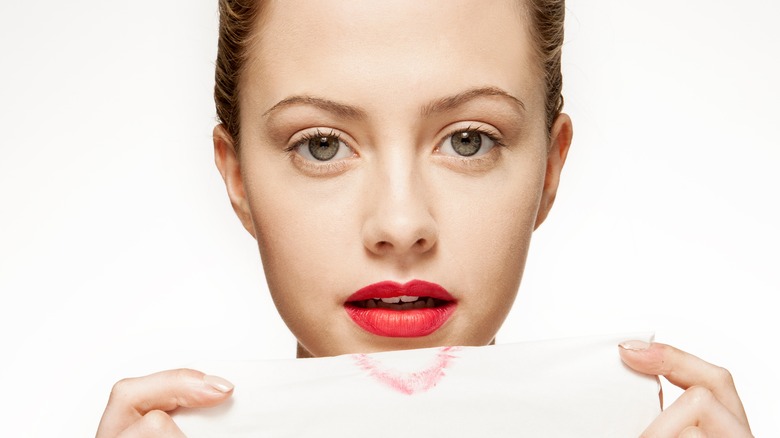 KOTOIMAGES/Shutterstock
A similar way to create a matte appearance with your lip product of choice is to hold the single-ply tissue over your pout. Then, load your makeup brush with translucent setting powder, and gently dab it onto the tissue as it sits on your lips — just enough powder will sneak through and make it to your pout. The end result is a matte look that is now set to last the entire day.
Whether you're new to regularly wearing lip products or you want to step up your game, there are a few tips you can take into account. First, don't underestimate the power of lip liner — it not only defines your lips, but it also extends the longevity of your hue. Some prefer to fill in their entire pout with lip liner before applying their product of choice. Next, make sure you blot your lips after you finalize your look to remove any excess moisture. Doing so can also reduce the odds of your pout leaving a mark behind on your coffee mug.
Finally, do your best to avoid over-applying the lip product, especially if you're re-applying it later in the day. In the end, you'll reduce your chances of flaking and fading. This step is also essential if you're using a liquid lipstick, which may dry your lips over time.