How To Become A Bullet Journal Girlie For Maximum Organization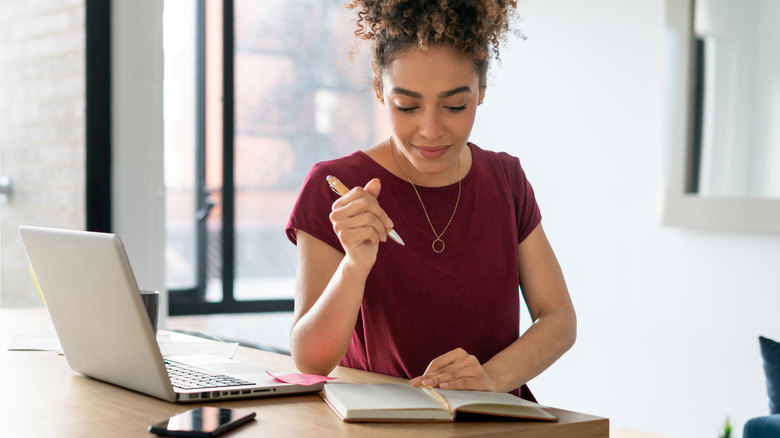 Hispanolistic/Getty Images
Bullet journaling is not a new trend, but it's one that has persisted in popularity for the past decade because it marries two concepts that humans are always striving for: function and aesthetic. Now, does a bullet journal have to look pretty? Of course not. Is it a little more satisfying when it does? For many people, yes. But beauty is in the eye of the beholder.
Whether you've been scoping out bullet journals on Pinterest for years or just come across them on TikTok, you probably feel a little intimidated about starting your own. Keep in mind, however, that the creator of the bullet journal method insists that the technique is more about mindfulness and intentionality than achieving any particular aesthetic goal. It's all about what works to keep your specific brain aligned with your intentions so you can stay organized enough to crush all your goals — from tiny to gigantic. If you've been daydreaming about bullet journaling but haven't taken the steps to get started, this guide is for you.
Bullet journal supplies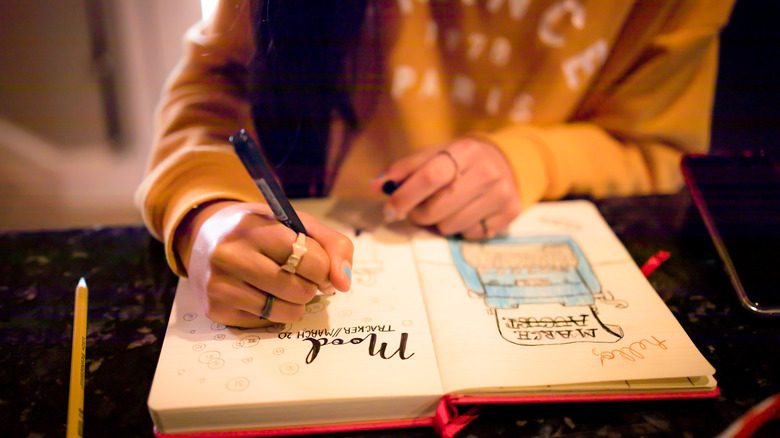 Fellers Photography/Shutterstock
If you stumbled upon bullet journaling through social media, you've probably seen creators pick through massive collections of brush pens, watercolors, stickers, stencils, and sketch pencils to create their bullet journal layouts. With this hoard of high-quality art supplies, these influencers draw or paint masterpieces on each page of their pristine leather-bound journals. If making your bullet journal a full-on art project appeals to your lifestyle, then by all means, follow your favorite influencer's lead.
If those grandiose spreads of expensive art supplies and large amounts of time spent decorating are what has kept you from starting your own bullet journal, don't worry. The supplies required to start a fully functional bullet journal are actually very simple. You'll need a journal or notebook with unlined paper (either blank or featuring a dot grid). Bleed-proof paper and a flat-lay spine are bonuses you may wish to consider, especially if you do plan on spending a little extra time on your journal's aesthetic.
Beyond that, all you really need is a writing utensil. A regular pencil or pen is absolutely fine. If you think your brain might respond well to color coding, grab yourself a set of gel or brush pens. If you're really into straight lines, a ruler might be helpful. That's it!
How to start bullet journaling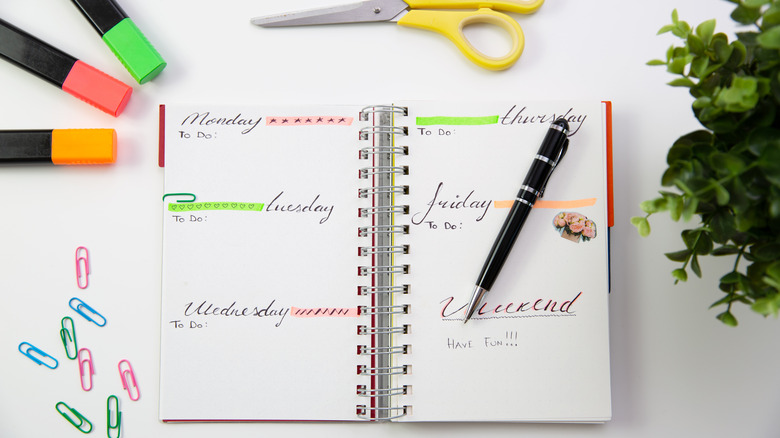 Arturs Budkevics/Shutterstock
Once you've gathered all your supplies, your first task is to number the pages of your journal. Skip the first four pages and number the rest. Then, flip back to the pages you skipped. The first two pages will serve as your journal's index. Here you will note the pages where you can find each of your layouts. The third and fourth pages will serve as your yearly layout. Divide the pages into equal sections for each remaining month of the year. If you have an upcoming event that's months away, this is where you write it down.
After you've created your index and your yearly layout, flip to the next set of two pages and create a simple calendar of the current month. On the following two pages, create a weekly layout that features a section for each day of the current week. You are now ready to start writing down your plans, lists, goals, brain dumps, and to-dos. 
It's up to you how detailed you want to be. Use different colors or symbols to differentiate between types of tasks, or lump them all together. Add additional layouts for meal planning, budgeting, holiday planning, habit tracking, or any other area of life you'd like to bring more intentionality to. Don't be afraid to adjust or do away with layouts as you set up new layouts each month; the way you use your bullet journal is completely up to you.