Pointillism Nails Are The Manicure Trend Bringing Polka Dots Back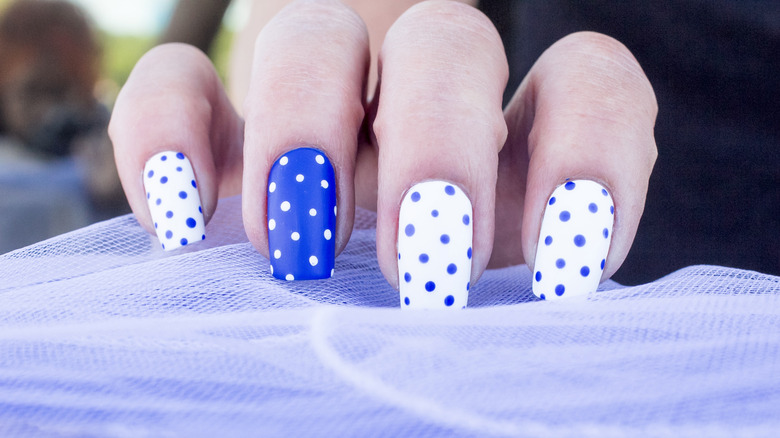 Christina Radcliffe/Getty Images
We may receive a commission on purchases made from links.
Most art enthusiasts are likely familiar with pointillism. According to the Merriam-Webster online dictionary, pointillism refers to "the theory or practice in art of applying small strokes or dots of color to a surface so that from a distance they blend together." As fashion and beauty lovers, when we hear "pointillism," we can't stop thinking of polka dots — the timeless print Princess Catherine is most known for – even though that's not quite the intended effect of this artistic technique.
Now, pointillism has entered the fashion and beauty world in the form of polka dot designs. We're excited to see the retro print coming back into fashion favor, as we found over 3 million posts dedicated to #polkadots on Instagram. But the polka dot comeback isn't only for clothing; polka dot eyeliner is the playful spin on a traditional wing in 2023, demonstrating how polka dots are entering the makeup world. So, we all know what that means: Polka dots are coming for our nails! We couldn't be happier to see a rise in polka dot nail art. Are you ready to embrace the pointillism-inspired nail design trend? If so, we've got some tips for you.
How to create polka dot nail art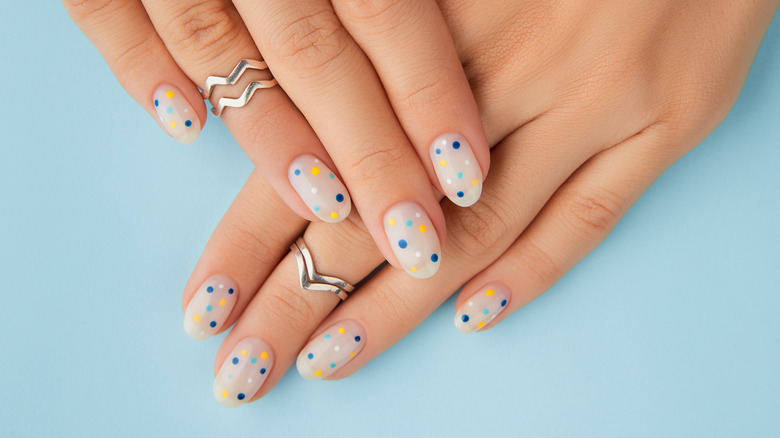 Dariia Chernenko/Getty Images
Polka dots provide a fun, playful, flirty, and retro appearance, which makes for adorable nail art. When planning how you want your polka dot manicure to look, remember that the color combination possibilities are endless. Some ideas include classic black-and-white polka dot nails for a timeless contrast, neon red and orange for a vibrant and upbeat look, girly pink and purple for ultra-feminine vibes, or bright blue and bold red for daring contrast. You may even want to match the polka dot colors to your outfit for a coordinated look! So, once you choose your hues, how do you master creating the polka-dot look?
There is no one specific set of rules to follow to create polka dot nail designs, but if you want some suggestions, TikToker @itsnailtimee posted a video all about creating a polka dot manicure. After applying your base, she recommends using a nail dot tool to make a vertical line of evenly-spaced polka dots in the center of your nail and then adding more to the rest of your nail while checking that the polka dots appear consistent as you work on it. Just don't forget to add your top coat when finished! Also, remember that your DIY results don't have to look as if a professional did your nails; just focus on creating a trendy, cute design you enjoy.
Tools to help you nail the look
To get your own pointillism-inspired nails, a nail dot tool will make applying polka dots to your nails enjoyable and convenient without much mess or stress. The 5 pc 2 Way Dotting Pen Tool Nail Art Tip Dot Paint Manicure Kit is available on Amazon for less than $5 at the time of writing. The kit's multiple pieces and dual ends help you apply your art in different sizes, perfect for anyone wanting variation. The Amazon's Choice item has received 4.7 out of 5 stars and more than 3,000 ratings. Another option is the Nail Art Dotting Tool from Manucurist Paris, which is also dual-ended. At time of publication, its reviewers have rated it 4.5 stars. Plus, it's made with sustainable packaging and sells for under $15.
If you don't feel like working with tools to paint your polka dot design, press-on nails or decals are convenient options. While hardcore nail enthusiasts might view opting for pre-designed polka dots as taking the easy way, we believe there's nothing wrong with using trendy press-ons and stickers. For example, the 1sheet Polka Dot Pattern Nail Art Sticker & 1pc Nail File is available for only $1 at Shein and is ideal for anyone wanting to try out the polka dot look to see what they think of it before investing in DIY nail supplies.