Smoking While Using Retinol Is Probably A Bad Choice - Here's Why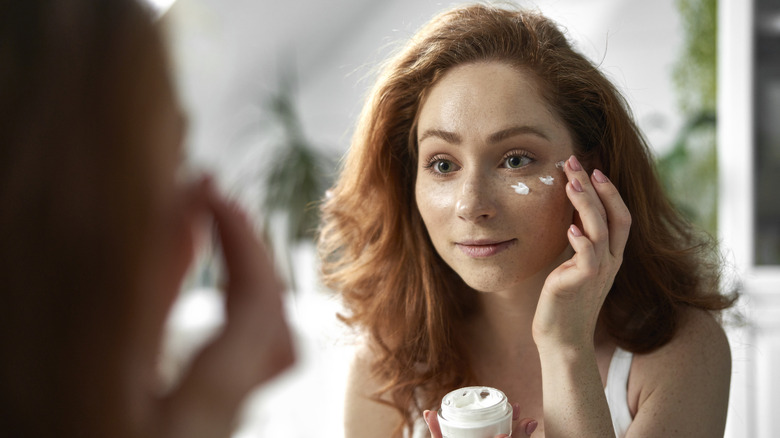 Anna Bizon / Eyeem/Getty Images
Not only does smoking contribute to serious health issues such as lung cancer and heart disease, but it also wreaks havoc on the skin. Nicotine, a commonly found psychoactive ingredient in tobacco and E-cigarette products, can inhibit the flow of blood and nutrients to the skin, which may speed up the aging process, per a 2004 study published in Experimental Dermatology. Smoking can also lead to clogged pores, acne breakouts, and hyperpigmentation (via MedicalNewsToday). So, can a carefully curated skincare routine reverse the damage that's been done to your skin by smoking? It depends. 
According to American Chemical Society, toxic free radicals are present in cigarette smoke. There are products that can help you mitigate the impact of these damaging radicals, but certain skincare ingredients can actually make your skin condition worse. Retinol, for example, is something that smokers should stay away from. Although it's the gold standard in anti-aging cosmeceutical ingredients, this vitamin A derivative is more of a hindrance than a help if used on a smoker. You should not use retinol in your skincare routine until you have successfully quit smoking.
Retinol makes your skin more sensitive to smoke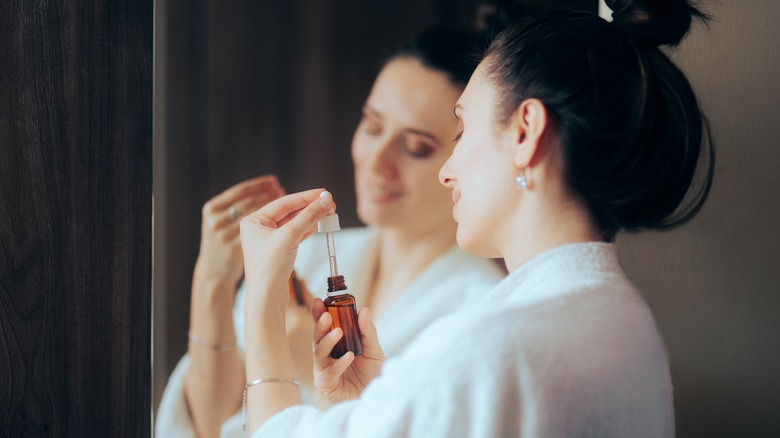 Nicoleta Ionescu/Shutterstock
Retinol has a reputation for increasing the skin's sensitivity, making it more vulnerable to peeling and damage from environmental aggressors such as UV rays, air pollution, and tobacco smoke. Therefore, it's good sense to "completely avoid cigarettes and secondhand smoke" if you're using retinol products, dermatologist Dr. Craig Kraffert advised The Zoe Report. 
Aside from retinol, beta-carotene is another form of vitamin A that purportedly has negative effects on smokers. A well-known anti-aging ingredient, beta-carotene is effective in enhancing collagen production to smooth out fine lines, per Ambrosia. For smokers, however, beta-carotene use is not recommended. A 2019 study that was published in the journal Nicotine & Tobacco Research claims that heavy smokers who use beta-carotene supplements actually experience an increased chance of getting lung cancer and that people who smoke should avoid consuming beta-carotene as part of their diets. If you're a smoker, consult your dermatologist before using any vitamin A product, just to be completely safe.
If you smoke, give this skincare routine a try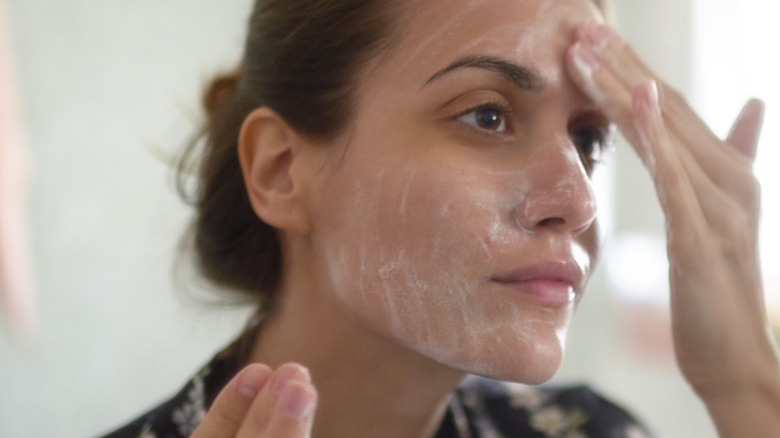 Extreme-photographer/Getty Images
One way to reverse the circulation-inhibiting effect of smoking is to prop your head the wrong side up for three minutes per day, skin guru and celebrity esthetician Renée Rouleau told Byrdie. "You can do this up against a wall, over the side of your bed, or in the Downward Dog position," she told the outlet. "Notice after three minutes a slight redness appears on the skin, and in the long run it can make a big difference in counteracting the blood flow–depleting side effects of smoking."
A 10-minute daily facial massage with your hands, a facial scrub, or a gua sha is also beneficial in boosting blood circulation and keeping the skin glowing, in addition to using skincare products with powerful replenishing ingredients. "Look for products with peptides like caprooyl tetrapeptide, palmitoyl tripeptide-38, and matrixyl 300," Rouleau added. "In addition, load up your skin with potent antioxidants to replace essential vitamins lost to smoking, as well as help keep your skin moist and supple."
Your skin health is dependent on a variety of factors, but one thing is certain: Smoking is bad for it. Quitting smoking gives your skin the opportunity to repair itself and perhaps undo some of the harm done over time.