Viral Bangs Hack Gives You Flawlessly Mussed Fringe Every Time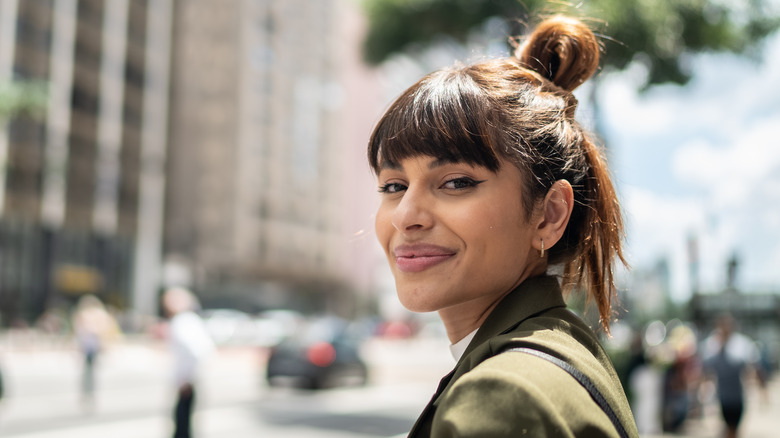 Fg Trade/Getty Images
We may receive a commission on purchases made from links.
Bangs like to have a mind of their own, parting ways or swooping up when you don't want them to. They can be a tricky hairstyle to master, but they don't always have to be. Luckily, there's a TikTok hair hack for the low-maintenance fringe wearers who love a playful, messy look. This tip comes from a Utah-based hairstylist named Jane Clayton. Since April, her bangs hack reached over 7.5 million views and has over 900,000 likes. 
This tip involves creating a zigzag at the root of your bangs to keep them from splitting apart throughout the day. The results last her several days, and she doesn't have to worry about doing her bangs every day, according to Clayton's TikTok clip. Her advice has received positive feedback across the board. In fact, one fellow TikTok user commented on the post saying, "I've had bangs for 15 years, and I've needed this tutorial for 15 years." Another said, "I'm a hairstylist, and you just taught me something. Wow, I'm mind blown." Now is a better time than ever to try bangs. Even if you swore you'd never get them, this tip might change your mind and inspire you to try a new look.
The zigzag bang hack
For this easy hack, all you need is a comb and a flat iron. Jane Clayton uses a flatiron made by the brand Ergo. With a small comb, brush your bangs down so they lay flat across your forehead. Then create a zigzag at the root of your bangs. This helps "camouflage" the hairline and prevent the look of curtain bangs, Clayton explains. Next, comb your bangs upwards, sort of like a little mohawk. While doing so, feel free to use clips, like Clayton does, to section off each side of your bangs. Once the bangs are brushed upwards, use your flatiron to curl them in the opposite direction, also called overdirecting. After your hair cools down a bit, fluff up your bangs and style the rest of your hair. You'll have a cute, messy look in no time.
While the hack seemed doable for most people, one commenter was concerned about whether this worked with a cowlick, which could cause them to always have to part their bangs. For this, Clayton suggests wetting the cowlick and blow-drying it flat. Another commenter asked if this worked for someone with very fine straight hair. Luckily, it works as long as the flatiron is on a low heat setting, according to Clayton.
How to make the style last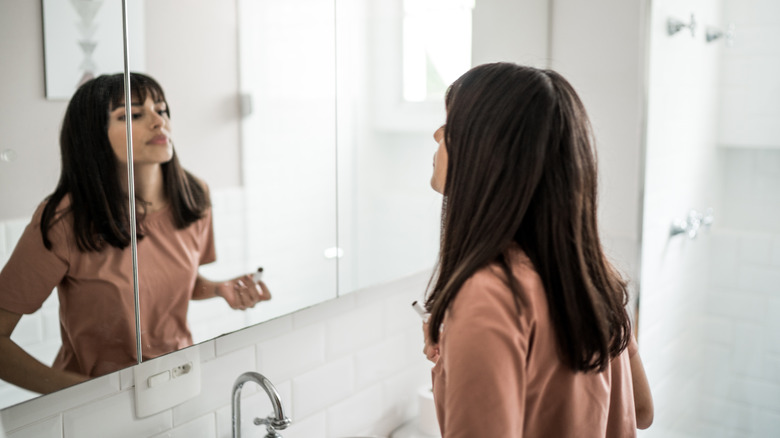 Fg Trade/Getty Images
Going to sleep with bangs often results in a gravity-defying hairdo that takes the whole morning to fix. But Jane Clayton has a way of keeping her bangs under control while she sleeps, so she barely has to touch them the next morning. In a second TikTok video, she demonstrates how she zigzags her hairline again and secures them into place using pin curl clips. You can find these at beauty supply stores or on Amazon. 
This tip keeps your bangs secure so you can rest peacefully, knowing the next morning will be a good hair day. Once you're up and take the clips out, your bangs are all ready to go. She doesn't do this every night but once every three days to give her bangs some extra life, as per Clayton's TikTok video. This way, the style can last for days without much effort. Whether you've had bangs for years or looking to hop on the bangs trend, Clayton's tips can certainly help you out.