Is TikTok's Mascara And Aquaphor Hack Legit (And Safe)? What You Should Know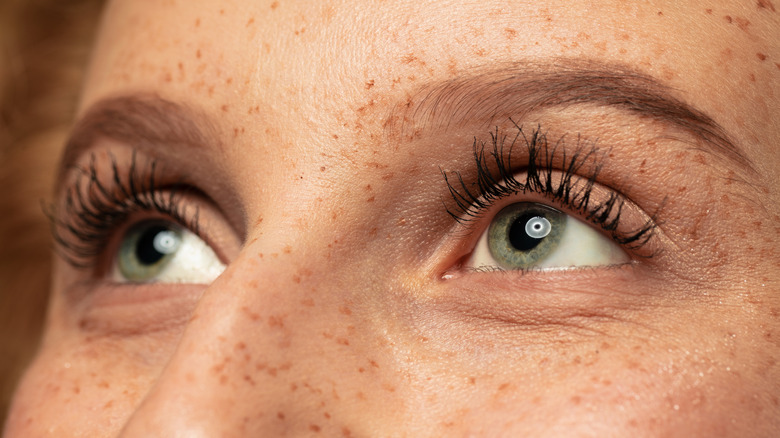 Master1305/Getty Images
Who doesn't want long and dramatic eyelashes? Many people use mascara to get these results, but instead, they only get spidery lashes that look far from natural. That's where TikTok user Marnee Dowell comes in with a now-popular Aquaphor hack. It involves mixing mascara with Aquaphor to create a formula that coats the lashes to seem like they got a tint without actually spending the time and money on a service.
Aquaphor is such a versatile product that it was only a matter of time before swiping it on eyelashes became viral. It's marketed as an ointment to heal dry, cracked skin and minor wounds. However, Aquaphor is also a great beauty product that works as a moisturizer, makeup remover, and lip balm. Plus, slugging with it can help lock in the previous steps of your skincare routine. 
Despite it being a gentle and non-comedogenic product that dermatologists recommend, Aquaphor is not for everyone. People with very oily and acne-prone skin may find it too thick for them. Some may be allergic to the lanolin alcohol that's included in the formula, since it's derived from wool. As long as you've never gotten a rash after using Aquaphor, you may benefit from trying this TikTok hack. Experts have confirmed that it is safe to use on the eyelashes, though you'll want to keep a few things in mind. 
Aquaphor makes lashes look naturally lifted and glossy
Marnee Dowell's video showed how easy it is to combine these two products for instant results. Start by curling your lashes so they look lifted. Then put a minimal amount of Aquaphor onto your fingertip. Take some mascara and dab a bit from the wand onto another finger. Commenter @addi_camens recommends choosing a waterproof mascara for this hack to prevent it from flaking off as you wear it throughout the day. Next, Dowell rubs two fingers together to mix the products.
To apply the mixture, simply swipe your fingertips over your lashes. Another option is to coat a clean spoolie with the combination of products and then put it on as you would with any mascara. Just make sure to only use the Aquaphor and mascara on your top lashes. Putting the concoction on your bottom lashes may leave your under eyes smudged with rings of black product.
Avoid this hack if you wear contact lenses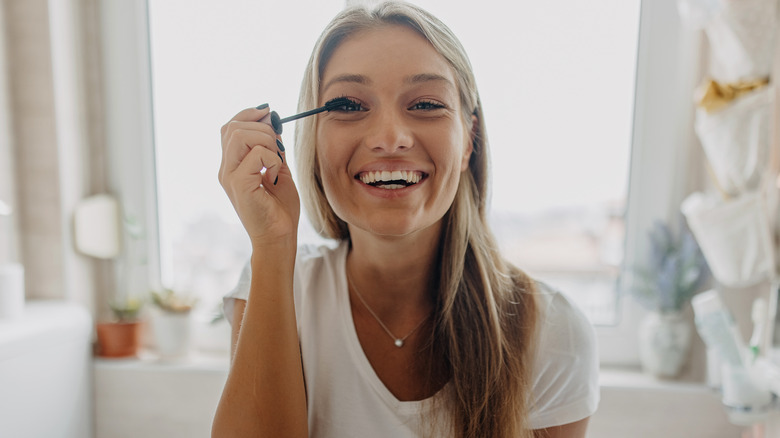 Supersizer/Getty Images
While this hack seems to give you the perfect lashes, it may not be for everyone. Makeup Muddle explains that, though it's safe to apply Aquaphor to the lashes, people who wear contact lenses should refrain from trying this hack because the Aquaphor can irritate the membrane in your eyes. Even if you don't wear contact lenses, too much Aquaphor applied near your eyes can cause irritation, so it's important to only use a small amount. 
Another reason why you should only opt for a small amount of Aquaphor if you are trying this hack is because this product is oil-based, which means it's more likely to leave a residue or feel wet on your lashes. Although mascara dries quickly, the two products combined can result in black smudging if you use too much Aquaphor, especially if you wear your mascara all day. 
Speaking to Refinery29, esthetician Alicia Lartey revealed that using Aquaphor on the lashes is technically safe, but she wouldn't personally combine it with mascara because "the eye area is very delicate." Rather, she recommends slugging your lashes with Aquaphor separately and then coming back to apply mascara as you normally would at a different time. 
Keeping in mind that the eye area is sensitive and Aquaphor should be kept to a minimum, this hack doesn't inherently cause damage. You may even find that it's your new go-to move for dramatic lashes!