8 Vintage Beauty Products We'd Love To See Make A Comeback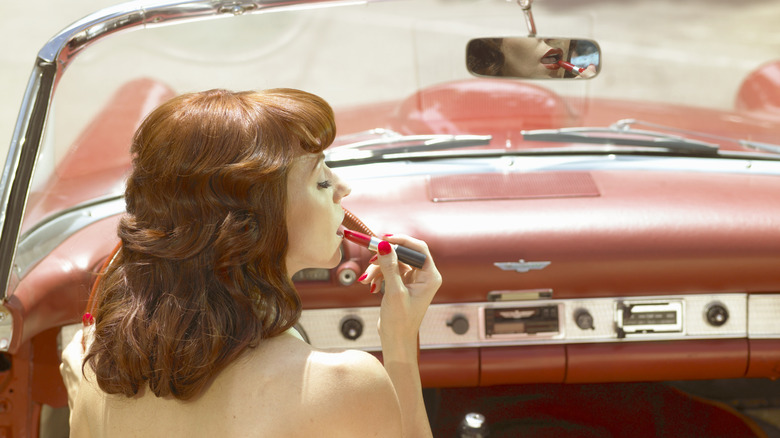 Siri Stafford/Getty Images
Every seasoned beauty fan knows the pain of discovering their holy grail product is gone. Whether you get misty-eyed thinking about Juice Bar's Cotton Candy body spray or MAC's paint tubes, the loss of any makeup bag favorite hurts just the same. But what about the products you never had a chance to try?
Advertisement
If you take a close look into the realm of vintage beauty, you'll discover this isn't a recent problem. Countless cosmetic products have met an untimely end, but it wasn't a lack of usefulness that relegated them to history. From personalized compacts to perfume vial necklaces, there are many releases we'd love to see make a comeback. Maybe you're even familiar with a few of them yourself. And, while it's certainly tempting to sample antique items from your grandmother's vanity tray, using expired lipstick isn't something we'd recommend. Instead, let's check out eight vintage beauty products that deserve to see the light of day once more.
Fragrance necklaces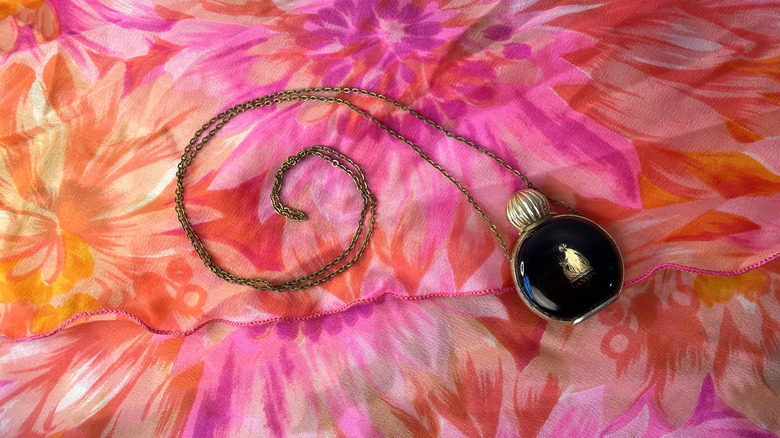 Robyn Song/Glam
Like Chanel No. 5 and Guerlain Shalimar, Arpège is one of the world's most renowned classic fragrances. Developed by master perfumers André Fraysse and Paul Vacher, the scent features a staggering arrangement of heady florals in an ode to its musical namesake, the arpeggio chord. In 1927, Fraysse and Vacher presented it as a birthday gift for French fashion designer Jeanne Lanvin's daughter, opera singer and countess Marie-Blanche de Polignac. If you look closely, you'll notice the bottle's black-and-gold design is a visual nod to the mother-daughter duo, courtesy of celebrated designer Paul Iribe. 
Advertisement
Arpège is a legendary perfume in its own right and can still be purchased today — albeit in an updated formulation. However, the version we'd most like to see make a comeback is this stunning Arpège piece. That's right: In the 1970s and '80s, Lanvin fans could wear their favorite scent as a statement pendant necklace with the convenience of easy-access touchups available at their fingertips. Adding an extra spritz of perfume on a night out can feel like a risky move, but there's no chance of committing a social faux pas with an accessory this chic. The vial of Arpège around one's neck was a bold centerpiece to pair with any outfit, and we can't help but wonder why it faded into obscurity.
Advertisement
Sculptural perfume bottles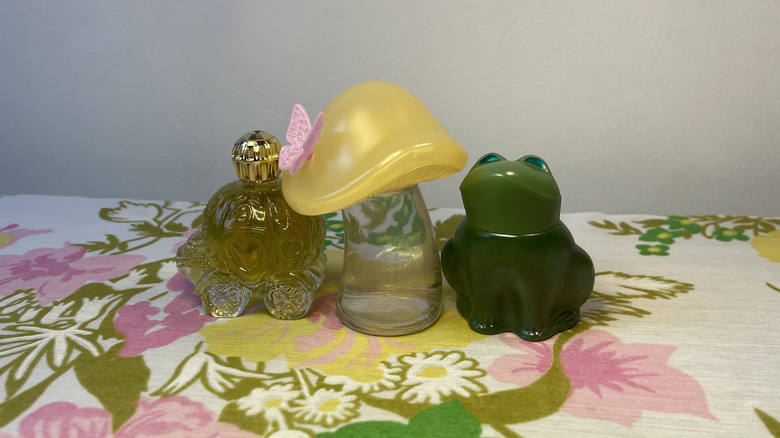 Robyn Song/Glam
Maybe you haven't heard of the California Perfume Company, founded in 1886 by David H. McConnell. But we're willing to bet you've probably seen an Avon catalog or two in your time. In 1939, McConnell's blossoming California Perfume Company changed its name to Avon, and it wasn't long before Avon representatives across the nation began connecting beauty lovers to their favorite mail-order products. By the 1970s, Avon became everyone's favorite catalog for finding trendy jewelry releases, fragrances, and more. Some Avon catalog staples, such as Skin So Soft, have stood the test of time, but it's the American brand's unique vintage packaging we miss most.
Advertisement
Just take a look at Avon's whimsical Magic Pumpkin Coach, for starters. The glass bottle housed some of Avon's most iconic retro scents, including Bird of Paradise, a smoky, woody floral launched in 1969. Avon also released several nature-themed bottles throughout the years, including the Fluttering Fancy mushroom decanter for their peachy, musky Charisma cologne (pictured above). And who could resist the flashy-eyed Emerald Prince? This froggy friend was home to Avon's Sweet Honesty perfume, still in production to this day (though the packaging looks a little different). In addition to the three bottles seen here, Avon manufactured dozens of novelty perfume vessels in every shape you could think of, from clowns and dancers to cats and dogs. In fact, Avon even used this eye-catching design concept in its makeup collection.
Advertisement
Novelty lip glosses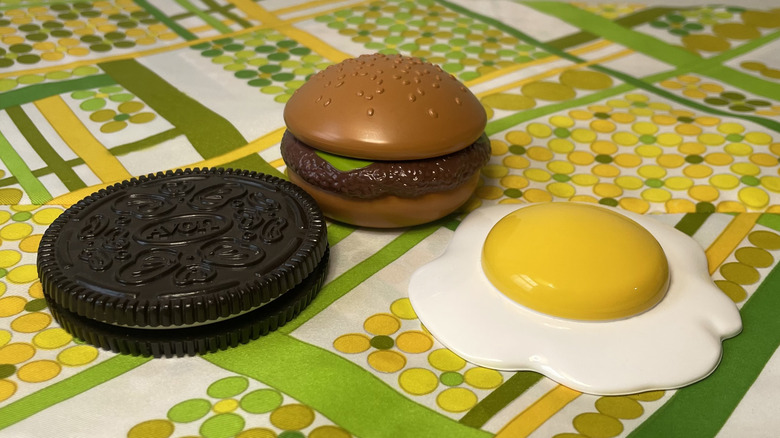 Robyn Song/Glam
In its heyday, Avon expanded its cosmetic offerings to include lip glosses in an array of new shapes. It's hard to pinpoint the exact origins of novelty lip glosses themselves, but Avon arguably released some of the most memorable designs of the era. In the mid-1970s, lip gloss lovers could get their hands on conversation-starters such as the "Sunnyside Up" compact, a fake fried egg containing pink- and peach-toned glosses. But that wasn't all. By 1975, Avon ushered in the arrival of the "Funburger," a perfectly-formed plastic patty and bun with rosy lip hues inside.
Advertisement
Though Avon also launched dessert-inspired glosses, such as the "Chocolate Chiplick" cookie and Oreo-shaped "Sweet Lips," the lippie collection wasn't entirely food-themed. Other notable novelty glosses from Avon imitated Crayola crayons, bike reflectors, currency, and vinyl records. The actual glosses were slightly closer to a lip balm consistency and, in true '70s fashion, often had a frosted or shimmery finish. Avon's love affair for eccentric packaging didn't stop at lip products or perfumes, either: Even the company's sun lotion once came in banana, carrot, and orange-shaped designs. Sadly, the Avon products of today are less creative than their vintage counterparts, but similar designs can be purchased from K-beauty companies including Tonymoly.
Advertisement
Handkerchiefs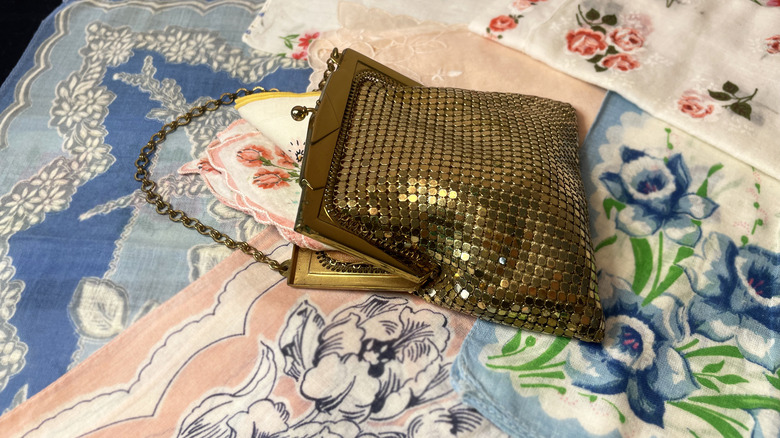 Robyn Song/Glam
If you've ever dug through your grandmother's vanity, you might've come across a few colorful squares of fabric. Too small to be worn as a scarf, but too beautiful to be tucked away, the handkerchief was once the most fashionable accessory around. And, although their intricate designs might lead you to believe otherwise, their primary purpose was, well, a little gross. Handkerchiefs were an attractive accompaniment to any outfit, but most people used them the same way we use disposable tissues today. Of course, they also came in handy for beauty lovers touching up their lipstick or blotting away excess oil. Sadly, the onset of the 1918 flu pandemic coupled with the rise of single-use facial tissues meant that handkerchiefs slowly faded into obscurity.
Advertisement
With sustainable fashion and beauty receiving more attention than ever, it's hard to believe that handkerchiefs aren't back in style. Not only can you save on monthly bills, but you'll also help the environment by dropping single-use tissues. If you're looking to revive old hankies without the ick-factor, the process is fairly straightforward. Modern handkerchiefs made of cotton can be sanitized and washed like any other linen, though older designs made of silk require a skilled hand for laundering. Just like used fabric masks, handkerchiefs can be stored in a fabric pouch until you're ready to clean and reuse them. Or, for a touch of vintage flair, you can keep your hankies in a period-appropriate wristlet such as the one pictured here.
Advertisement
Finger ring compacts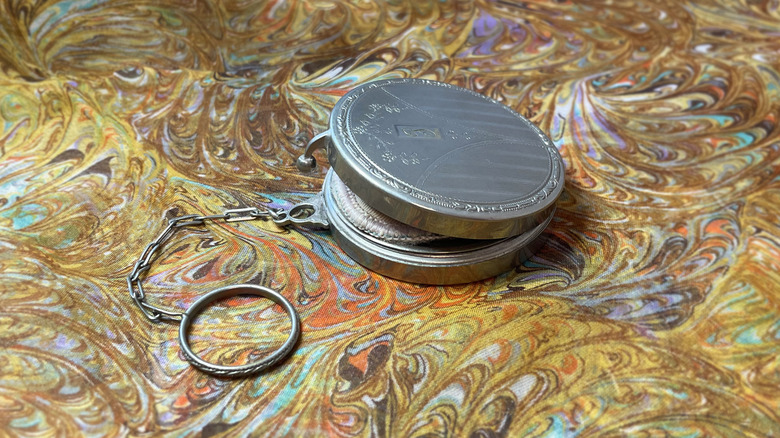 Robyn Song/Glam
No one likes to be weighed down by a heavy makeup bag or purse on a night out, especially when a dance floor is involved. So, why then did the finger ring compact ever fall out of fashion? In the 1920s, finger ring compacts were all the rage, allowing partygoers to carry their cosmetics wherever they went without a second thought. These compacts usually contained one's face powder and a small mirror inside, with the wearer carrying them on a stylish, filigreed finger ring attached by a delicate chain.
Advertisement
Some finger ring compact designs were modest, bearing the owner's initials or small engravings, while others featured elaborate art deco designs or shapes. Higher-end models might even include a miniature lipstick and blush in addition to the standard setting powder found in most compacts. In 1921, one could purchase a simple finger ring compact for only $1 through mail-order ads found in magazines such as Ladies Home Journal — a price that would total roughly $17 today. Although this style of compact remained popular throughout the roaring '20s, production dwindled by midcentury. Though fastidious beauty fans could press their own powders into vintage compacts, we wish a modern beauty company would create its own take on the classic beauty product.
Advertisement
Hair set tape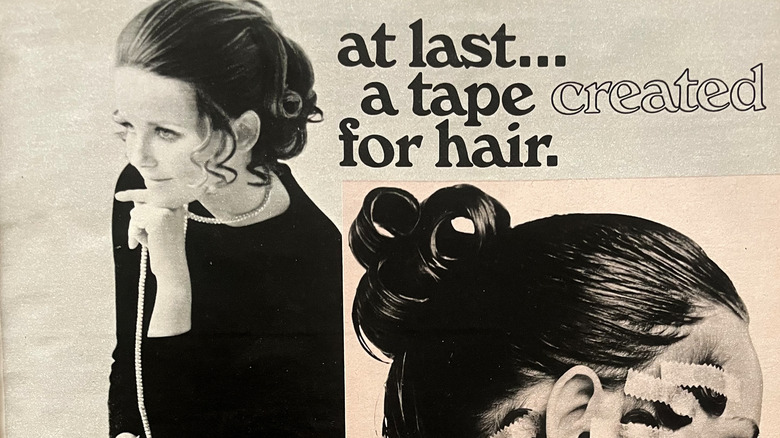 Robyn Song/Glam
Love experimenting with new styles but hate dealing with product buildup on your hair and skin? You would have been a perfect candidate for 3M's Scotch Hair Set Tape, first introduced around 1962. 3M may be better known for its office supplies today, but there was a time when its Hair Set Tape was a fixture in beauty supply aisles across America. 
Advertisement
Sound confusing? Allow us to explain. For baby bangs, cowlicks, and shorter hairs, it can be tricky to obtain optimal styling results without forceful interventions such as flat irons, sprays, and gels. Scotch Hair Set Tape was applied while hair was still damp to set baby hairs, curls, and errant strands until they dried to the desired shape. After pulling it off, as demonstrated in this 1970 Hair Set Tape ad, users were left with springy, bouncy curls in an instant. Interestingly, Scotch Hair Set Tape was said to work without leaving behind any residue or irritation — a godsend for those prone to forehead or temple breakouts from styling products. Although we wouldn't take our chances on trying deadstock supplies of Hair Set Tape, there's always a chance that 3M might see it fit to bring it back for a new generation.
Advertisement
Playthings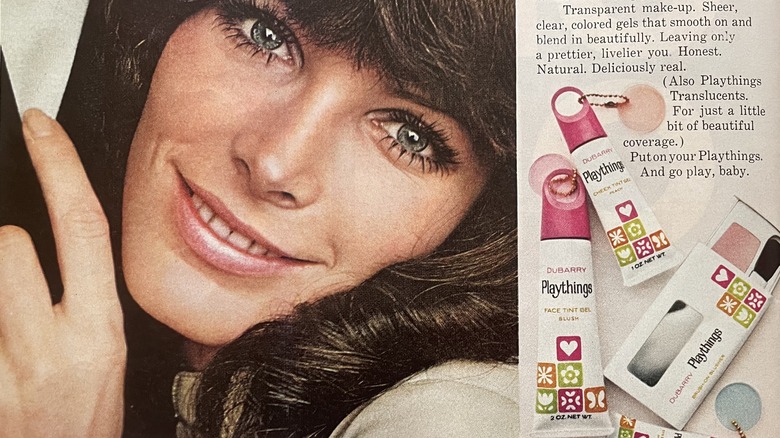 Robyn Song/Glam
Some products were created before their time. That's the case with DuBarry Playthings, anyway. These cheerful beauty products could be looped around a keyring for easy access, putting an end to the dilemma of lost blush at the bottom of one's bag. Minimal makeup enjoyed a moment in the late 1960s through the '70s, and Playthings exemplified the trend with natural-finish, translucent shades. The line featured traditional pressed face powders and eyeshadows as well as innovative cheek gel colors in universally flattering hues. Released in 1969, the peak of all things groovy, each item sported a psychedelic pink cap and colorful stenciled artwork.
Advertisement
Perhaps best of all, however, Playthings even came with a translucent 'color chip' to help you find your best shade. These plastic discs resembled tiny bingo chips and could be held up to the wearer's face to test each product's compatibility with their complexion. It wasn't the first time DuBarry experimented with color, either. In 1964, the American beauty brand introduced Glissando lipstick, a marbled strawberries-and-cream formula said to be the first of its kind. While DuBarry may not be a household name today, the company still supplies a modest selection of beauty products — though Playthings seem to be a thing of the past.
Lemon fresh perfume
Perfumers take inspiration from just about anything, from leather accords to solar rays, but there's something to be said for classic scents. You might be more familiar with Love's Baby Soft, one of 1974's best powdery perfumes, but the company held a keen interest in another fragrance family during the spirited '70s. Love's Fresh Lemon products were all about everyone's favorite sunny citrus fruit, and they were well-known in the beauty community for their hyperrealistic aroma.
Advertisement
The full Love's Fresh Lemon collection consisted of lotions, fragrances, body powders, and even facial astringents. Each product came in a refreshingly minimalistic container with space-age chrome caps. They were a hit with consumers, who described the scent as the perfect summer fragrance, akin to pure lemonade essence. "It was fresh, true lemon aroma, from peel to the juice, and was simply a fantastic pick-me-up," wrote one Lemon Fresh fan. Unfortunately, Love's rereleased Lemon fragrance formulation is said to be a pale imitation of its original 1970s composition. While it's unlikely we'll be able to smell the vintage perfume formula anytime soon, some fervent Fresh Lemon fans suggest that a drop of pure lemon essential oil is a close approximation of the distinctive scent.
Advertisement