Retro Baby Tees Are Keeping Us Cool This Summer (Both In Temperature & Style)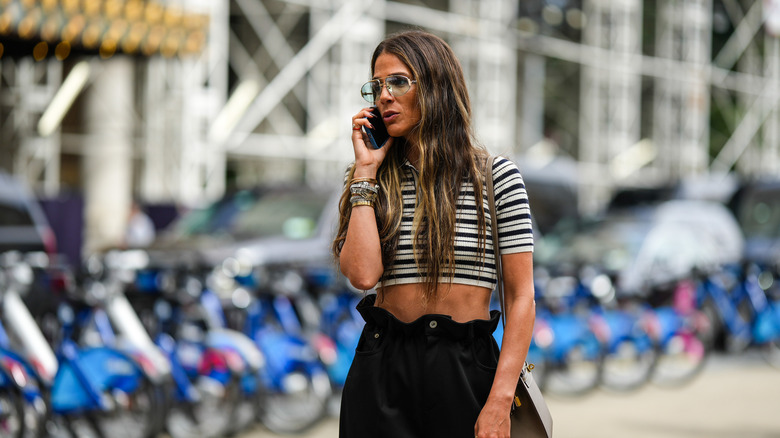 Edward Berthelot/Getty Images
It's hard to avoid some of the '90s-inspired fashion trends that are currently ruling summer. Between flip-flops and cargo shorts, there are plenty of vintage styles to dive into. Although it may not seem like it, many of the current Y2K fashion trends and '90s looks can easily be translated into any contemporary wardrobe.
Advertisement
One of the most recent retro styles to pop up for the summer season is the baby tee. These tops, made popular by the likes of Christina Aguilera and Britney Spears around the turn of the millennium, are set to become one of the hottest items of the summer (and not just because of the weather).
In fashion, the baby tee is a cropped T-shirt that typically comes with some lettuce hem or graphic design. However, to better fit in with our modern wardrobes, more minimalist baby tees have become available. If you're not a fan of the graphic or text baby tees, there are plenty of neutral options to explore. Don't be afraid of showing off your inner '90s girl, because these baby tees are not going anywhere this season.
Advertisement
Sleeveless baby tee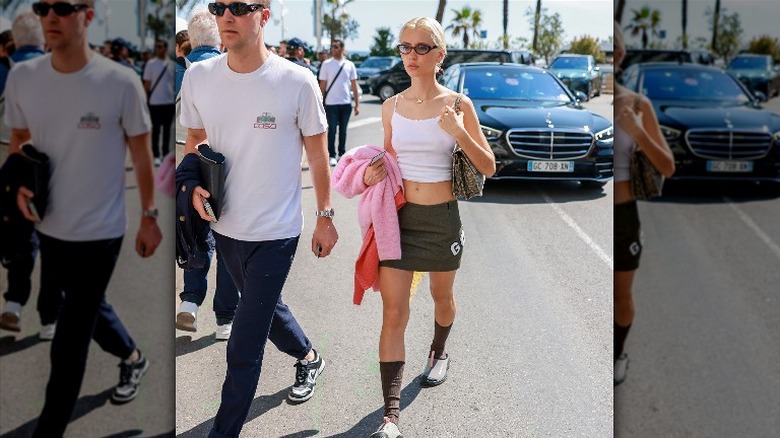 Arnold Jerocki/Getty Images
Summer is all about keeping calm, cool, and collected. For that reason, you'll probably want to reach for tops that can give you the most breeze and freshness while staying stylish. Instead of your typical short-sleeved baby tee, opt for a sleeveless version that can give your shoulders some sun. Not only are these more edgy, but the sleeveless option will give you a unique twist to this '90s classic.
Advertisement
Mesh baby tee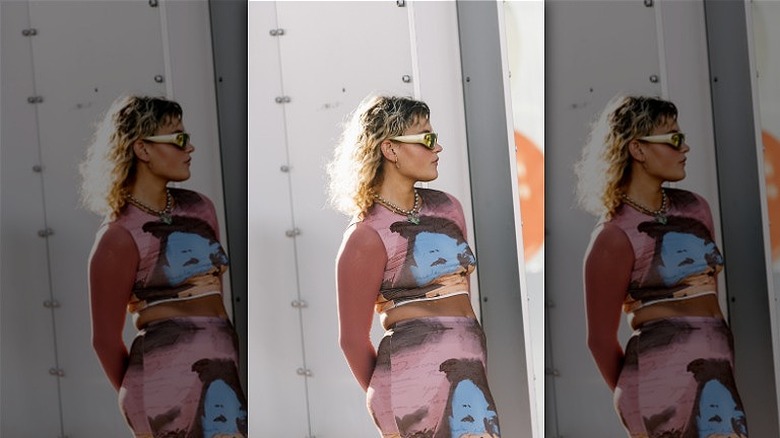 Naomi Rahim/Getty Images
Mesh on its own is a fashion trend that's worth taking a look at. With so many options for incorporating mesh, there's no doubt that it's a favorite from the era. Pair your top with a matching bottom for a cohesive and high-fashion look. You can also opt to wear them with trousers or slacks for an even cooler vibe.
Advertisement
Halter baby tee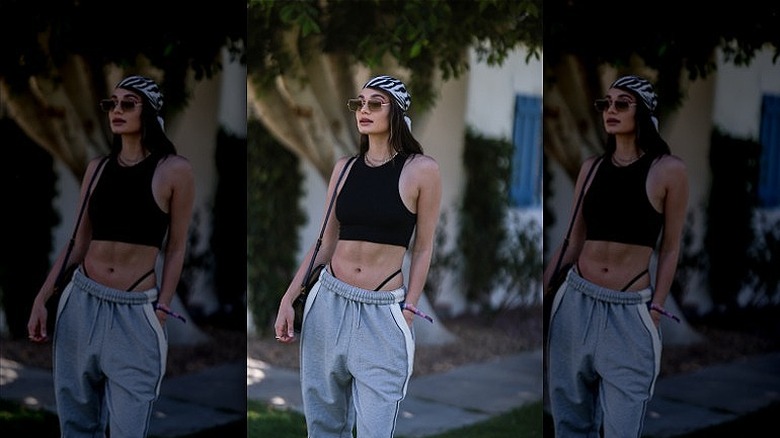 Jeremy Moeller/Getty Images
Even the baby tee sometimes needs an extra twist to keep it modern and interesting. Adding a different neckline to your tee can help blend it into your wardrobe more. Halter, sweetheart, or V-necklines are some of the variations you can reach for if you want something more sophisticated. 
Advertisement
Long-sleeved baby tee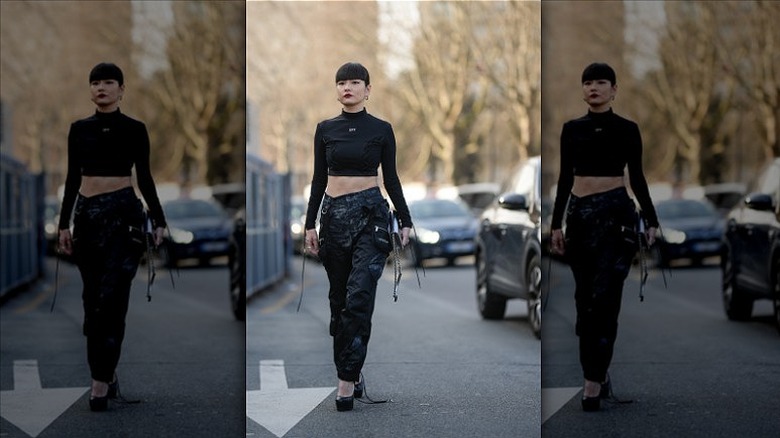 Edward Berthelot/Getty Images
Summer nights can sometimes get chilly, which is a prime chance to wear a long-sleeved baby tee. Not only will you still get some freshness with the cropped hem, but you can get a more fashion-forward look, especially when you opt for a sleek color like black or white. A long-sleeved baby tee can be the perfect piece to wear on those atypical days when the weather isn't warm enough for a sleeveless top.
Advertisement
Graphic baby tee
Nothing screams Y2K more than a graphic baby tee. These classic and retro tops are some of the most remembered pieces from the '90s and early 2000s. There are plenty of graphic tees to choose from that can help bring some of your personality into your 'fit, from childhood prints to funky text.
Advertisement
Printed baby tee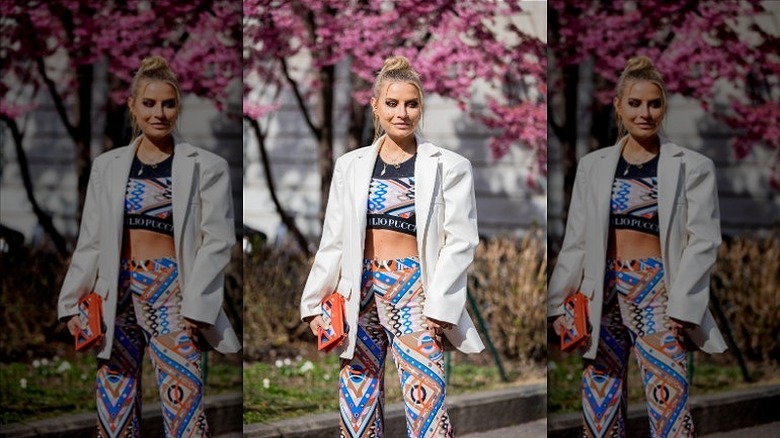 Christian Vierig/Getty Images
While graphic baby tees are a cult classic, printed tees are more chic and elevated. Stripes and retro polka dots are just some examples, or you can go with a plain and solid-colored bottom for a chic combination that still has a hint of that '90s flair. An added benefit of printed baby tees is the opportunity of going with a matching bottom for a cohesive look.
Advertisement
Neutral baby tee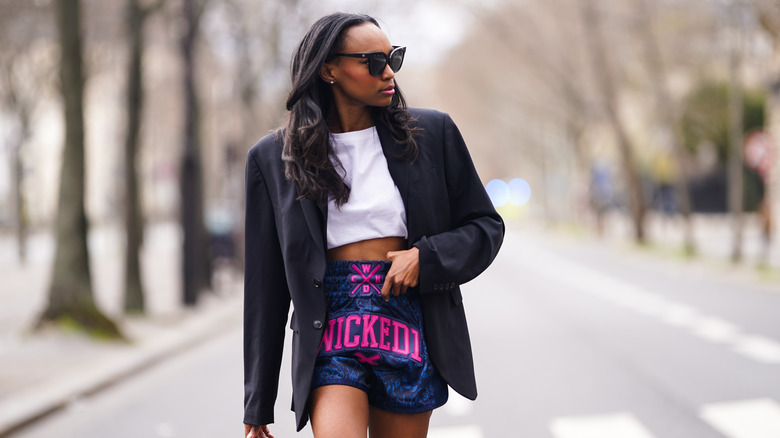 Edward Berthelot/Getty Images
With so many options for wild and fun baby tees, it's sometimes nice to go minimal. Neutral and simple baby tees are some of the easiest to blend into your outfits with zero struggle. Simply add a white or black baby tee instead of a basic top and you'll get the same style with a '90s touch. Just making this switch will give you more of a street-style aesthetic as opposed to a minimalist look.
Advertisement
Bold baby tee
If graphic tops aren't enough for you, why not play with some color? Bold and vibrant hues can ensure everyone sees and admires your baby tee, without losing the retro feel of it. Strong pops of color can also help add some flair and statement to a minimal look. Like any baby tee, pair your colored top with slacks or trousers for a slightly more high-fashion vibe.
Advertisement
Chic baby tee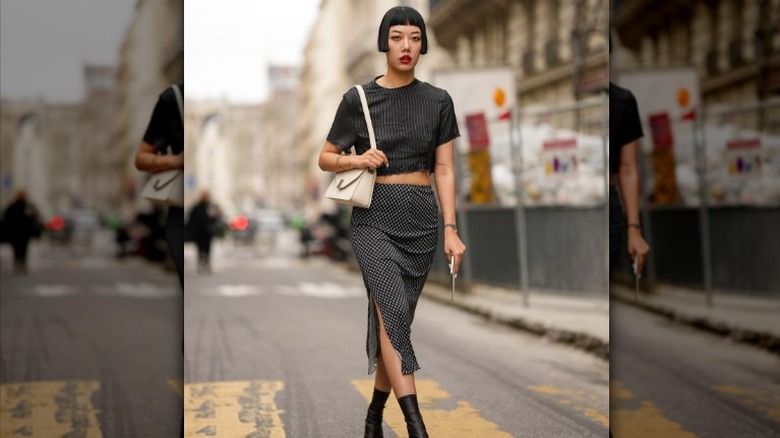 Edward Berthelot/Getty Images
Just because something is retro and street-style, it doesn't mean it can't also be chic and sleek. There are plenty of ways to make a baby tee chic, including opting for simple and modern patterns or styles. Even a change of fabric from jersey to cotton can help your baby tee look more elegant. Reach for darker hues for a more modern look that can easily flow with any bottom. Embellishments and accents are also an easy way of turning a '90s baby tee into a sophisticated piece.
Advertisement