What's Going On With The Louis Vuitton Neverfull, Anyway?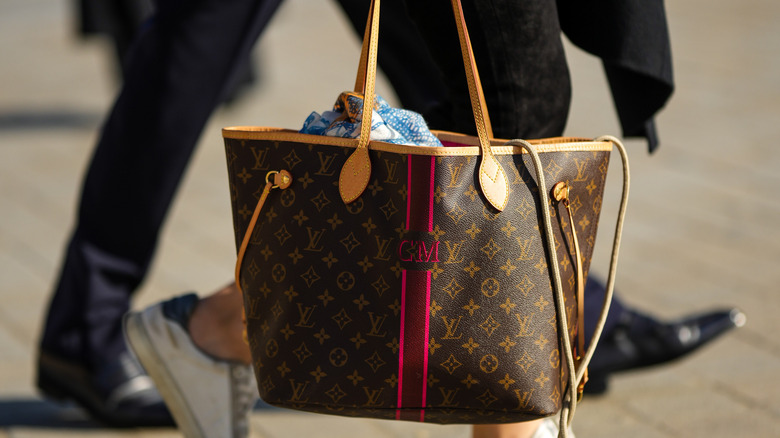 Edward Berthelot/Getty Images
The fashion industry is constantly evolving, whether it's regarding the latest trends or style icons. However, when it comes to classic and iconic designer houses, this evolution can often move more slowly. Brands such as Chanel, Dior, and Louis Vuitton are known in the industry for being timeless and classic. Often the tastemakers and trendsetters for the rest of the industry, these fashion houses don't move or stray from their core identities. For this reason, many of their items are considered collector's items and are highly sought after. Each of these iconic fashion houses manufactures key items considered essential to their brands. An example is the Hermès Birkin bag, which touts a lengthy waitlist that does not seem to shorten. For Louis Vuitton, this would be the Neverfull tote.
The Neverfull tote may not be known by name, but it's highly recognized. The signature bag touts the Louis Vuitton monogram or checkered design and is often seen in the brand's brown and beige colors. No matter the color or design, you've likely seen a Neverfull bag and knew it was a Louis Vuitton. Although the Neverfull is highly popular and Louis Vuitton isn't known for making drastic changes to its collections, after much speculation, it seems as if the brand has made a big decision regarding the future of this iconic bag. Is it time to say farewell to the Neverfull?
The end of an era?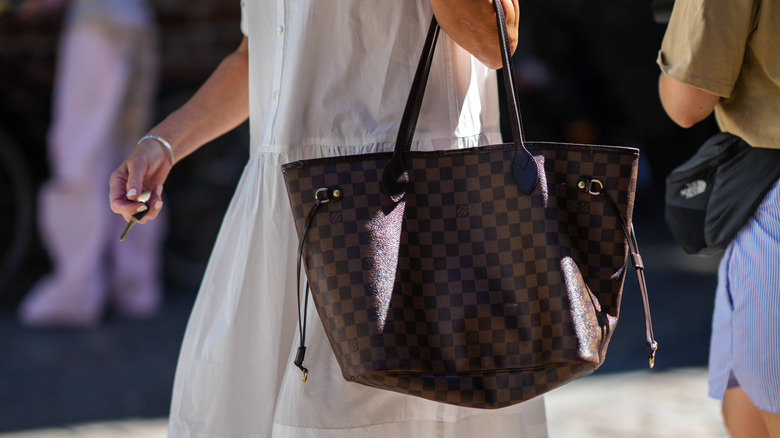 Edward Berthelot/Getty Images
Despite the constant rumor mill surrounding this beloved handbag, the Neverfull is not being discontinued. Much of the discourse surrounding the possible discontinuation of the bag was from false news and the constant counterfeits on the market. Because the Neverfull bag is so well-known, it's one of the most common counterfeit bags you can find. With so many of these counterfeits available, it wouldn't be a shock if Louis Vuitton were to discontinue the bag to focus on other designs. Thankfully for all handbag lovers, Louis Vuitton is taking another approach to ensure the bag remains as iconic as history holds it.
Instead of discontinuing the bag, Louis Vuitton is taking a similar approach to Hermès by implementing a waitlist. To obtain a Neverfull bag, you will now need to head to a Louis Vuitton store and sign up for a spot on the waitlist. The wait is estimated to take around two to three months. Once notified, you'll have 24 hours to pick up your bag before it's released to the next person on the list. Although it may not seem like a big change, the implementation of a waitlist will ensure a scarcity of the bag in the market, making it more exclusive and desirable. For those who already have their hands on a Neverfull, this could mean a rise in your investment should you choose to sell it.
What does this mean for LV?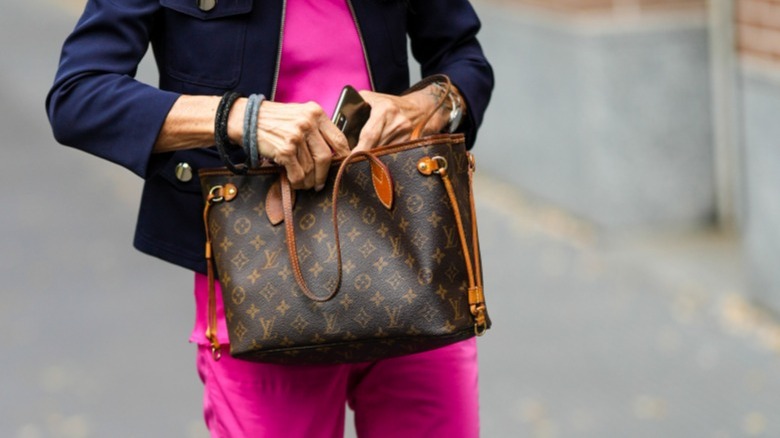 Edward Berthelot/Getty Images
Although no one will argue that Louis Vuitton is deeply enriched in history and is considered one of the most iconic fashion houses, the brand is no exception to a changing fashion landscape. With a constantly evolving industry, it's normal to expect more changes from Louis Vuitton and other designer brands, which are seeing a boom in sales and popularity. This is partially due to a changing audience. With more looking to quiet luxury trends — handbags included – it's no shock that many are now less concerned with quantity and more with quality, which is why Louis Vuitton bags are so expensive. While this can spell trouble for fast-fashion brands, it's good news for designer brands that will once again reap the benefits of luxury and exclusivity. 
Besides the rise in quiet luxury, overconsumption, sustainability, and ethical concerns are reasons why more people these days are opting to obtain fewer high-quality items over various lower-quality products. Scarcity tactics from these luxury houses are also partially why some are willing to pay and wait however long it takes to get their hands on these iconic pieces. With brands such as Louis Vuitton, Bottega Veneta, and Hermès embracing luxury and scarcity tactics, it seems that luxury brands will only become more sought after and desirable in the years to come.