Move Over, Logomania - The New Handbag Trend Is Quiet Luxury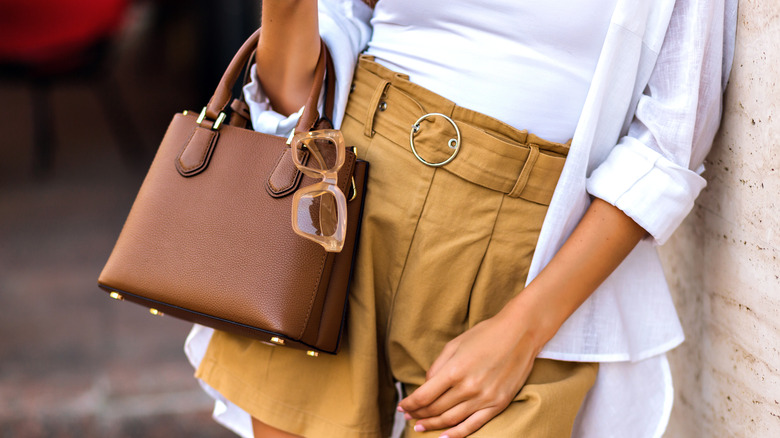 Ann Haritonenko/Shutterstock
Big and bulky designer logos were the bag trend of 2022, but in 2023 we are focusing on a more subtle approach. Quiet luxury is the minimalist trend taking over the bag market this season.
"In France, luxury has nothing to do with the bright, shiny, new things," says Oliver Roux, a professor of Luxury Goods (via Forbes). "Logos and monograms are not luxury. It's a cashmere sweater from Loro Piana. It's a vintage Hermes bag, preferably handed down by your mother or grandmother. It's heirloom jewelry that's been in your family for generations."
This is the approach fashion lovers are taking this season, as they buy items that focus on quality over quantity. These items appear luxurious through their nonchalant signature clasps, quality materials, and overall classic appearance. The trend is especially common in the luxury handbag market, as bags tend to add a final touch to polished outfits. If you are looking to buy a quiet luxury handbag but don't know where to start, we have curated seven qualities that we often see in these bags.
Classic silhouettes
Rather than the extreme crescents and triangular bags we saw last year, quiet luxury focuses on classic shapes that never go out of style. Common classic silhouettes include the crossbody flap bag and small top-handle bags. While you can buy these silhouettes now, you can most likely also find these shapes in your grandma's old wardrobe.
Versatility
Quiet luxury bags should be able to support you for many years on many different occasions. Versatile bags are a staple in the quiet luxury market. MZ Wallace and Longchamp are brands that come to mind when thinking of versatile luxury bags. These brands both create popular bags made of nylon that can be used as a travel bag, everyday purse, or even a work tote.
All in the texture
The texture is telling when it comes to some handbag brands. No logo is needed; the texture of the bag says it all. Bottega Veneta is one of the trendiest handbag brands on the market, yet none of their popular bags have a prominent logo. Instead, there is a classic woven leather texture on all of their bags that makes them stand above the rest.
Quality craftsmanship
"Luxury is the same as quality for me," said creative director of By Malene Birger Maja Dixdotter, in an interview about quiet luxury with Elle. Quiet luxury style stands the test of time, so the bags should last as well. It is important that your bag is a quality piece to fit the quiet luxury trend. While the quality may not be noticeable right away, over months you will notice a non-quality bag begin to deteriorate.
Easy to carry
Quiet luxury bags are easy in the way that they should be able to be worn in multiple ways, match almost all of your outfits, and hold your daily necessities. A quiet luxury bag should be your go-to everyday bag. These bags often have adjustable straps and are in a neutral color.
Subtle signs of branding
If there is branding on a quiet luxury bag, it is often a small signature clasp or detail. Ferragamo is a great example of a luxury brand that is evolving as a quiet luxury. Their spring/summer 2023 show featured bags that had small clasps shaped like the brand's classic Gancini, which was their only form of branding.
Traditional status bags
Classic luxury bags are obvious to fashion lovers with no logo needed. The Hermès Birkin bag is one of the most traditional status bags on the market, being so exclusive that you must be invited to purchase one by a sales associate. One look at the classic bag and it's obvious that the wearer is a lover of luxury fashion.