Big, Bold Cocktail Rings Are The Expensive-Feeling Touch Your Hand Deserves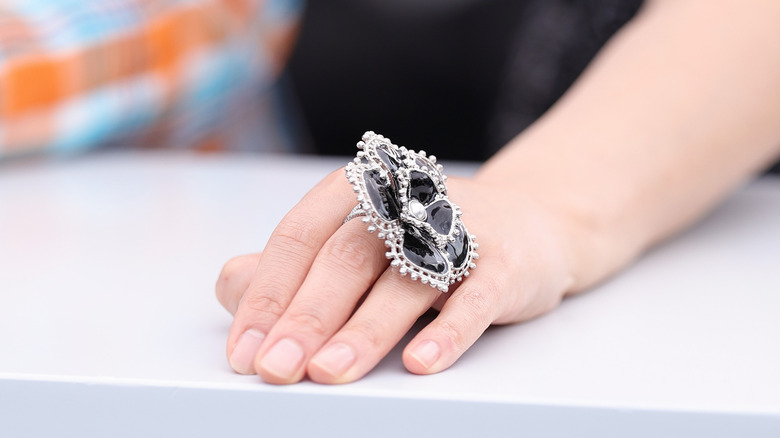 Andreas Rentz/Getty Images
The cocktail ring holds more significance than you may realize, particularly in historical contexts. The statement-making accessory was once employed for literal statements of women's liberation, freedom, and suffrage for their vote and ability for their voices to be heard, reveals Diamond Buzz. A full century ago, in the '20s era as women's equality began to rise in advocacy efforts, women made statements of their agency by choosing their own forms of dress and donning shorter skirts per their choice and expression of freedom. Female empowerment was in full force, where they were allowed to enter social establishments like bars and clubs where they would dress in contemporary styles and openly smoke beside the men. As a culmination of both their rising expression through fashion and intent to be seen, heard, and respected, women began to wear large cocktail rings which signaled that they would no longer play small nor conservatively reserve themselves when they wanted for their voices to be amplified instead. Along with other Art Deco accessory designs of the time period, large cocktail rings certainly made a statement strong enough that more than 100 years later they are still making waves in the fashion world.
In 2023, large cocktail rings are trending for their elaborate designs, bold embellishments, and strong accents to outfits that range from casual to formal. Contemporary cocktail rings come in a vast array of fashions, from cluster designs, to elaborate metalwork, to oversized, deluxe single stones which serve to stun. An accoutrement of grandeur on your finger is the answer for instant elevation.
Gain instant glamour and grandeur with glorious gemstones
Because a ring is big doesn't limit its ability to make a bold statement if the design and curation of the accessory is a simple one. In fact, one of the easiest ways to instantly elevate your style is by putting on a large cocktail ring with an equally bold, brilliantly broad shining gemstone. You're certain to feel posh, poised, and prime with a luxuriously large stone spanning the length of your lower finger. An oversized gemstone can be naturally sourced, lab made, or synthetic to provide every budget with dazzling bijouterie.
Literally elevate with layers of ornate metalwork
Large cocktail rings aren't limited in scale to solely their width. Rather, magnificent facets of ornate cocktail accessories is the artistry and innovation of design, with many amazing creations scaling in height with layers of meticulously handcrafted metalwork, rows of shimmering gemstones, and a grand finale of a centerpiece stone topping the layers of masterful design, the epitome of a capstone which can be called the ring's crown — or rather the crowning jewel, quite literally! Who needs a crown on their head when you can wear one on your finger?
Cluster rings are a bouquet of colorful gemstones
The cluster ring is the MVP of all cocktail rings, but the style especially leads the pack when it comes to large, statement-making accessories. Unlike other forms of grand-scale cocktail rings, the cluster ring came into vogue over a century before the '20s employment of the adornment, rising to fashionable acclaim during the Georgian and Victorian ages of the United Kingdom, reveals LaCkore Couture. Traditionally a popular choice for engagement proposals, the cluster ring remains an iconic style for royal engagement rings ever since Princess Diana selected the iconic 12-carat sapphire ring.
Contemporary cocktail rings give centerstage to polished metals
It's likely that accessories covered in gemstones come to mind when envisioning cocktail rings given that stone-centric rings have traditionally been most sought-after. Contemporary cocktail rings are shifting the focus by allowing metalwork to shine — literally — for elegant, polished looks that can be complemented with metal-centric necklaces, bracelets, and earrings. Metalwork is an internally recognized art form, so just because a cocktail ring isn't decorated with gemstone embellishments doesn't deny the artistic and magnificent presence you'll make when you don a ring of gold, silver, platinum, or metal of choice.
Vintage craftsmanship is rejuvenated for modern radiance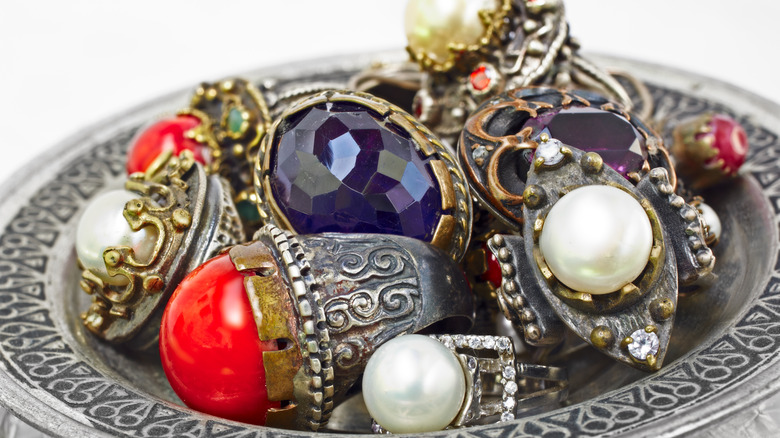 Luba V Nel/Shutterstock
It's clear that cocktail rings possess extensive historical relevance, with some artistry of the accessory's metalwork and stone combinations even dating back to ancient civilizations. Given the manifestation of handmade work, you'll be guaranteed an original piece that no one else on the planet will possess, thus taking the feel of expensive exclusivity to a higher level. Vintage pieces are also honorable as they are testaments to the connection of ages and eras, a bespoke link to enduring history. Search local antique shops, estate sales, and the internet for amazing antique accessory finds.
Oversized cocktail rings are limitless and timeless
Having remained fashionable for centuries, cocktail rings make a splash with their eye-catching, spectacular showcase. Unlike smaller rings bound by petite sizing in terms of their tangible designs and curations, boldly oversized cocktail rings have limitless space to produce mesmerizing wearable art which fits comfortably on your fingers. If the bouquet of gemstones in a cluster ring isn't splendid enough for your taste, you can achieve an elite, expensive feel with a metalwork, a rainbow of enamel, and glimmering gemstone accents for a bouquet that will never wilt or go out of style.