Liquid Blush Tips For A Perfectly Blended Look - No Matter What Tool You Use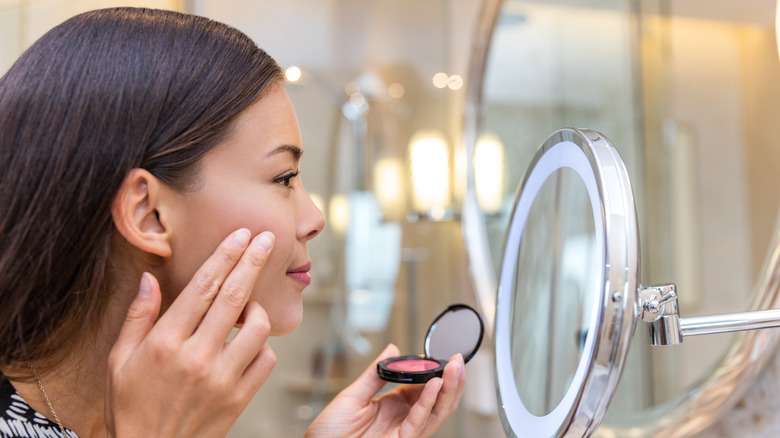 Maridav/Shutterstock
We may receive a commission on purchases made from links.
The perfect blush is an essential part of any makeup look. It gives your cheeks the glow it needs and brightens up your whole face, but only if you do it right. There are many kinds of blush in the market right now, and one of the most popular up-and-coming formulas is liquid blush. Blush has traditionally always been a powder product, but its liquid version has really taken it up a notch.
One of the greatest things about liquid or even trendy cream blush is that it is extremely compatible with aging skin. Powder blush can have a tendency to make fine lines on aging skin more pronounced, whereas liquid blush formulas will not. There are, however, a few tips and tricks that you should follow to make sure you get the most flawless finish out of your liquid blush. There are many tools you can use to apply the product, and each of them requires just the right technique.
Choose the right liquid blush for you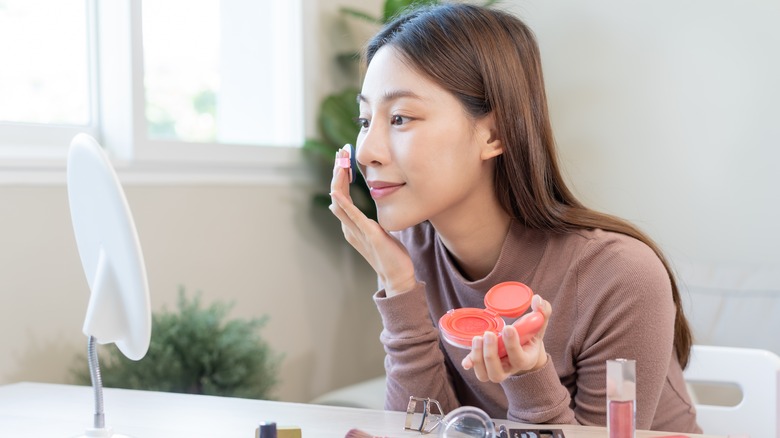 Kmpzzz/Shutterstock
Picking just the right liquid blush formula for your skin and its needs is key in making sure your blush looks flawlessly blended. Luckily, in today's market, there is certainly something for everyone. The great thing about the liquid blush formula is that it can be hydrating and has great lasting power.
One thing you should consider when picking the right blush is to make sure you pick one with just the right consistency. Brands today offer a wide variety of liquid blushes, from cream-based blushes to thicker formulas. There are also gel-based blushes and even thinner formulas known typically as cheek stains. 
The key to finding one that works for you is, of course, trial and error. Go out there and invest in a couple of liquid-based blushes in varying formulas to see which one is most compatible with your skin. Apart from picking the right consistency, the shade you pick and how pigmented the blush is (or can build up to be) are also very important. So keep this in mind and pick one that compliments your skin tone the best.
How to use your fingers to apply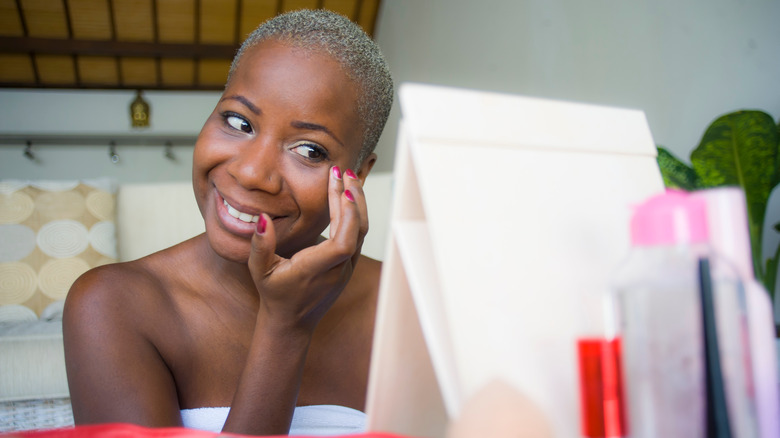 TheVisualsYouNeed/Shutterstock
The great thing about liquid blush is that you don't even necessarily need fancy tools to put it on; just your fingers will do. Celebrity makeup artist Jamie Greenberg tells Byrdie that you should be careful not to put on too much because with liquid blush, "a little goes a long way."
If you do decide to put the blush on with your fingers, make sure they're clean first. For best results, it is recommended that you place a little bit of the product with a light hand on the apples of your cheeks and apply in an upward motion. The key is to make sure there is an even distribution of the product on your cheeks with seamlessly blended edges and no harsh lines. Make sure you go in with light taps of the fingers and a soft hand for best results. By using this technique, you can build up pigment as you go.
How to use a brush to apply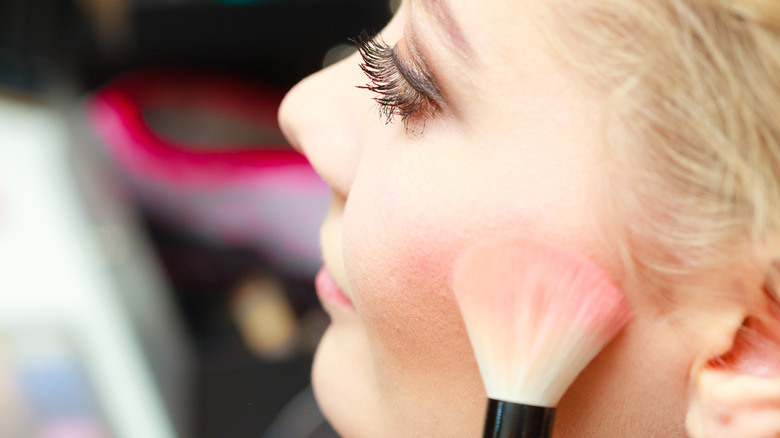 Voyagerix/Shutterstock
Another tool you can use to apply liquid blush is a blush brush. Although traditionally used for powder blushes, they work great with liquid blush too. All you have to do is put some of the product on the back of your palm and dab your brush lightly on it to pick up the product. Once again, as with your fingers, dab the brush on your cheeks with a light hand so you don't get too much product on your face. Keep building up this way until you get the desired effect.
According to the experts at Charlotte Tilbury, you should also make sure you apply the blush in the right place. They recommend using your face shape as a guide to find the best positioning for your blush. They also note that using two shades can give you a flawless and dimensional look. Generally, however, regardless of what your face shape is, you should aim for the apples of your cheeks and the tops of your cheekbones.
How to use a sponge to apply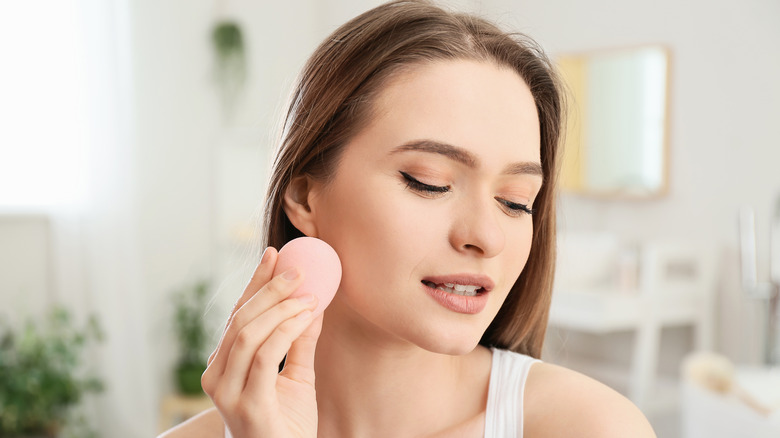 Pixel-Shot/Shutterstock
Alternatively, you can also use a makeup sponge to apply your blush. You just need to very softly get the product onto your sponge, the same way you would with a makeup brush, and then dab it on your cheeks, once again, with a light hand. You can also use your fingers and sponge together to get the perfect result. It really does differ from person to person, and what each person feels works best on their skin. 
Another reason why a makeup sponge is great for applying liquid blush is that it gives you more control over how the product is applied as opposed to a makeup brush. A makeup sponge can act almost like an extension of your hand.
Whichever tool you end up choosing, make sure it's one that you're comfortable with to achieve the most flawless look in the end. So get experimenting and have fun with your makeup look using liquid blush.