Does TikTok's Barbie Contour Filter Really Make You Look Like A Doll?
The days of playing and pausing a YouTube makeup tutorial to follow along are long gone, now we have filters to help with the placement of highlights and contours. This is perfect for those who are looking to get an effortless contour or just someone who wants to try a new way to apply their makeup. All you have to do is place the products where the filter says and then blend them out accordingly.
The new Barbie contour has been making waves on TikTok. The easy filter allows people to create a full face of makeup similar to the iconic doll. This comes just in time for the new Barbie movie, which is premiering next month, and has a lot of buzz surrounding it already. While it might seem impossible to look like Barbie herself, the filter brings you close to making you look like a doll, at least that's how it's worked for one social media user. 
How to do the Barbie contour
The Barbie contour is quite simple seeing as you'll be using TikTok's Barbie filter as a reference. However, before applying the makeup, moisturize and prime the skin. This will not only keep the skin hydrated but make your makeup last much longer than it would otherwise. Once your skin is ready to go, apply the contour on your forehead, outer corner of the eyes, nose, browbone, cheekbones, jawline, and under your lip, just like Dylan Gordon does in part one of her Barbie filter demo. The goal of contour is to create shadows in the face that make it appear slimmer. 
Then, apply a light concealer down the nose, on the top of the cheekbones, under your cheek contour, and on the forehead. This is done to bring out your features and make your contour pop. Afterward, place a pink blush of your choice up the cheekbones and on the side of the forehead. Once you have your placement, spray the makeup with setting spray and blend accordingly. This should give you the gorgeous doll look we all know and love. After all, Gordon deemed it "looking pretty good," on part 2 of her Barbie look.
Things to keep in mind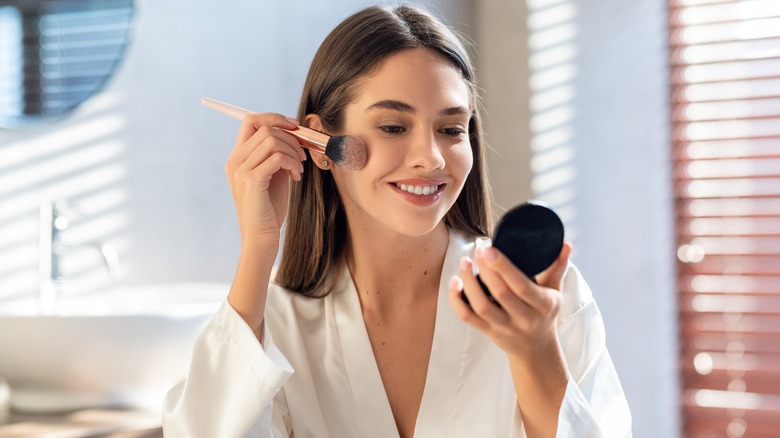 Prostock-studio/Shutterstock
To get the Barbie contour filter just right there are a few tips to keep in mind. Liquid products, for starters, tend to dry down after a few minutes of sitting on your face. This could lead to your makeup drying out and becoming patchy when it's time to blend. While a setting spray can usually solve this problem, certain products just won't budge. If this is the case for you, blend after every step instead of waiting until the placement is complete, just as Dylan Gordon suggested in part two of her TikTok clip.
It's also important to remember that color makes a big difference in how this filter turns out. Choosing your contour shade, for instance, should be about one to two shades darker than your skin. That way, it easily blends into the skin and looks amazing in the light. On the other hand, your concealer can be up to two shades lighter than your skin tone and should match the undertone of your complexion.