Craft Effortlessly Chic Slip Skirt Outfits This Summer With Our Tips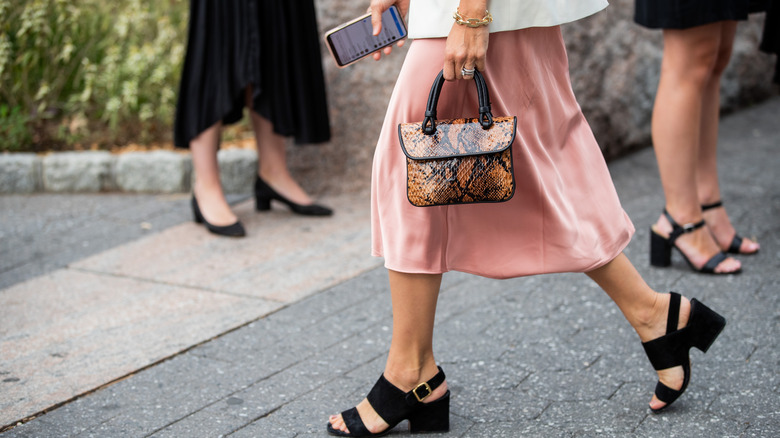 Christian Vierig/Getty Images
Slip dresses marked the beginning of the Y2K era in the fashion industry and now they've opened the door for other similar pieces. We already know that satin tops are the perfect piece for layering or wearing on their own, but it's the slip skirt that's ready to make a splash in the summer season. Picking out the ideal wardrobe this season can be challenging when you have to factor in the heat and sun. Jeans and leggings are automatically tossed aside for colder temperatures, leaving you with a finite amount of options for bottoms. Thankfully, slip skirts give us the perfect piece to reach for in the summer that won't cause us to overheat and will still leave us stylish.
The slip skirt is a staple of '90s fashion and has come back into the spotlight once more. These bottoms are characterized by being made out of mostly satin or silk fabrics and laying lower on the waist. With such silky fabrics, the slip skirt flows and moves around with each step, making it a magical garment to wear. Additionally, the slip skirt hugs around the body to give you the perfect fit for those summer days. With everyone adoring this item of clothing, it shouldn't be a surprise when we see many more reaching for a slip skirt for all those summer plans.
Bra top and slip skirts
We already know that bra tops and pantsuits are a fashion lover's dream combination, but pairing the coveted piece with a slip skirt might just give it a run for its money. Although a bra top isn't everyone's cup of tea, it's certainly a foolproof way of styling a slip skirt. With a bottom piece that flows and takes up so much visual space, you want to add a top that isn't too overwhelming. A bra top is sleek and great for warm weather, paired with the slip skirt, you can get a street-style look with only two pieces.
Tank tops and slip skirts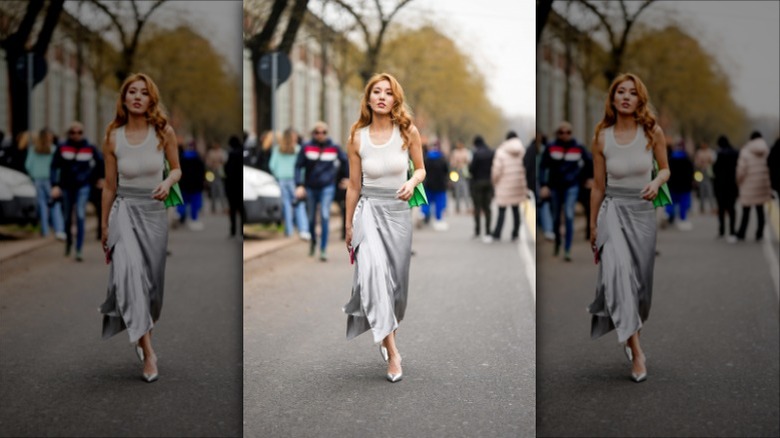 Edward Berthelot/Getty Images
If you're looking for a top with more coverage, a tank top is a great alternative to a bra top. Understated and subtle, the tank top is a simple item that won't distract from your slip skirt. Not only that, but this combination is both minimalist and sleek, making it the perfect summer uniform to take you through the entire season. With no sleeves, the tank top is the perfect styling partner for the slip skirt for a cool and fresh summer season.
Monochrome slip skirt outfit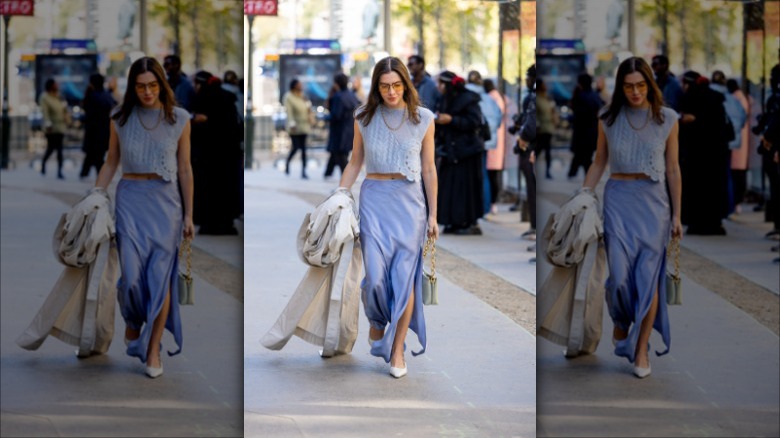 Christian Vierig/Getty Images
No matter what top and bottom combination you reach for, you need to keep the colors in mind. Colors in any outfit combo can cause havoc on your look and completely ruin your initial thought. The easiest way of handling a challenging color is by opting for a monochrome look. Monochrome outfits are notorious for evoking elegance and sophistication, something the slip skirt already gives you. Elevate your summer outfit even more by going with one color throughout the outfit for an easy-to-wear fit that will look chic and intentional.
Add color blocking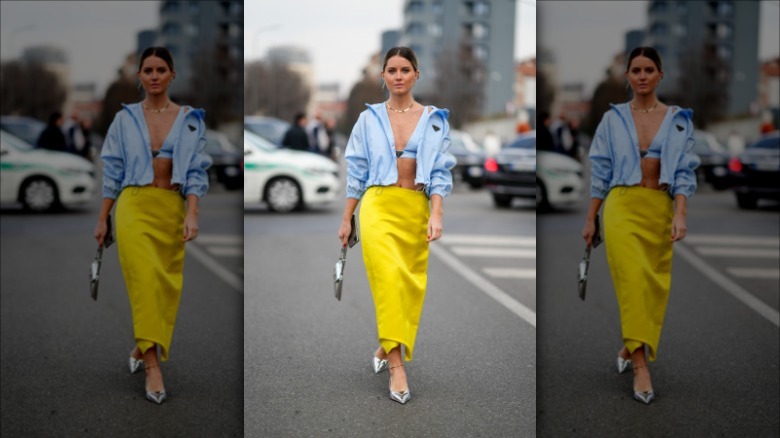 Edward Berthelot/Getty Images
On the topic of color, another common styling trick when it comes to staple pieces like the slip skirt is to utilize color blocking. This is easy to maneuver and only requires you to choose two vibrant and saturated colors. Pair a vibrant slip skirt with a saturated top for a color-blocking technique that looks stylish and polished. Finish with minimal accessories and neutral compliments for a put-together look that defeats the quiet luxury trend.
Graphic tee and slip skirts
Mostly everyone has a graphic tee or two just laying around their closet. Instead of utilizing them only on chore days, use them as the perfect pairing to your slip skirt. Since slip skirts are often made of silk or satin, they automatically give a dressier and more formal appearance. Balance this upscale bottom with a casual graphic tee and a pair of trainers for the ultimate outfit sandwich. Not only will you elevate your casual look, but you'll feel dressed up all summer long.
Extend the length
Slip skirts can come in various lengths. From slightly above the knee, midi length, or a maxi length, there are tons of options to choose from. However, there is another choice that is seldom talked about. The floor-length slip skirt is perfect for those looking for a dramatic bottom piece that will have everyone dazzled. Pair these ultra-long slip skirts with a linen or cotton top for a pairing that's straight out of the countryside. Although it may require a few washes on your slip skirt, it's the perfect look to give a bohemian touch to your summer wardrobe.
Use a printed slip skirt
If you think about slip skirts, you'll most likely imagine solid-colored skirts in a champagne or black color. These neutral options are perfect to create a safe base for any outfit. However, printed versions of the classic piece are some of the most statement bottoms to wear, making it a fun bet for summer. This season is the best opportunity for experimenting with prints and bold colors, and a printed slip skirt is the best place to start. No matter the print, a slip skirt gives a touch of elegance, making it almost impossible to dress down. Pair a printed slip skirt with a neutral top for a striking contrast you'll love.