Jorts Are Officially Returning To The Fashion Scene This Summer (& We Honestly Missed Them)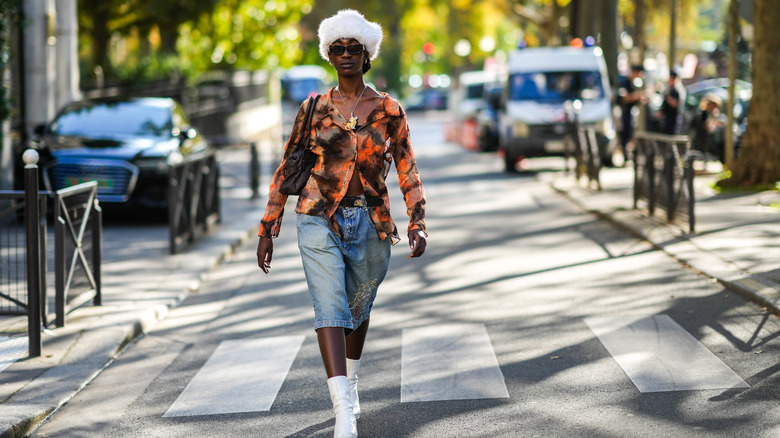 Edward Berthelot/Getty Images
When you think of summer fashion, you'll recognize pieces such as linen dresses, sundresses, and denim shorts. While there's no beating these summer classics, there's a new trend that's starting to stir up a comeback for summer. Jorts, also known as jean shorts, are the newest vintage trend to return from its Y2K era. A known piece from the '90s, these jorts are no longer a stereotypical piece you use to play dress; they're now your favorite style influencers' denim piece. Like other trends from the era, jorts have been remixed to fit in with today's stylish wardrobes.
While you may think of jorts as an old-fashioned denim piece, they're the perfect way to keep your legs bare during the summer but with structure and style to complete your looks. No one likes wearing denim jeans in the summer due to the heat, making jorts the next best thing. Not only are jorts comfortable, but they can perfectly replace your jeans in most outfits. If you have an outfit you would like to transition for the warmer weather, just simply swap your jeans for jorts.
Classic jorts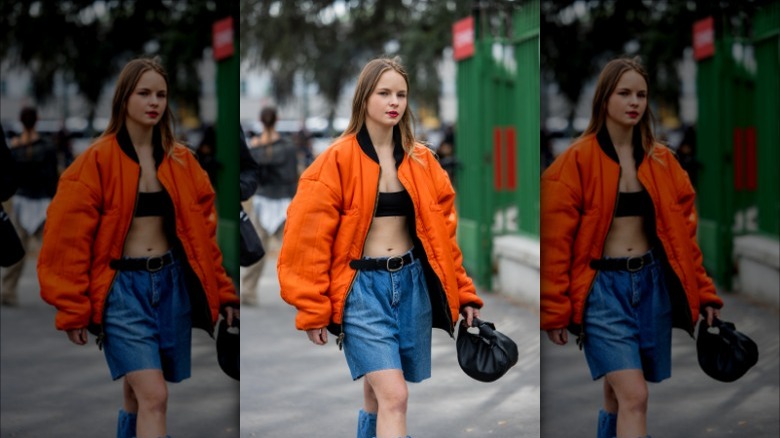 Christian Vierig/Getty Images
A classic pair of jorts will undoubtedly elevate your wardrobe with that subtle nod to the '90s. Even though they're nostalgic, classic blue denim shorts will give you a chic summer look to style. Since jorts give you a longer length than other denim shorts, you can get the ultimate dad summer look while making it stylish. Pair your jorts with your favorite summer tops and add a complementing belt for a chic and modern upgrade on these classic pieces.
Mom jorts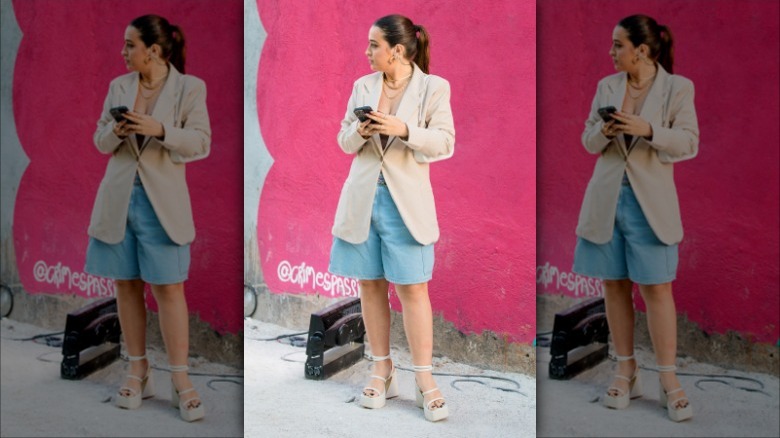 Mauricio Santana/Getty Images
If you've seen any pair of denim jeans recently, they're likely boyfriend, relaxed-fit, or mom jeans. The latter are known for their loose hips and tapered hem. Mom shorts carry these same characteristics and feature a high waist for extra structure. With mom jeans becoming popular, mom jorts aren't far behind. Not only are they a vintage look, but they give you the same feel as mom jeans while making you feel comfortable and street stylish. Since skinny jeans are on their way out, these mom jorts are likely going to become your new favorite summer pieces.
Colored jorts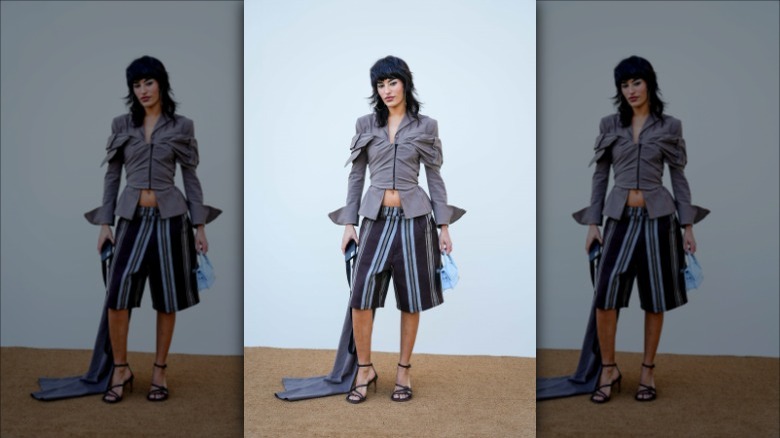 Edward Berthelot/Getty Images
Jorts usually come in light, medium, or dark blue denim. However, with colored denim pieces becoming more prevalent, there's no doubt you'll see more of these various shades in your jorts coming soon. Colored jorts keep the classic jorts style but let you play with other shades to better suit your style. For those with neutral color palettes in their wardrobe, green or beige jorts can be an accessible option to consider. However, fans of color will be pleased to find jorts available in all hues.
Chic jorts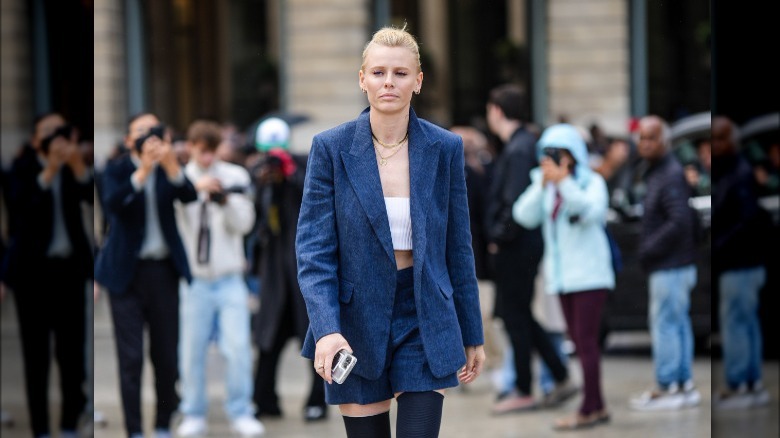 Edward Berthelot/Getty Images
Jorts and sophistication seldom are used in the same sentence. Thankfully, with a mix of color and pattern, you can style a complete chic outfit with your jorts. When elevating your jorts, you also want to consider the type of denim you reach for. Your typical denim fabric will ultimately convey a more casual style. But thicker and softer denim will give you a chic trouser-like look without sacrificing the feel of jorts. Pair your jorts with a matching top or layering piece for a more cohesive fit.
Long jorts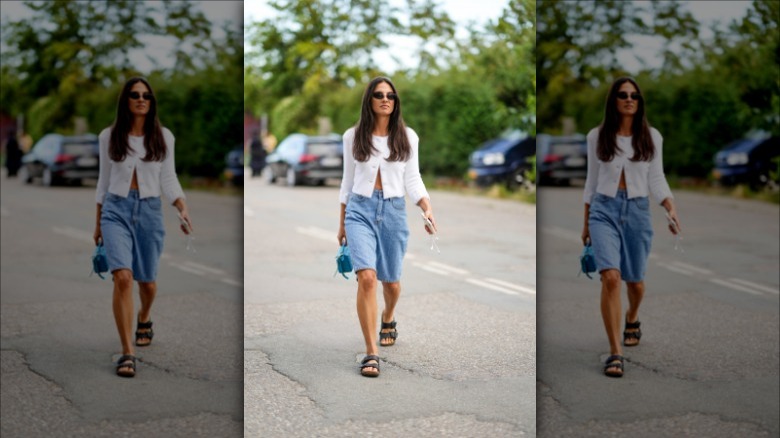 Edward Berthelot/Getty Images
Jorts are known for their longer length compared to your typical shorts. Your common jorts will hit somewhere above your knee. However, just because most jorts land at that length, there's no reason why you can't wear longer jorts. Although they aren't as common, long jorts are unique pieces that can be perfectly worn with kitten heels or elevated shoes. Longer jorts will hit below or at the knee. Although not everyone will find long jorts fashionable, they're a playful item that can make styling fun.
Printed jorts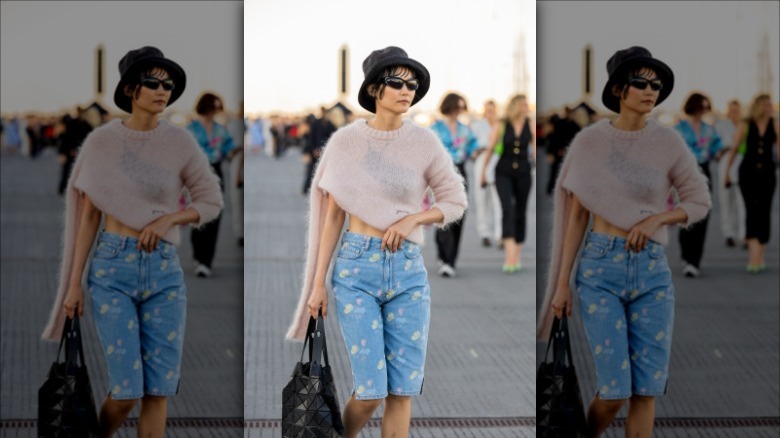 Christian Vierig/Getty Images
Like denim jeans, jorts can also feature prints and patterns. Most of the time, printed jorts will have patterns or embroidered details to give your piece some extra flair. Printed jorts add more personality than solid jorts, giving you the chance to add a statement piece to your look. If you're looking to add something extra to your 'fit without adding another piece, opt for printed jorts with a neutral top for a chic balance.
Distressed jorts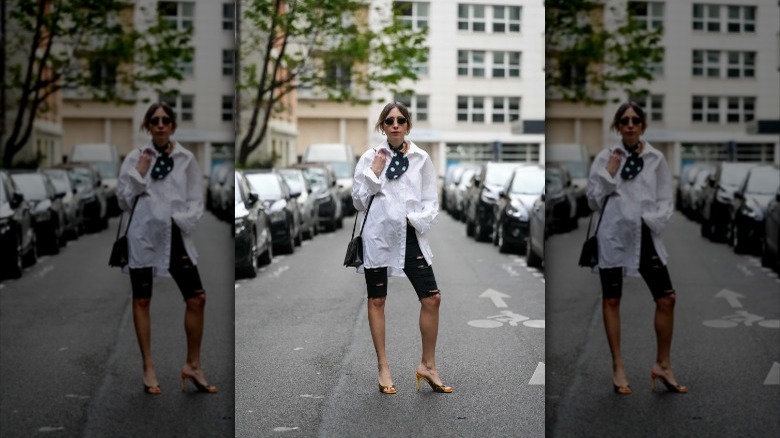 Edward Berthelot/Getty Images
We already know distressed details are common in jeans and can sometimes help dress down a look. Distressed jorts are another variation on a classic piece that can add some edge to a structured fit. Whether it's a raw hem or ripped holes, distressed detailing can be an easy way to turn any outfit into a prime street-style look. Distressed jorts are unique but can be the perfect addition to your style.