Pared-Down Makeup: The Bridal Trend Letting Natural Beauty Shine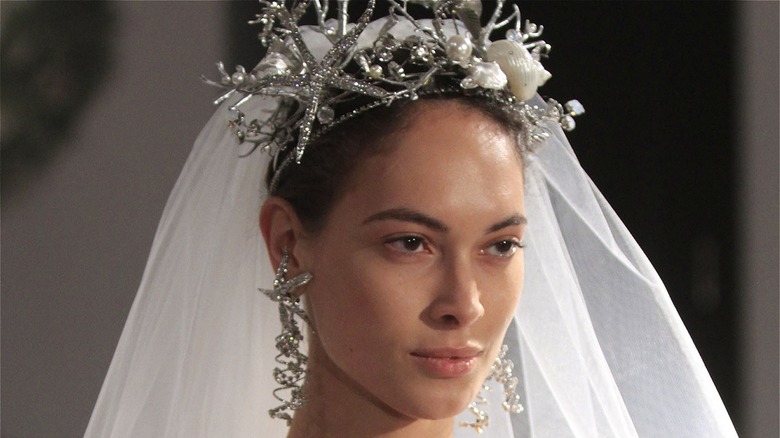 Thos Robinson/Getty Images
If you're dizzy from looking at hundreds (okay, maybe thousands) of wedding makeup Pinterest pins and Instagram pics, there's a new trend here to clear the air. Like wedding dresses, flowers, and even cake, makeup for strutting down the aisle goes through its fair share of trends, too. But this one is special. Let us introduce you to pared-back wedding makeup, which takes all the best parts of transforming your face through cosmetics without the need to lay it on thick.
Advertisement
Pared-down makeup looks good on everyone and has the legs to cement itself as a timeless bridal look rather than a fleeting moment that disappears as quickly as the wedding budget. As seen all over social media and on the runways of Bridal Fashion Week, wedding makeup is officially taking it down a notch.
Fully embodying and unofficially kicking off the trend was the internet's newest it girl Sofia Richie with her glamorous but minimalist wedding makeup. Pared-down makeup isn't necessarily one specific look, per se, but a whole range of looks that prioritizes the wearer's natural beauty and strips back the heavy lashes, bold lipsticks, and dramatic eyeshadows of yesteryear. If you've been dreading sitting in the makeup chair or have yet to find a wedding makeup look you're obsessed with, this may just be the trend of your dreams.
Advertisement
Peachy blush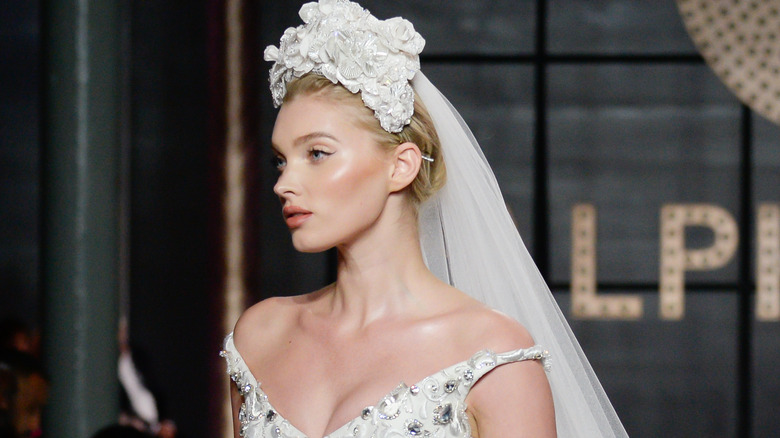 Francois Durand/Getty Images
Depending on your skin undertones and the overall look you're after, peach blush can provide a gorgeous natural flush that's a little different from the usual pink rouge. Because bronzer and contour tend to be on the warmer side, peach blush blends beautifully in with these as well. To keep the palette consistent and avoid veering into ultra-bold territory, choose lipstick and eyeshadow within the same color family. With a sweep of highlighter, it's hard to beat this gorgeous look.
Advertisement
Bold, natural brows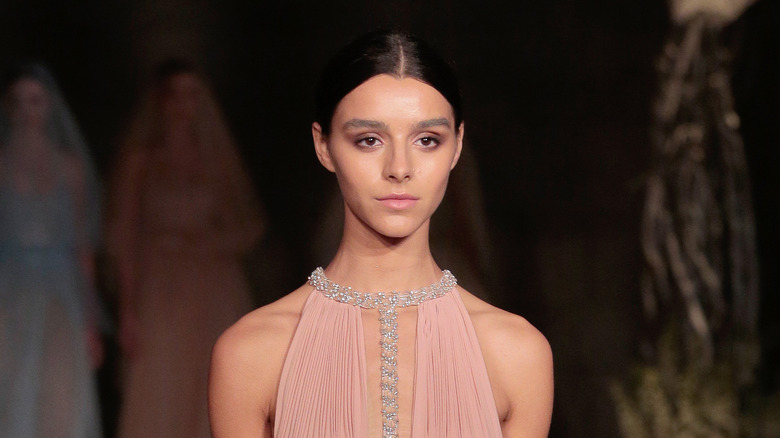 Randy Brooke/Getty Images
When the end goal is to create makeup that feels natural, it's never a bad idea to highlight and draw attention to the facial features you love. If you have an impeccable pair of brows (share your secrets!), a brow gel, brush, and pencil can go a long way. By focusing heavily on your eyebrows, you're spotlighting something that's already part of your natural beauty rather than adding a pop of color or extra attention through lipstick or eyeshadow, for example.
Advertisement
Soft smoky eye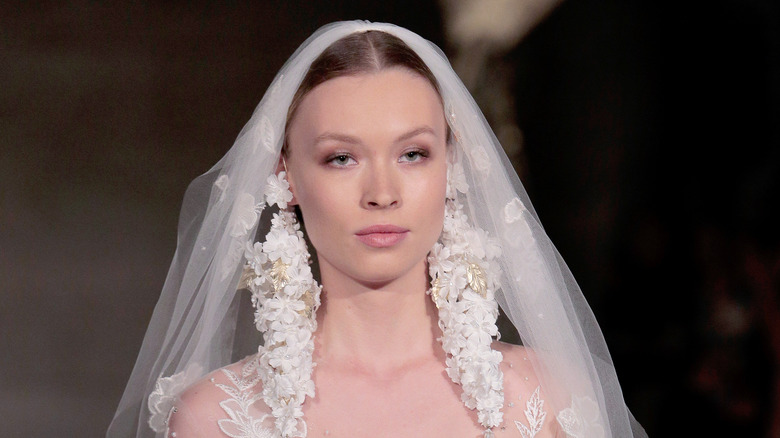 Randy Brooke/Getty Images
Pared-back makeup doesn't mean non-existent. Classic looks, like a smoky eye, still have a place in this trend's portfolio — it'll just look a tad different. Rather than deep, saturated hues like dark brown or black commanding the lid and crease, a softer smoky eye is a stunning pick for spouses-to-be. Lighten up the contrast between the eyeshadow colors and pick hues that are less stark. Neutrals like light pinks and browns with a tinge of shimmer are a gorgeous way to execute this look. 
Advertisement
Ultra dewy skin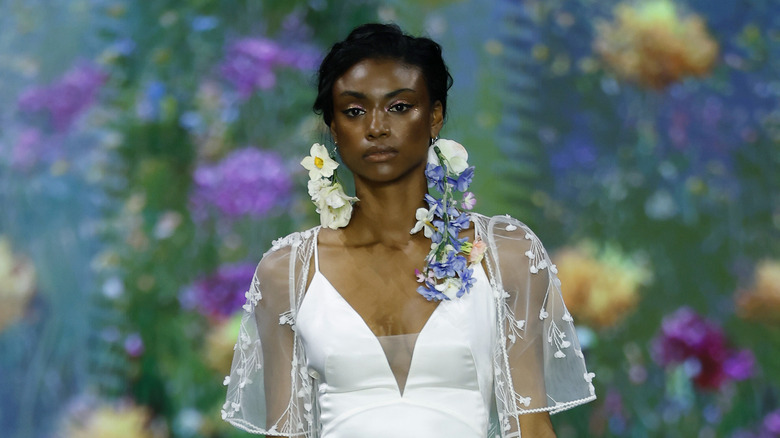 Estrop/Getty Images
Pared-back wedding makeup is all about highlighting your natural beauty. With less emphasis on cosmetics, it leaves more room for skincare and products that'll boost your complexion. Dewy skin has been in for years now, and whether it's referred to as glazed donut skin or dolphin skin, the goal is the same — giving your skin an angelic glow. The reason why this finish works so well for wedding makeup is that it photographs well and really just reflects the glowiness you'll be feeling on the day! A matte finish, on the other hand, can look dehydrated and not-so-supple, especially in photos.
Advertisement
Ethereal highlighter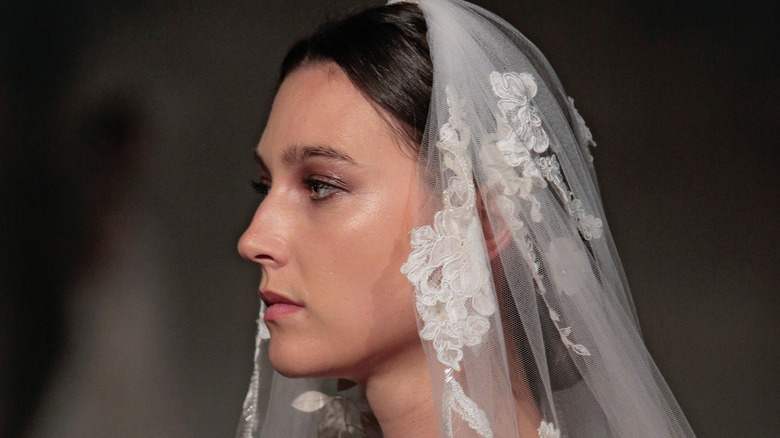 Randy Brooke/Getty Images
Aside from a great skincare routine, another method of obtaining the glowiest skin possible is through the strategic and sleek application of highlighter. There's a slick sheen for everyone — and strategically placing it along the right features while avoiding any dated highlighter techniques will leave you with a radiant finish. To ensure it feels pared-back as opposed to flashy, choose a highlighter formula that's soft and diffused. Avoid anything with chunky sparkles or glitter, and try to opt for a liquid formula to prevent flaking or a powdery finish. Liquid highlight will give a dewier, more hydrated appearance.
Advertisement
A touch of pink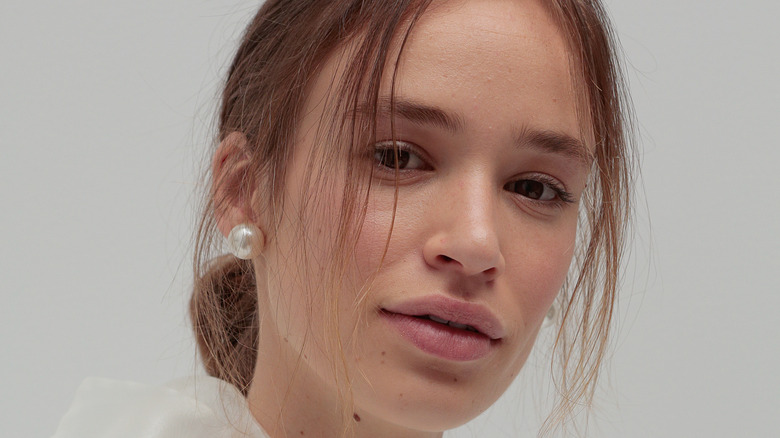 Randy Brooke/Getty Images
A subtle whisper of mascara and a pinch of pink is an elegant look to opt for before gliding down the aisle. While pink errs on the side of traditionally feminine, it's a rosy and romantic color that anyone can rock for their wedding day. It's also one such color that doesn't command a lot of attention if you choose the right hues. Light baby pinks, soft rose gold metallics, and moodier mauves are lovely choices for a less-is-more makeup look that elevates without overwhelming the face as a darker shadow would.
Advertisement
Just-bitten lip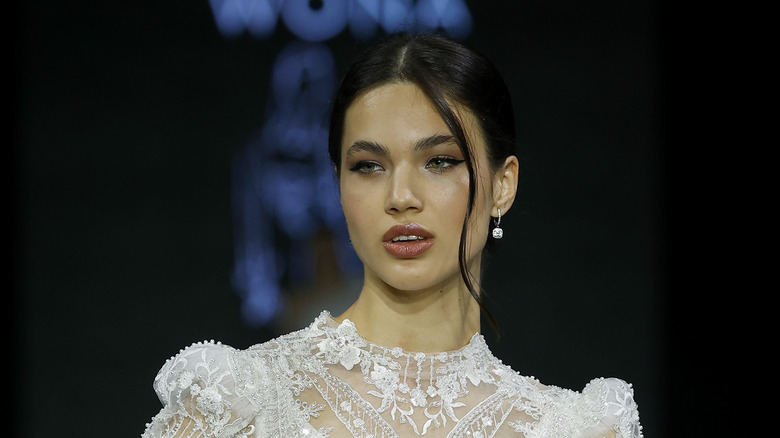 Estrop/Getty Images
Like the juicy Korean gradient lip trend, a just-bitten lip is a gorgeous way to place emphasis on your pout without leaning on red lipstick or any other bright tone. The technique makes your lips look fuller and almost naturally tinted. The best way to achieve this look (and have it stay put from vows to the late-night disco) is through a stain. Ensure your lips are moisturized and prepped with a balm, then lightly dab a stain overtop. Finish with a gloss for an extra pop, or leave it as-is to keep it more low-key. 
Advertisement
Focus on the eyes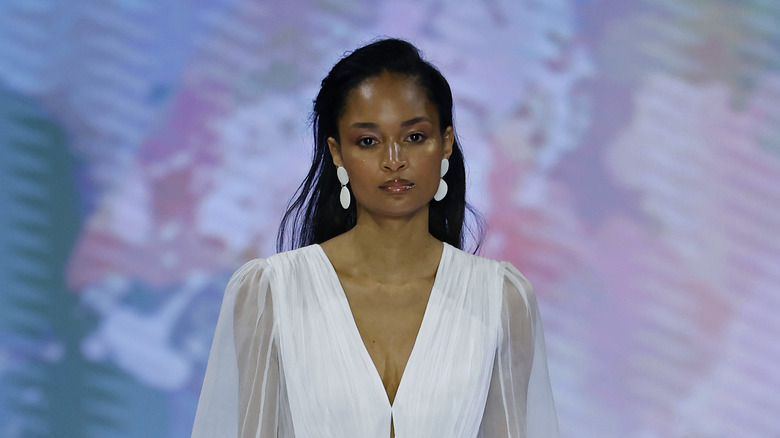 Estrop/Getty Images
For understated makeup looks, it's best to choose one feature to emphasize and leave the rest natural. Having a bold lip, a winged liner, and a nice layer of eyeshadow paired together is equally just as nice, but if it's the pared-back trend you want to follow, less certainly is more. Pick a focus area, like the eyes, and use neutral tones that just barely jump out. Any eyeliner and mascara should be used sparingly to continue the theme, and lips should be left alone or coated in a clear gloss. 
Advertisement
Light pink lip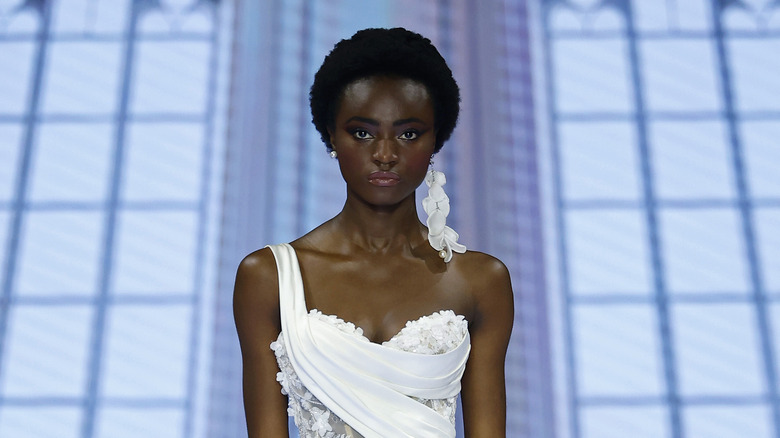 Estrop/Getty Images
If you're keeping your eye makeup simple, you have some free reign when it comes to lipstick choices before your look goes from pared-back to a more traditional wedding makeup look. We're not talking a juicy apple red or bright bubblegum pink, but rather a gentle pink that stands out ever so slightly. If you're enamored with the idea of having a glowy, dewy finish all around, it might be wise to choose a gloss or a more lustrous lipstick to keep everything consistent. Pick one that jives with your skin tone and matches any blush or eyeshadow you wear.
Advertisement
Fresh-faced and natural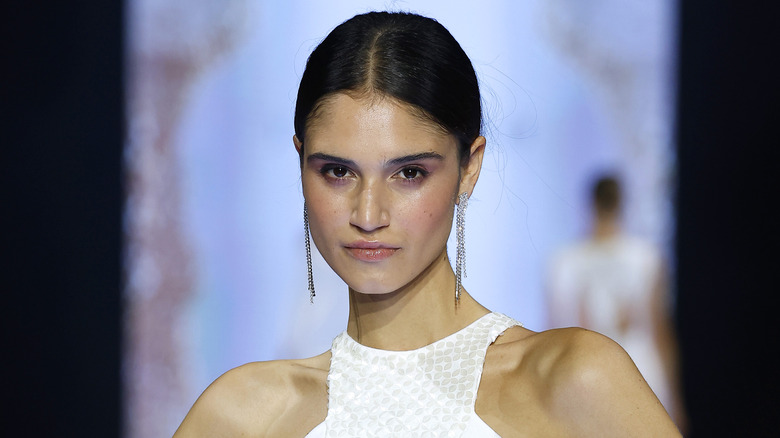 Estrop/Getty Images
Pared-back often translates to a fresh-faced makeup look. This celebrates your natural beauty, and the goal isn't to filter out every last iota of texture. Your complexion should shine through with a few tiny touches of makeup, like a layer of lip gloss, a dot of shimmer in the corners of your eyes, and a lick of blush. Use a fine makeup brush to carefully and strategically place highlighter and eyeshadow for an end result that doesn't feel contrived.
Advertisement
Sleek and glowy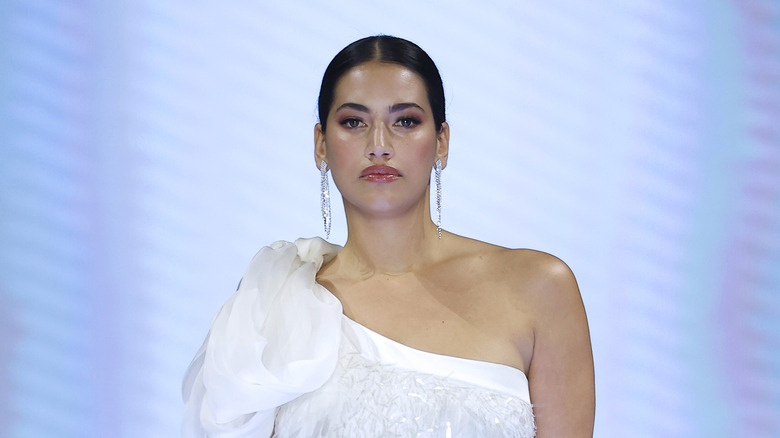 Estrop/Getty Images
Wedding hair and makeup should bounce perfectly off one another. When it comes to a toned-down makeup look, a sleek hairstyle is the perfect complement. Focus on creating a dewy foundation that's enhanced with a silky lip gloss and a subtle smoky eye. Then, slick back the hair into a chic updo. This is glam minimalism to a T and emulates the energy Sofia Richie had with her covetable wedding weekend looks.
Advertisement
Subtle winged liner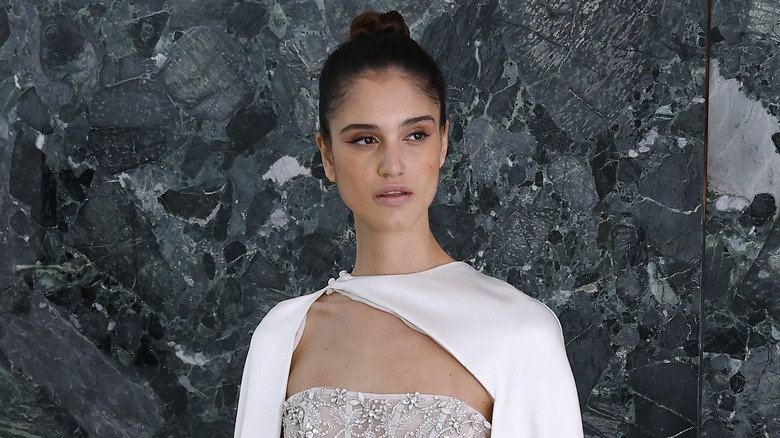 Estrop/Getty Images
Most of us are familiar with the iconic, thick swoop of a cat eye, but there's a way to make this dramatic aesthetic look less over the top. To tone it down a touch, keep the flick thin and subtle. It can even be blended and intentionally smudged to soften the finish. Plan to pair this with a neutral eyeshadow and natural lip, and you'll have a pared-back makeup look in your near future. Less obvious complexion makeup is the perfect choice, too, if you have a dress or hairstyle that's destined to steal the show. 
Advertisement
No-makeup makeup look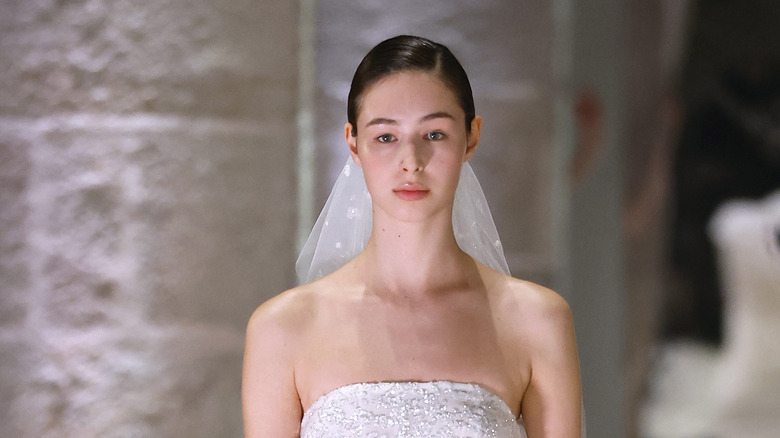 Estrop/Getty Images
The no-makeup makeup look may sound like a walking, talking contradiction, but it's a great technique for anyone who's getting married but doesn't usually wear a full face or love thick makeup. Its entire aim is to feel light, fresh, and like nothing is there at all while helping even skin tone, covering any blemishes or discoloration, and gently highlighting someone's features. When all is said and done, you should look and feel like yourself with a few enhanced details, like perfectly groomed brows or slightly pinker lips. 
Advertisement
Perfectly contoured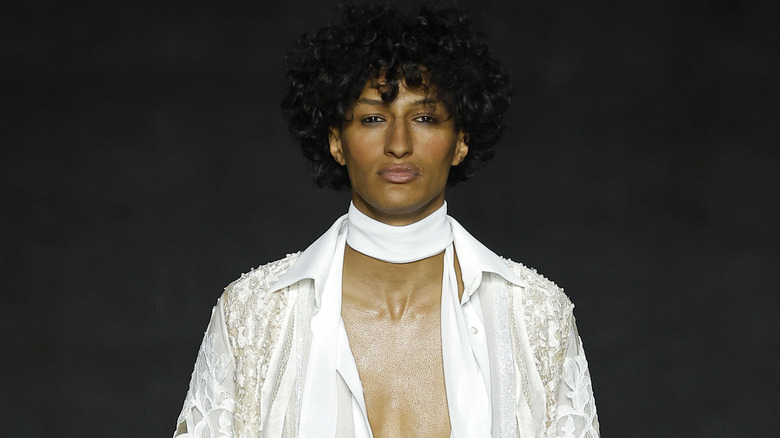 Estrop/Getty Images
As with nearly all natural wedding makeup looks, the skin should really be the star. Starting with a flawless complexion as your foundation leaves plenty of room for emphasizing other features. Aside from highlighter, perfectly-blended contour is another part of the formula for achieving the perfect pared-back look. Use a makeup sponge and clean brush to apply and blend to your heart's content. This allows you to carve out the cheekbones you may love, embrace the shape of your nose, or add extra definition to a jawline you're proud of. 
Advertisement