The Easiest French Manicure Hack You'll Ever Need From A Beauty & Skincare Expert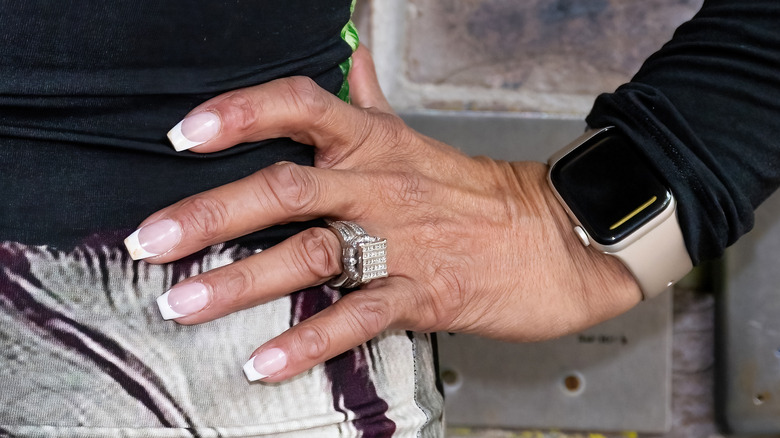 Gilbert Carrasquillo/Getty Images
Whether it's an eye-catching tie-dye nail or a laid-back linen nail design, a good manicure will pair with any look and add a touch of your personality. However, one of the best manicures you can get is a French manicure. Regardless of your style, a French manicure will always be a certified success. This classic and timeless nail design is the perfect complement to any look and will always be on trend. 
What's more, getting a French mani can be as easy as any other nail experience. Although simple, the French manicure is done with precision to get a flawless application. The French tip has to be done almost to perfection to ensure it looks its best. A crooked French tip could ruin your look and mess up the overall design. Thankfully, there's a hack that can make your French manicure an absolute hit. We turned to Sasha Core, an award-winning skincare expert and owner of Sasha Core Beauty + Skin Clinic, to get the lowdown on how to get a flawless French manicure every time.
How to easily get a French manicure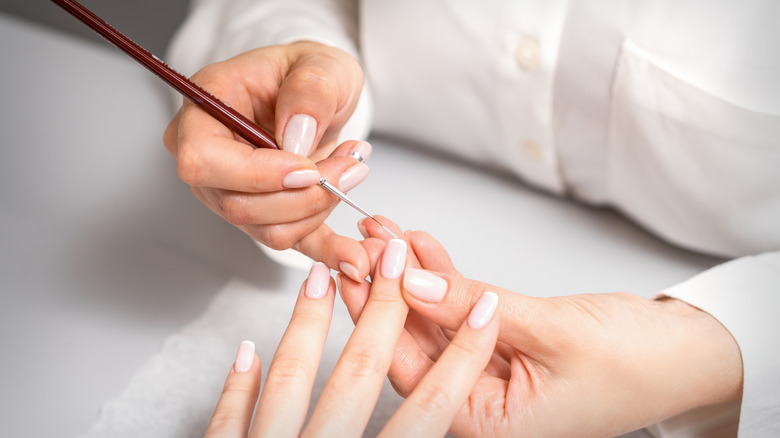 MorphoBio/Shutterstock
Although everyone will have their techniques and tricks for getting a flawless nail design, it can be challenging to find the best method to get a French manicure. Besides having a steady hand, you'll have to be precise to get a perfect French tip. Thankfully, Sasha Core gives us the recipe for an easy application. "One creative hack to achieve stunning French manicure nails is to use a DIY stencil made from a Band-Aid or medical tape," Core exclusively tells Glam. "Start by selecting the desired width for the tip of your French manicure. Then, cut the Band-Aid or medical tape into thin, curved strips, mimicking the shape of the tip." 
After you have your desired shape, Core recommends going on to the next step, which would be applying your base coat and letting it dry. Once your base coat is dry, you'll want to place your makeshift stencil into place, leaving only the tip exposed. "Now, apply the white polish on the exposed tip, being careful not to go over the stencil," continues Core. "Allow the white polish to dry before gently removing the stencils. Finally, apply a clear top coat to seal the design and give your nails a glossy finish." This hack is the best way to not only get a clear and defined curve but also have symmetrical tips that don't vary in thickness.
How to make your French manicure last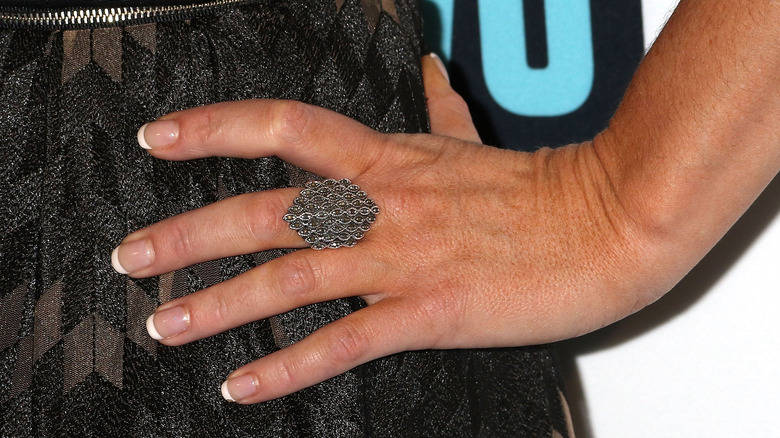 Laura Cavanaugh/Getty Images
Getting the perfect French manicure is only half of the process. There's no worse feeling than uncovering this easy hack and having your perfect French manicure start to chip after only a few days. Regular nail polish typically lasts mere days, while gel manicures give you more than a week of design. However, even if you have regular nail polish, there are small ways you can extend the life of your perfect manicure. 
Besides using a base and top coat on your nails, always ensure to cap off your top coat. Capping off your clear coats ensures that there's no area where your nail can start to lift from. Simply swipe the top coat past the tip towards the backside to ensure everything is closed and sealed. No need to worry about chipping and lifting with a good clear top coat coverage.
If you're working with gel nails, your should always ensure your nail is perfectly filed and dry before applying any kind of polish. Your nail needs a good grip to absorb the polish, meaning you'll need dried nails and to stay away from any water. Before working on your French tip, you should file and cut your nails accordingly to avoid hangnails from catching on clothes or other items. All of these minor details can help extend your French manicure so you can enjoy it for a few more days.